Ripper Street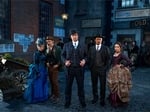 The streets of London's East End are awash with blood. But this is not the 19th Century; this is not Jack the Ripper - this is a copycat killer and once again the police remain clueless.
Season 2
Series 2, episode 1
"Pure as the Driven"
Jack the Ripper may be fading into memory, but east London has found no peace. An investigation into the assault of a policeman leads DI Reid and the men of H-Division to the newly-emergent Chinatown, where Jackson discovers evidence of a new and devastatingly powerful opiate. Reid fears a new kind of hell is to be released onto his streets.
RTÉ One, Wednesday, 11.35pm