Rescue 115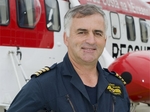 RTÉ cameras have been given exclusive access into the Irish Coast Guard's helicopter Search and Rescue service based in Shannon. Filmed over a number of months, the six part series follows the rescue crews at Shannon Helicopter base, otherwise known as RESCUE 115, as they battle to save lives in one of the most hostile environments in the world.
Highlights from the series include the rescue of a group of young children stranded on a boat on the Shannon mud flats, and the dramatic rescue of a crew from a British nuclear submarine.
Episodes
Programme One:
Even in the darkest nights and roughest seas, the men and women of the Irish Coast Guard continue to do a courageous job. With no second chances this small and efficient band of professionals and volunteers often put themselves in danger for the lives of others.
In this episode the Shannon based crew of Rescue 115 are called when a boatful of young children face danger on the river Shannon. In another area a man is dangerously close to falling into rough seas. and clings to some rocks with the hope of being rescued. And an injured woman on the top of Mount Brandon needs Rescue 115's assistance.
Programme Two:
In this episode a tourist gets into difficulty on a boat off Skellig Island and a sick little girl from Inis Mor is airlifted to hospital. The crew of rescue 115 are called to a British nuclear submarine and a crew member needs urgent medical attention.
Programme Three:
On this show, the Irish Air corps gives the Irish Coast Guard crew of Rescue 115 top cover on a long distance rescue mission. A Spanish fishing trawler calls the crew of rescue 115 for help and a farmer falls into a gully in a remote area on land.
Sean Murphy, Jim O'Neill and Ciaran McHugh are part of the Rescue 115 team that feature in this episode.
Episode Four:
This week the Shannon based crew are called to Inis Mor for a medical evacuation as a man is very sick. An American tourist suffers from a badly broken leg after a bike accident and they rescue a man who suffers from a cardiac arrest.
Episode Five:
This week the Rescue 115 crew rescue a man who had a bad fall on a mountain, work with the Kerry Rescue Crew and we return to Doolin where the crew are doing an exercise with the ground unit.
Episode Six
In the final programme in the series Rescue 115 travels to Baltimore to try and find two people who have gone missing from a beach. Will they be able to find them in time?