RTÉ Religious Programmes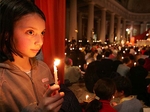 Throughout the year, RTÉ Religious Programmes seek to reflect the full diversity of religious practice and experience in Ireland. Through a mixture of outside broadcasts and Masses and Services from the RTÉ studios in Dublin, we aim to include Christian worship from different communities and denominations all over the country. We also hope to mark at least some of the significant festivals of other faiths and to reflect their place in today's Ireland.
If you have comments on the site or would like to contact the Editor of RTE Religious Programmes, please send me an email at roger.childs@rte.ie
On Sunday 16th of August at 11.15am our Sunday worship programme will feature people from various Christian traditions and countries as they pray using the beautiful meditative chants of the monastic community of Taizé, in France. The date marks the fourth anniversary of the tragic death of the founder of the Taizé community, Brother Roger Schutz. This ecumenical Morning Prayer will be led by Fr. Damian Mc Neice.
To find out more about Br Roger and Taizé why not view, Taizé: The Prior's Irish Pilgrimage. A special ecumenical service of meditation recorded last year in Dublin's Pro-Cathedral. Available on our video archive (see below).
Sunday 2nd August saw a television first: the first ever live broadcast of Mass from Lough Derg. Described by Seamus Heaney as "Station Island", in the middle of Co. Donegal's famous "Red Lake", Lough Derg has been a place of pilgrimage for over 1500 years, with historical and mythical associations that go back to St Patrick. To this day, the tradition of penitential pilgrimage based on unbroken days and nights of fasting continues to draw thousands. Reportedly, numbers have actually increased in the current uncertain economic climate. Join us, then, for Mass, at 11.15am, on RTE One, or watch the programme later on this site or on www.rte.ie/player
On Sunday 26th July, Joe Duffy presented the latest edition of Spirit Level (www.rte.ie/tv/spiritlevel ) which focused on efforts by various Churches to engage with young people. Why should young people go to church? And how far should Churches go in trying to attract them? You can watch that again on the Spirit Level website (see right) or on the RTE Player: www.rte.ie/player
Also online, you can catch up with any of the recent series, The Meaning of Life with Gay Byrne, which features interviews with Colin Farrell, Gerry Adams, Maeve Binchy, Sinead O'Connor and Neil Jordan about how her life has shaped, and been shaped by, their religious beliefs and values. You can watch them at www.rte.ie/tv/meaningoflife
Keep an eye out, too, for iWitness, our nightly reflection slot, which tries to capture the spirit of today's ireland, one voice and one spirit at a time: www.rte.ie/tv/iwitness