Red Mist: Roy Keane and the Football Civil War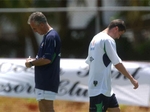 "We got more contact on this, of people's hurt and rage and anger and sadness and mourning than we did following 9/11. I mean can you believe that?" - Marian Finucane
Few Irish people will ever forget Saipan, May 2002 and the biggest ever bust-up in Irish soccer. But how many ever knew what actually happened on that tiny island in the Pacific? How did it come to pass that our captain and best player Roy Keane was sent packing from the World Cup by his own manager Mick McCarthy, just nine days before our opening match of the tournament?
Using animation to depict scenes from a typical Irish family during those turbulent times and with the assistance of Eamon Dunphy, Tommie Gorman, Marian Finucane and others this documentary captures the state of the nation during that unforgettable week. We also visit Saipan and talk to some of those who witnessed the unfolding drama.
Red Mist is a light-hearted, affectionate snapshot of an extraordinary moment in the life of a nation traumatised by a row between two big men in shorts on the other side of the world.
This is a Wildfire Films Production written & directed by Eamon Little and
produced by Adrian McCarthy and Martha O'Neill.
Based on 'Red Mist' Roy Keane and the Irish World Cup Blues - A Fan's Story by Conor O'Callaghan.
RTÉ Two, Saturday 30 June 2012, 9.35pm