Recipe for Success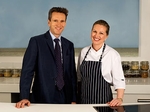 Turning a home cooked dish into a mass produced product that can hold its own on a supermarket shelf, is no mean feat. On RTÉ Cork's brand new, six part series, 'Recipe for Success' 15 cooks attempt to do just that.
Their mentor, Restaurateur, Oliver Peyton, has the Midas touch. Peyton has profited from his many business ventures from nightclubs to drink imports. He now owns a string of successful London restaurants & cafés and his bakery chain 'Peyton and Byrne', all of which are thriving in what is a hugely competitive market.
Peyton knows a thing or two about business but will his tough love approach help the contestants on their journey to realising their dream?
Each week our budding entrepreneurs will be advised on all aspects of the food 'business'; from perfecting the concept to testing feasibility, refining the recipe and ultimately, pitching to Supervalu chiefs in a bid to have their dish scaled up for mass production.
In show 6 the final five will design their own packaging and learn the tricks of the trade from a food stylist and a food photographer before facing the boardroom for the last time. Only one will have what it takes to get their dish onto the supermarket shelves.
Which one of Peytons' protégées will make the big time?