Reality Bites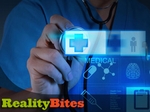 Thursday nights is the home of Reality Bites - a non judgemental slice of Irish life in the form of one off popular documentaries.
Maia Dunphy's What Women
After the success of Maia Dunphy's What Women Want, the series is back for another entertaining look at the issues, concerns and lifestyles of Irish women. In series two, Maia explores Food, Shopping, Fame and Attraction with her trademark mix of interviews, opinion, facts, stats and humour.
RTÉ Two, Thursday, 10.00pm