Réabhlóid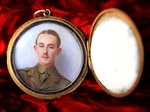 100 years on from the revolutionary decade that was the foundation to the modern Irish State - RTÉ Cláracha Gaeilge in a new 4 part historical documentary series looks back on some of the lesser known stories that give us some fresh insights into this turbulent period of our history. Stories of passion and patriotism, tempered with the foibles of real people. The four programmes take the viewer through Easter Week 1916 and paint a picture of the rising from very different standpoints:
- A high-minded pacifist intellectual - summarily executed.
- The first British Officer killed in the rebellion - who remained buried in Dublin Castle until the 1960s

- A young expert markswoman who travelled from Glasgow to take part in the fighting - the only woman shot in the fighting

- The forgotten nurse who was instrumental in the final surrender.
The small stories fill out some of the nuances that are sometimes lost in the telling and retelling of history through the headlines of the main players.
Programmes
Episode 1 - Death of a Pacifist
RTÉ One, Monday 21th April at 7.30pm
This first episode of the 4-part Réabhlóid series looks back at this cruel murder of a pacifist. There are expert contributions from Professor Gearóid Ó Tuathaigh, Dr Ann Matthews and Dr Fearghal McGarry.
The Easter Rising was a seminal event in Irish History, with the rebel leaders being hailed as heroes and martyrs after their executions.
However, one of the lesser known facts about the rebellion was that over 250 civilians were killed in Dublin during the week of the insurrection - among them a pacifist who was completely opposed to all militarism, Francis Sheehy-Skeffington.

Francis Skeffington was born in Bailieborough, County Cavan in 1878. He attended University College Dublin where his closest companions were James Joyce and Tom Kettle, and he was individualistic in disposition and unconventional in temperament, refusing to shave and wore knickerbockers, long socks and, as an ardent proponent of rights for women, he wore a badge that read Votes for Women. He married Hanna Sheehy, the daughter of an Irish Nationalist MP, in 1903 and they also joined their names in symbolic expression of the equality of their relationship.
Francis supported Home Rule but was not a supporter of the Irish Volunteers. He and Hanna took opposing positions towards the Easter Rising - he advocated his pacifist principles and preferred civil disobedience while Hanna brought food to the rebels located at the General Post Office and the Royal College of Surgeons. As the skirmishes ravaged Dublin Sheehy-Skeffington was concerned about the collapse of law and order. On the evening of Tuesday, 25 April, he went into the city centre to attempt to organise a citizens militia (police) to prevent the looting of damaged shops. He was arrested for no stated, or indeed obvious, reason while returning home, at Portobello Bridge and after admitting to having sympathy for the insurgents' cause (but not their tactics), he was held as an enemy sympathizer. Later that evening an officer of the 3rd battalion Royal Irish Rifles, Captain J. C. Bowen-Colthurst (a member of a County Cork family of the landed gentry), ordered Sheehy Skeffington from his cell to be brought out with an army raiding party, held as a hostage with his hands tied behind his back. The raiding party had orders to shoot their 'human shield' if it was attacked.
En route to the raiding of a tobacconist shop on Kelly's Corner Bowen-Colthurst murdered a 17 year old Dubliner who was coming from Church before arresting 2 journalists in the shop, who ironically were the editors of loyalist publications. The following morning Bowen-Colthurst ordered that Francis Sheehy Skeffington and the 2 journalists be taken from their cells and they were executed in cold-blood in the barracks yard.
Hanna Sheehy Skeffington was not told about her husband's detention or his death and only discovered what had happened four days later, when she met the chaplain of the barracks. Bowen-Colthurst attempted a cover-up and ordered the search and ransack of the Sheehy Skeffington home, looking for evidence to incriminate Skeffington and justify the summary execution.
However Major Sir Francis Fletcher-Vane, a veteran of the Boer War who was born in Dublin, on hearing of the killings insisted that Capt. Bowen-Colthurst be arrested ( initially unsuccessfully) and only when he took leave and went to Downing Street and met with the Secretary of State for War Lord Kitchener did a cable from London order Bowen-Colthurst's arrest and Court Martial. In early June of 1916 he was found Guilty but Insane and was detained indefinitely at "His Majesty's Pleasure" at Broadmoor Asylum. However within eighteen months he was released and travelled to Canada on a full pension - he died just a few months before the 50th anniversary of the Rising in 1966.
Hanna campaigned for a Commission of Inquiry and even met with PM Asquith in London. The Inquiry was held in August 1916 and reported the following month.
For his actions Sir Francis Fletcher-Vane was dismissed from the British Army.
Episode 2 - The Man in the Locket
RTÉ One, Monday 28th April at 7.30pm
A rare memento of the 1916 Rising aroused intense public interest last February when an Edwardian gold locket was sold in Sworder's Auctioneers in Stansted. Described as "incredibly poignant", the locket contained the picture of Guy Vickery Pinfield, the first British officer to be killed in the Easter Rising.
Guy Pinfield was shot and killed outside Dublin Castle but little else was known of the exact circumstances of his death until now. Indeed, the appearance of the locket highlighted several unsolved mysteries surrounding the death of the twenty one year old Second Lieutenant of the Irish Hussars.
When he was killed, Guy Pinfield was hastily buried in a temporary grave in the grounds of Dublin castle with dozens of other soldiers who died during the Rising. Most of these bodies were exhumed and reinterred once the hostilities were over, but not Guy Pinfield. His body lay in the temporary grave, unclaimed and apparently forgotten for the next forty six years. The mystery is compounded by the fact that Pinfield came from a wealthy background and his family were all still alive. So why did they leave him there?
Some efforts were made to ensure that he wouldn't be forgotten. A plaque in his memory was erected in St Patrick's cathedral, the only plaque to any combatant in the Rising, yet no one can tell when it was put there.
There is also a mysterious reference to a "Mr P-" in an anonymous diary written by one of the nurses in the British Military Hospital in Dublin Castle. This famous diary gives a detailed account of the events unfolding in Dublin during Easter week. The nurse tells of her shock upon learning of the death of "Mr P-" of the Irish Hussars. Could this be Guy Pinfield? And who was the nurse who wrote the account?
RÉABHLÓID travelled to England in an effort to shed some light upon these mysteries. We visit his home town of Bishop's Stortford where Pinfield's name appears on a number of memorials, and we go to Marlborough College and Cambridge University where he was educated. And deep in the Cotswolds, we trace the grandniece of Guy Pinfield who shows us a treasure trove of correspondence and memorabilia lovingly maintained since 1916.
The vast array of correspondence from colleagues and friends of Guy Pinfield finally answers many of the outstanding questions surrounding his death and shed a new light on one of the most famous actions of the Easter Rising, the attack on Dublin Castle. The surviving objects taken from Guy Pinfields body, including his wallet with one remaining unsmoked cigarette, serve as a powerful reminder of the common humanity of man.
Episode 3 - Margaret Skinnider - A Woman of Calibre
RTÉ One, Monday 5th May at 7.30pm
The Easter Rising was a seminal event in modern Irish History. The rebel leaders were hailed as heroes and martyrs, after their execution. However, one of the lesser known names of the rebellion was that of Scottish woman, Margaret Skinnider, an unassuming maths teacher and the only woman shot in combat.
Margaret travelled from her native Glasgow smuggling guns and bombs. An able markswoman, she was a sniper in College of Surgeons. In a rare audio recording she speaks softly on the courage of Na Fianna, the kindness of "Madame" Countess Markievicz and her own relentless fight for freedom.
Bláthnaid Ní Chofaigh speaks to author Dr. Ann Mathews who compares Margaret's relationship with Countess Marievicz to that of Don Quixote and Sancho Panza and Rocinante being the bicycle. Dr. Seán Máirtín Ó Catháin of Lancashire Central University Lecturer describes the 'little Ireland' of Coatbridge, Glasgow where Irish emigrants were greener than green.
" she was at Liberty Hall ...she was there like a free-lance. ...she was not a member of Citizen Army but she alligned herself to Countess Markievicz .... she took up the role as gunrunner and courier" Ann Mathews
Episode 4 - Famous and Invisible
RTÉ One, Monday 12th May at 7.30pm
One of the most iconic images of the 1916 rising captured the moment of surrender of the rebels - one military leader succumbing to another. But the grainy image used in various accounts of Irish history in the years since has raised more questions than answers - the original negative for this picture was never found, the photographer was never identified and mystery existed as to why an extra pair of women's feet were visible hidden behind Pádraig Pearse.
This episode of Reabhlóid tells the story of Elizabeth O'Farrell, the 32-year-old Dubliner who stood loyally beside Pádraig Pearse at that defining moment but whose existence has been airbrushed and removed from various depictions of Irish history in the years since. Elizabeth is very much hidden in this image, so much so that within days of the surrender when the photograph was first published in a British newspaper all traces of her were removed. A copy of the original image of this photo was later recovered and used to commemorate the Rising. However, while it proves Elizabeth's presence at the surrender, the image raises many questions of its own. Why is it that only Elizabeth's feet are visible in the photo and who made the decision that she should be so hidden? Is this image symbolic of women's role in the 1916 revolution being airbrushed out of history?
In this programme we trace the final days of the rising, the moments leading up to the surrender and the key role Elizabeth O'Farrell played in that dramatic period of Irish history. We also find a recently acquired rare sepia print of the photograph which injects colour into this image for the first time and reveals that Elizabeth O'Farrell was much more visible in the photo that anyone ever knew. This programme, the final of the Réabhlóid series, illustrates Elizabeth's rightful place in this moment of Irish history and her story which like that of so many of the women and lesser known charachters of 1916 has been forgotten in our national historic narrative.
When the leaders made the decision that they would have to surrender, Elizabeth was chosen to carry the surrender she was chosen because of the three women she was solid. She was steady, they knew they could trust her to do it. -
Dr. Ann Matthews, author "Renegades - Irish Republican Women 1900 - 22"
Well it was a very brave dynamic journey whatever way you look at it. Did she have time to think about it when she was asked. Did she rehearse it in her head? Did she just take the bloody thing and run with it.
- Patricia Aitchison, grand-niece of Elizabeth O Farrell
I think that in terms of Irish history, women do get a raw deal. People like Elizabeth O'Farrell and the hundreds of female foot soldiers who were involved from 1916 onwards are completely ignored, and they are still ignored almost 100 years later. Instead historians have concentrated on, a romantic version of history, which could almost be called historical chick lit! - Dr. Ann Matthews, author "Renegades - Irish Republican Women 1900 - 22"
Presenter/Reporter - Sinéad Ní Churnáin
Produced and Directed by Laura Ní Cheallaigh
follow us on twitter @RTE_Scannal