Raising Hope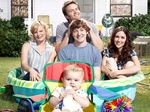 RAISING HOPE is the critically acclaimed single-camera comedy from Emmy Award winner Greg Garcia that follows the Chance family as they find themselves raising the newest addition to the household.
Months after a romantic encounter with a wanted felon, 23-year-old JIMMY CHANCE (Lucas Neff) learns he is the father of a bouncing baby girl. Once coasting along through life in the slow lane, Jimmy now faces his toughest job yet: being a dad. Jimmy's quirky family members - mother VIRGINIA (Martha Plimpton), father BURT (Garret Dillahunt) and great-grandmother MAW MAW (Cloris Leachman) - are less than enthusiastic about the little one. His parents, who had him when they were 15, never knew anything about raising a child and have little interest in trying again. And Maw Maw...well, keeping her in check is a full-time job.
Jimmy may be able to get some help from SABRINA (Shannon Woodward), a sardonic checkout clerk he met at the supermarket if only he can work up the nerve to ask her out. Despite it all, Jimmy is determined to take care of his baby - whom Virginia named HOPE.
With very few useful skills but their hearts in the right place, will the Chances be successful in the unpredictable and immensely challenging world of parenting?
RAISING HOPE is produced by Amigos de Garcia Productions in association with 20th Century Fox Television. Garcia serves as executive producer on the series.
Season 1
Episode 1 - Pilot

Jimmy learns that he is a father and decides to keep the baby girl despite the grumbling of his parents.
Episode 2 - Dead Tooth
Jimmy tries to find a babysitter when he decides to get a job, only to end up meeting an old fling who complicates his intentions of getting closer to Sabrina.
Episode 3 - Dream Hoarders
When Jimmy "teaches" Hope to crawl, the family must baby-proof the house and find new places to store their belongings. It's soon revealed that Virginia is a hoarder and has been saving junk in the storage shed, which becomes Hope's favorite new hiding place. This leads Virginia to realize that she may have to change her ways. Meanwhile, Jimmy makes frequent unnecessary trips to the grocery store to see Sabrina.
Episode 4 - Say Cheese
A visit from Sabrina makes Jimmy realize that he doesn't have any photos with Hope, so he organizes a family photo shoot that creates even more chaos in the household.
Episode 5 - Happy Halloween
Jimmy offers to go to a Halloween party with Sabrina when her boyfriend can't make it. Meanwhile, Burt tries to play tricks on his son, while Virginia takes her grandmother trick-or-treating.
Episode 6 - Family Secrets
Jimmy is faced with the decision to keep or get rid of the stuff that Hope's mother had in prison. When his own mother suggests that he needs to protect Hope from the truth, Jimmy comes to a realization that his parents must be hiding something from his childhood.
Episode 7 - The Sniffles
Virginia panics when Hope catches a cold and the rest of the family has no health insurance, so she makes drastic measures to prevent others catching it. Jimmy gets a second job in order to take his daughter to the doctor.
Episode 8 - Blue Dots
When Hope starts imitating the dogs at her day care, Jimmy decides to enroll her in an expensive, high-end center. But the blemish on Burt's record needs to be expunged before Hope has any chance of getting accepted. However, when trying to turn Burt's past around the rest of the family ends up in a bind of their own and must pull together to straighten things out with the law.
Episode 9 - Meet the Grandparents
Jimmy decides to change his usual Thanksgiving routine by inviting Hope's other grandparents, Dale and Margine, to Thanksgiving dinner. However, he soon realizes that he made a mistake when the grandparents kidnap Hope.
Episode 10 - Burt Rocks

Realizing that his father had to give up his dream of becoming a rock star to take care of his family, Jimmy decides to give Burt a chance at reliving his rock days with help from Burt's music idol Smokey Floyd.
Episode 11 - Toy Story
Jimmy finds out about his father's annual Christmas scheme where he sells the most wanted toy for a lot of money, which always left Jimmy disappointed when he was a child. Virginia wants the family to be a part of the living nativity scene at their church to gain the respect of the members.
Episode 12 - Romeo and Romeo

Jimmy makes friends a single dad and they set up a play date, but Virginia doesn't like the idea because she is the man's housekeeper. However, Jimmy and the guy set out to have a dinner at the Chance household to make peace.
Episode 13 - A Germ of a Story
When Sabrina reveals to Jimmy just how unsanitary his house is, the entire Chance family starts getting obsessed with cleaning, even going so far as to moving Maw Maw because she is never clean for too long. However, a family secret is soon revealed that changes everything.
Episode 14 - What Up, Cuz?
Virginia's world is thrown for a loop when her cousin Delilah comes to visit with intentions of claiming her share of Maw Maw's fortune, thinking that Maw Maw has passed away, and to make things worse - she still has feelings for Burt. Jimmy panics when he loses Maw Maw while babysitting her.
Episode 15 - Snip Snip
Sabrina and Virginia learn secrets about each other, prompting Sabrina to blackmail Virginia into keeping quiet. The family votes in favor of Burt getting a vasectomy, and Jimmy is in charge of getting Burt there.
Episode 16 - Cultish Personality
Mike returns after going through a spiritual quest with a wife and her other three husbands in tow. Burt attempts to fix the relationship between his brother and Mike.
Episode 17 - Mongooses
The Chance family goes to see a lawyer to get their wills done, and Burt is insulted when Jimmy chooses Sabrina over him. Meanwhile, Sabrina is overcome with emotion by the news, while Maw Maw thinks mongooses are infesting the household.
Episode 18 - Cheaters
Maw Maw has a crush on a man she meets at Shelley's daycare. Jimmy takes Sabrina to see Wyatt after she suspects he might be cheating on her, and he results to drastic measures to win her back.
Episode 19 - Sleep Training
Virginia and Burt try out a sleep-training book on Hope, while a whole new worlds opens up to Jimmy when his new girlfriend introduces him to an a special beverage.
Episode 20 - Everybody Flirts... Sometimes
The Chance family tries their luck at flirting when Burt's flirtatious manner is revealed. Sabrina and Jimmy compete tot become Barney's favorite employee, Virginia is being stalked by a coffee shop employee and Maw Maw starts giving away her possessions.
Episode 21 - Baby Monitor
When Hope's baby monitor picks up a conversation between their neighbors, Virginia and Burt decide to meet the troubled couple. Meanwhile, Howdy's Market has a commercial competition with their rival store.
Episode 22 - Don't Vote for this Episode
The Chance family flashes back to Jimmy's 18th birthday when Maw Maw kicked them out of the house, causing Jimmy to take solace at the grocery store and forcing Virginia and Burt to finally learn how to be adults.