Rachel's Favourite Food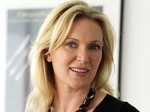 Rachel's Favourite Food At Home is a thirteen part series with each programme based around a particular kind of meal. This week Rachel introdues us to some of her favourite comfort food, which is perfect for winter time.
Rachel makes some of her favourite comfort food recipes: chunky Mediterranean pasta soup with basil pesto; cheese fondue; home-made sausages with apple sauce and concannon; and her friend Bill Grainger's banana butterscotch pudding.
"This could be my favourite food of all - food that is best eaten curled up on a sofa, warming, comforting, nourishing - maybe even a little nostalgic. Heaven."
Other Rachel Allen Programmes