Rachel Allen's Everyday Kitchen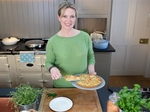 Rachel Allen returns to deliver a collection of delicious, mouth-watering meals prepared with thrift, health and a little kitchen cunning in mind. Designed to help viewers get the most out of their lives, shopping budget and ingredients, each recipe in Rachel Allen's Everyday Kitchen will demonstrate how to make money and food go further.
Each episode of the 13-part series will showcase a mix of three sweet and savoury recipes, and will be packed full of affordable, yet tasty hints and tips. All of the dishes will loosely work together, either linked by a key ingredient, or built around a specific event such as a family gathering.
These include cooking a roast chicken on Sunday; using the left over potatoes for a hearty tartiflette on Monday night; any remains of the cooked bird as the basis for a contemporary twist on a chasseur for lunch on Wednesday; and a delicious soup made with stock from the same carcass for a family day out on Saturday.
The series will also provide a unique insight into Rachel's life through the combination of observational documentary segments and set-piece cooking. She will be filmed throughout different days in her life, whether it is time spent with her family or flying from Ireland to London to meet her book publishers.
At a time when everyone is conscious of making both their food and money go further, Rachel Allen's Everyday Kitchen will provide a one stop shop for inspirational yet affordable meals.
Episode One - Food from Home
Join Rachel at her favourite local market where she gathers both inspiration and ingredients for dishes using fantastic local Irish produce. Back in the kitchen, Rachel cooks up a mouthwatering array of delicious dishes using Dublin Bay Prawns and good old Irish potatoes among others. Rachel also shares some 'tricks of the trade' from her cookery school kitchen.
Episode Two - Family Dinner
We're at home with Rachel and family as she re-invents a timeless classic, adding a new and delicious twist to everyone's favourite, Roast Chicken. Ever the careful cook, any left-overs are put to good use in a wonderful summery salad, before a delicious finale of Iced Strawberry Meringue Cake. But it's not only about the food, as Rachel reveals some professional kitchen 'hints and tips' with which to wow your friends and family!
Episode Three - Sunny Days
Simply delicious food for hot sunny weather is the order of the day as Rachel whips up a Nutty Quinoa Salad, a Potato, Smoked Salmon & Dill Tart and a Spinach, Bacon and Gruyère frittata. As ever there are tricks of the trade from her cookery school kitchen and we catch a glimpse of Rachel's working life as we follow her to London.
Episode Four
Rachel makes slow-cooked dishes, including a melt-in-the-mouth lamb neck with yogurt and a rustic plumb pie
Episode Five
Food that the children will love and that Mum and Dad will most likely tuck into as well! Sun-Blushed Tomato or Parma Cam, Goats Cheese & Red Onion Pizza, Cheesy Chorizo Dough balls and Cookies & Cream Cheesecake are all rustled up in Rachel's kitchen, plus there are tracks of the trade from the cookery school and a glimpse of family life as Rachel and her daughter pick their own veg.
RTÉ One, Wednesday, 8.30pm