Rachel Allen's Cake Diaries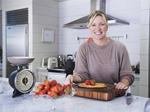 Rachel Allen's Cake Diaries is a brand new series in which Rachel takes a personal look at how cakes can and do play a part in a life full of family and friends. Rachel reveals that cake is about so much more than the traditional celebrations we all recognise. Her "Diaries" reveal a myriad of life events - from the big family occasions through to coffee with friends - that can all be made so much more pleasurable with cake.
Wherever you are, or whatever you're doing, Rachel reveals that there is a cake to suit the mood or the moment. It might be muffins, cupcakes, brownies or blondies, a show-stopping triple layer cake or a fool proof sponge. With tips on icing and decorating, as well as baking and serving, this is a series packed with great advice and absolutely stunning cakes that everyone will want in their own kitchen diary.
Episodes
Programme 1 - Cake with Friends
Rachel bakes some cakes that are perfect to share with friends when you're settling down for a catch-up over a cup of tea. She whips up some crunchy peanut butter muffins, that are perfect for sharing, an unusual combination of ingredients in her cardamom yoghurt cake, delicious banoffee blondies and a wheat-free chocolate, rum and almond cake.
Programme 2 - Say It With Cake
A cake can make the perfect gift, so Rachel shares some that have fun, warmth and affection baked into their very heart. Cupcakes can be a great way to celebrate a new baby, so she makes strawberry for a girl and blueberry for a boy. Rachel's vegan raspberry muffins are a great gift for her vegetarian friend. Maple pecan and lemongrass coconut cakes make special treats for family and friends.
Programme 3 - Cakes for the Boys
With a house full of boys who all love sport, Rachel often finds herself baking cakes for hungry lads. Her marbled chocolate crumble cake is always popular, while ginger golden syrup loaf packs well for a day out. Cheesecake brownies disappear as soon as they're on the plate, and toscatarta is a simple but impressive almond cake that her husband loves.
Programme 4 - Alternative Birthday Cakes
Birthdays are of course almost incomplete without a cake, and whether you're after fancy and frilly or simple and seductive, Rachel has some great ideas for birthday cakes with a twist. Her teddy bear and princess cakes are both based on simple sponges with impressive decorating. Chocolate cupcakes with honeycomb topping are perfect party treats. And cake pops are a great way to combine sponge and chocolate into an easy-to-eat cake on a stick.
Programme 5 - Cakes for Pudding
Cakes are not just for afternoon tea or special occasions, they can be great desserts on an everyday lunch or special dinner menu. Hazelnut meringue cake is a fabulous dessert, layered with fresh fruit. Irish coffee cups are a simple treat. Raspberry and white chocolate cheesecake is a sweet and divine pudding, and Swedish apple cake is the perfect way to follow a Sunday roast.
Episode 6: Retro Cakes
We all love a bit of retro, whether it's fashion, music or food.and there are some wonderful cakes that are just so reminiscent of life 'back in the day'. Rachel shows how to make a delicious pink and white Battenberg, and demonstrates that old favourite Arctic roll. She takes some after dinner mints and bakes them into a cake, as well as producing her version of a Bakewell cake.
Episode 12: Inspired By America
Many of us have a particular place that is special to us that we love to evoke through the food and flavours we associate with it.for Rachel it's America with its wonderful traditions and inventions.
She shares a classic NYC crumb cake, the light and the airy angel food cake. Sour cream features in much American baking, so she shows how to make orange sour cream cake.
And then some North American ingredients combine in chocolate and pecan muffins with maple glaze.
RTÉ One, Wednesday, 7.30pm