Pyjama Girls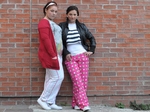 It's a phenomenon that began in Dublin and spread far and wide to cities all around Ireland and in the UK. In a society that seems increasingly hard to shock, at least when it comes to fashion, public pyjama-wearing in Ireland stands out as a statement that still generates controversy, often being viewed as a uniform of anti-social behaviour. Pyjama Girls slips behind the confrontational facade to provide an intimate portrayal of Lauren and Tara, two teenagers from Ballyfermot, their families and friends.
An Irish feature-length documentary, Pyjama Girls explores the lives behind the headlines. Pyjama Girls presents the chaotic friendship of teenagers Lauren and Tara as they navigate the trials of life, dressed all the while in their uniform of rebellion: pyjamas. Lauren's future hangs in the balance as she takes part in street violence with rival teen gangs and faces expulsion from school. Balancing tenderness with hilarity, the film reveals the challenges that life throws her - from her addict mother to the disruptive world of the flats - and uncovers the crucial importance of her friendship with Tara.
Supported by Bord Scannan na hEireann/the Irish Film Board, the film was produced in Dublin, Ireland over the course of two years.
Director Maya Derrington and Assistant Producer Sinead Ní Bhroin met Lauren and Tara while filming in the council estates of Dublin's inner city. They filmed regularly with the girls and enlisted the talents of IFTA winning Director of Photography Suzie Lavelle and sound artist Dennis McNulty. Derrington says "I was inspired to make the film because of my own surprise and fascination with the daytime pyjama phenomenon. The vitriol it provokes reminds me of the response to punk. I wanted to explore on screen the intensity of being a female teenager: the everyday dramas and the depths that are hidden behind the clothes and the posturings."
RTÉ One, Tuesday, 10.15pm