Pump Up My Dance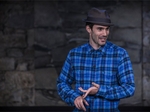 Pump Up My Dance is a new high-energy series where some of the finest Irish and International dance masters test talented young dancers with the toughest routines they have ever encountered. Each show features a different dance style: Hip-Hop, Tap, Contemporary, Ballet, Jazz, Irish, Latin, Musical Theatre and Break Dance. In each show 20 hopefuls dance their hearts out and just like in a professional audition, the Dance Master narrows down the 20 promising young dancers and chooses his/her top five to perform in Smock Alley Theatre, just one week later. Drama and tensions are high as the Dance Studio becomes a pressure cooker where young dreams are realised, while others go home happy that they have had the chance to work with some of the leading figures in dance today.
Shows
Show 1: Hip Hop - John Graham
John Graham is currently one of the most respected and in demand dancers and choreographers around and he has performed on stage with some of the biggest stars in the world including Beyonce, Janet Jackson, Mariah Carey, Justin Bieber and Fergie. He has worked with and choreographed for Rihanna, Leona Lewis, JLS, Alexandra Burke, The Saturdays, The Wanted, Alesha Dixon and Peter Andre. He has toured and given major workshops and guest master-classes worldwide. Not bad for a young man who graduated with a 1st in History and Politics from Dublin University and chose a career in dance over professional football.
Show 2: Tap - Damien Delaney
Damien Delaney Originally from Cork, Damien trained at The London Studio Centre. His West End credits include Billy Elliot The Musical where he was also the Children's Dance Captain, Cats, Hard Times, and Tonight's The Night. This episode sees twenty youngsters from as far and wide as Sligo, Kerry, Armagh, Wicklow, Dublin and Meath get the opportunity of a lifetime - a masterclass from their idol and a chance to be in his final five to perform to a live audience at Smock Alley Theatre.
Tap Finalists: Boys - Jack Canavan (16) from Drumcondra in Dublin, Philip O'Callaghan (15) from Turner's Cross in Cork. Girls - Sinead Maguire (15) from Ballymun in Dublin, Rhiannon Gilvarry (13) from Clonsilla in Dublin, Zoe Robinson (16) from Portadown in Armagh.
Show 3: Jazz - Bernadette O'Rourke
Bernadette graduated from the College of Dance in Dublin and went on to specialise in Jazz and Musical Theatre at Performers Dance College in the U.K. Her film work includes Ella Enchanted, Michael Collins, My Left Foot and Hear My Song. She is Assistant Artistic Director of The College of Dance, Head of Faculty for Jazz and Musical Theatre and Director of The Young Performers Academy. Episode 3 of Pump Up My Dance sees twenty of Ireland's most talented young Jazz dancers compete for a place in the final five to perform their dance at Smock Alley Theatre.
Jazz Finalists: Grace English (16) from Drogheda Co. Louth, Chloe O'Leary (15) from Glasheen in Cork, Kerrie Doyle (16) from Arklow in Wicklow, Christen Mooney (14) from Swords Co. Dublin, Megan Power (15) from Crossabeg in Wexford.
Show 4: Break Dance - Matthew Williamson
At only 22 Matthew Williamson has already carved out a major career in dance. With Raw Edge Crew he stormed Sky One's Got To Dance reaching the live semi-finals and became a YouTube sensation. He has represented Ireland internationally in Las Vegas, Los Angeles, Germany and the U.K. Matthew and his dazzling displays of Breakdancing are in constant demand for promotional work with clients like Facebook, Champion Sports and Ryanair. In this episode breakdancing sensation Matthew turns his teaching attentions to 20 of Ireland's most talented young breakdancers - all of whom are eager to learn and desperate to make it into his final five who will perform at Smock Alley Theatre.
Breakdance Finalists: Boys - Jamie Boylan (14) from Blanchardstown in Dublin, Ian McDermott (14) from Clonee in Dublin, Doru Micu (13) from Leixlip Co. Kildare, Clinton Liberty (14) from Laytown in Meath. Girls - Ashleigh Fox (15) from Blanchardstown in Dublin.
Show 5: Irish with Dearbhla Lennon
Dearbhla Lennon is one of Ireland's most celebrated dancers and is one of only a handful of dancers worldwide who have been principal dancer with both of the blockbuster successes Riverdance and Lord of the Dance. Dearbhla has been a World Champion Irish dancer and has toured the world entertaining audiences in North and South America, Europe, the Middle East, South Africa and Australia. She has performed on the Academy Awards and The Royal Gala at The Albert Hall. In Pump Up My Dance this week Dearbhla will masterclass a group of twenty young Irish dancers as she works them from twenty to just five - those five will be her dance troupe for a special Pump Up My Dance performance at Smock Alley Theatre.
Irish Dance Finalists: Boys - Justin McGuire (16) from Colehill in Longford, Tomás Ó Sé (16) from Tralee Co. Kerry, Seán Hanafin (16) from Tralee in Co. Kerry. Girls - Shauna Hodson (16) from Colin in Co. Louth, Zoe Talbot (16) from Swords in Dublin.
Musical Theatre Finalists:
Boys - James Burns (14) from Lucan in Dublin, Oisin McHugh (16) from Ballyhide Co. Carlow, Ben Harte (13) from Navan in Meath, Mark Jackson (13) from Killester in Dublin.
Girls - Emma O'Kane (16) from Artane in Dublin.
Show 6: Contemporary with Samantha Lyons
Sam graduated from the College of Dance in 1994 and went on to specialise in contemporary dance and choreography at London Contemporary Dance School. She has worked with ground-breaking choreographers and was a soloist and co-choreographer in Stephen Koplowitz's Genesis Canyon - Awarded Time Out Best Dance Production of 1996 - and 'Babel Index' 1998 for Dance Umbrella, U.K. Sam has extensive experience in teaching all age groups including LCDS's Young Place and Evening School, London Junior Ballet and University College London. From hundreds of entries twenty teenage contemporary dancers from all around the country have been selected for this episode of Pump Up My Dance. In one day of masterclass, drills and dancing Sam will select a final five from this group to perform at Dublin's Smock Alley theatre.
Contemporary Finalists: Muireann Howley (16) from Sandycove in Dublin, Emma Kennedy (15) from Carrickfergus in Co. Antrim, Nicole Wray (16) from Ballymena Co. Antrim, Lauren Daly (14) from Lucan Co. Dublin, Jessie James Morris Toolen (16) from Howth in Dublin.
Show 7: Musical Theatre with Daryn Crosbie
Daryn appeared in Saturday Night Fever in The London Palladium and at the Dome in Cologne and in Fosse the Musical he toured Europe and the Far East. He has stage directed two major Irish productions for PBS - Celtic Women and The High Kings. As a choreographer he has worked on some of musical theatres greatest classics - West Side Story, 42nd Street, and Fame and The Blues Brothers and Celtic Rhythms. More recently he has been both Director and Choreographer for the Gaiety Panto - Cinderella, Aladdin, Jack and the Beanstalk and Robinson Crusoe. In this episode Daryn uses his skills to masterclass 20 of Ireland's most talented young musical theatre dancers - just five can make it into his final dance troupe to perform at Smock Alley Theatre.
Show 8: Ballet with Andrew Wilson

Andrew trained with Jill Wigham in Dublin before entering 'The Royal Ballet School'. He became a corps de ballet member of 'Sadler's Wells Royal Ballet' and then a Soloist of 'The Birmingham Royal Ballet' in 1991. Andrew's principal/soloist roles include 'Elite Syncopations' and 'Danses Concertantes' (Sir Kenneth McMillan), 'Giselle', 'The Nutcracker' (Sir Peter Wright), 'Five of Hearts' (John Cranko), 'Theme and Variations' (George Balanchine) and 'Jazz Calendar' and 'Facade' (Sir Frederick Ashton). This episode starts out with twenty hopefuls, all determined to be in Andrew's final five. Which five will make it? Tune in and see.
Ballet Finalists: Eleanor Waldron (14) from Mullingar in Co. Westmeath, Molly Rose Smith (15) from Sutton in Dublin, Ruth Haverty (16) from Kimmage in Dublin, Sarah Nolan (16) from Ennis Co. Clare, Aoibh Ní Riain Uí Broin (13) from Rathmines in Dublin.