Prosperity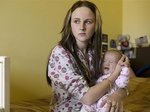 Prosperity is a series of four one-hour dramas for television from director Lenny Abrahamson and writer Mark O'Halloran, the team behind Adam & Paul and the forthcoming feature film, Garage. Prosperity tells four powerful, moving and funny stories set on the same day, with each episode examining the life of a single character.
Stacey, (17), a single mother, kills time walking the streets with her infant daughter, pinning her hopes on a hopeless relationship; Gavin, (14), bullied and bullying, takes out his aggression on his vulnerable best friend; Georgie, (42), is separated and struggling with a drink problem, as he tries to gain the respect of his young son; Pala, (31), an African immigrant, separated from her child, finds her hunger for human contact becoming increasingly desperate.
While each story stands alone, across the series, the subtle connections between these characters will be revealed to the audience. Prosperity aims to deliver to an Irish television audience the same spare and arresting style of the writer-director team's previous collaborations, conveying an inimitably humane and compelling portrayal of four characters on the margins of Irish society.
Prosperity is produced by Ed Guiney and Catherine Magee for Element Films. Recent Element credits include Adam & Paul and Garage, as well as Death of a President for Channel 4, The Wind that Shakes the Barley, which won the Palme d'Or at the 2006 Cannes Film Festival, and BAFTA winner Omagh. Ed Guiney also produced RTÉ dramas, Pure Mule and Bachelors Walk in conjunction with Accomplice Television.