Play Next Door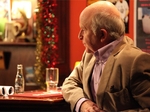 Three well-known writers are challenged to deliver a television play under unusual circumstances. Each writer is sent to reside in an Irish community for a month. During this time they live in a local property and, having explored the area, meet the locals and observe life in the surrounding district, write a play set in the property in which they are based. The finished play is informed by their experiences in the locality. The writers to take up the Play Next Door challenge this season are Fiona Looney, Patrick McCabe, and Deirdre Purcell.
The first episode in the series sees Fiona Looney in the birthplace of the GAA, Thurles Co. Tipperary. The location for her play was a pub in the town that is no longer open for business.
Pat McCabe wanted to go to Ireland's Nashville, the home of country music Castleblaney Co. Monaghan. The production gave Pat a modern mansion on the outskirts of town to live in and be the location for his drama.
Deirdre Purcell went to the seaside town of Bray Co. Wicklow and she spend a month in one of the town's oldest establishments, The Bray Head Hotel at the end of the promenade. The hotel is the setting for Deirdre Purcell's first ever play.
Play Next Door comes to the viewer in two parts: a documentary observing the writer as they live and write in their chosen location followed immediately by their play, recorded in the building in which they have been based during the writing process.
RTÉ One, Thursday, 10.15pm