Playboy 100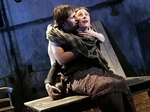 RTÉ Television remembers the 100th anniversary of the Playboy riots with Playboy 100, a night of special programming on RTÉ Two.
Hosted by John Kelly, the night features the television premiere of the acclaimed Druid production of The Playboy of the Western World, as well as a specially commissioned documentary looking at the controversy surrounding the play's first night on 27 January 1907 and how the feelings which surfaced on Abbey Street 100 years ago shaped the future of both the Abbey and Irish drama itself.
RTÉ Television's Playboy 100 is an opportunity to see Synge's funny, lyrical and savage play in the context of a broader analysis of the conflict between artistic integrity and communal self-respect. Both of which are still live issues in our dangerous world.