Planet Cosmo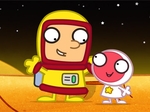 Join Cosmo and explore the Solar System in a new pre-school animation series.
Cosmo lives at her Moonbase home with Mum, Dad and little brother, Sol. In many ways, she is just like every child - fun-loving and curious. Cosmo invites children everywhere to experience fun adventures and amazing discoveries as Cosmo and her Dad blast off to explore the Solar System.
In every story and on every planet, something fun happens! Cosmo goes ice skating, swimming, plays hide and seek. Dad gets totally frozen, knits the biggest jumper ever, tries to show how absolutely fantastic he is. Little Sol gets afraid of the dark, visits a playground and wants to go up to the sky. Mum studies rock samples, folds origami flowers and goes on holiday.
Each adventure brings fun, singing and dancing, humour and silliness together with amazing information about the planets.
During each adventure, Cosmo explores one of the eight planets of the Solar System - colourful, fun places to play. She identifies each and every planet and reveals something amazing about each one. With catchy fun songs about each planet, the world of astronomy will open up to children like never before.
Cosmo also features a real live-action astronomer in every episode to tell children exactly what facts featured in the stories are real.
RTÉ Two, Weekdays, 9.10am