Pet Island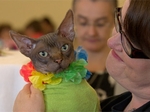 All across the country people are going wild about their pets and in RTÉ's new series Pet Island we will meet some of the country's most pampered animals and their besotted owners. They include pet psychics, an opera singer who serenades his mini-donkeys and a former Miss Ireland contestant who sleeps with seven dogs. We also meet the contestants in a cat fancy dress competition, dogs who attend day care and a group of cats who are learning to use the toilet. Pet Island is a fun series about what is an unfolding trend in Irish society looking at how the pet has become central to the family unit and the seemingly endless lengths we will go to please them.
Episodes
Episode 1
In episode one we meet Ireland's most glamorous pet owners, Martin Bailey and his fiancee Jennifer Duggan. They live with six Maltese and an Old English Sheep Dog called Guapo who dreams of being crowned Best in Show in Ireland's biggest dog show. In his way stands Cork Groomer Colm Hastings and his American born bitch Vicky. We also meet a group of cat ladies who agree to trial a product which claims to train your cat to use the loo. Mad cap adventures with Ireland's most pampered pets and their besotted owners.
Episode 2
In episode two we meet Ireland's premier team of pet communicators as they work telepathically with dogs, horses and even a pig. We also lose ourselves at Ireland's biggest cat show and follow a group of special cats as they prepare for show. More reality bending adventures with Ireland's most pampered pets and their besotted owners.
Episode 3
This week on Pet Island we meet opera singer Eugene Ginty and his miniature donkeys; Dudley, a golden doodle has a birthday party at doggy creche; Rat Fancier Laura Woods shows off her rats in Cork and we attend the All-Ireland Cat Fancy Dress Competition in Dundalk. More weird and wonderful adventures from RTÉ's Pet Island.
Episode 4

Pet Island regulars Martin and Jennifer travel to rural Donegal for a five star break for both them and their dogs. It's the All-Ireland final time for budgies and the heart-warming story of great Dane Charlie and his very special friendship with three-year-old Brianna who has epilepsy.
Episode 5
Pet Island returns with a trip to the Saint Patrick's Day Dog Expo in Dublin where canines compete in waggiest tail, best trick and even doggy dancing competitions. We also find out about the work of a cat midwife and follow Shadow a Siamese through her birthing plan. Finally we meet Leslie Burban from Cork who keeps African Pygmy Hedgehogs, quite possibly the cutest creatures to have ever existed.
Episode 6
In the final episode of Pet Island we test the IQ of some city slicker dogs and catch up with some cats who are training to use the loo. We also meet a dog preparing for a very special wedding and the story of eight-year old Alannah and her special relationship with cat Bainne. More adventures in the world of Pet Island.