Michaella, Peru and the Drugs Run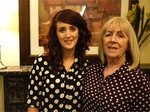 Last summer Michaella McCollum Connolly's arrest in Peru with a suitcase full of cocaine made headlines across the world. The 20 year old had left her home in Dungannon, Co Tyrone for a summer working in the bars and clubs of Ibiza. But instead of getting a sun tan and a summer of lifelong memories, she ended up jailed for over six years after pleading guilty to drug smuggling.
Michaella, Peru and the Drugs run goes behind the story to explore how a young Irish woman agreed to become a drug mule. In August last year, Michaella McCollum was arrested at Lima International Airport alongside a young Scottish woman, Melissa Reid. After initially claiming they agreed to take the drugs under threat, in December they admitted their guilt and were sentenced to six years, eight months in jail.
With exclusive interviews from her mother and sister, the documentary follows their first 6000 mile trip to Peru to visit Michaella. During an emotional visit, her mother and sister face up to the reality of Michaella's guilt and her life behind bars in South America. For several months, Michaella and Melissa were held in the Virgin De Fatima Prison in Lima in a unit designed for 40 prisoners. In recent weeks, they have been transferred to Ancon Prison, where conditions are much tougher for the pair who have become known around the world as The Peru Two.
In Michaella, Peru and the Drugs run, her family speak for the first time publicly about their understanding of how Michaella became involved. They say they believe she was preyed on by drug dealers in Ibiza who enticed her into taking the trip to Peru. Last June, she had travelled to the Mediterranean island on her own, hoping to become a dancer in a high class club. Instead, she drifted between jobs and boyfriends. By late July she had no job and no money. It was at this time that she became involved with an international drugs dealer looking for two young women for a so-called 'coke run'.
RTÉ One, Monday 7 July, 9.35pm