Person Of Interest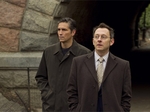 PERSON OF INTEREST stars JIM CAVIEZEL (The Thin Red Line), Emmy winner MICHAEL EMERSON (Lost), Oscar nominee TARAJI P. HENSON (Hustle & Flow) and KEVIN CHAPMAN (Mystic River) in a crime thriller from JJ Abrams about a presumed-dead former CIA agent, John Reese (Caviezel) who teams up with mysterious billionaire Harold Finch (Emerson) to prevent violent crimes with high-tech surveillance and their own brand of vigilante justice.
Episodes
"Pilot" Season 1, Episode 1
A mysterious millionaire, Finch, approaches John Reese, a CIA field officer who is believed dead, and offers him the chance to stop violent crimes before they happen. Finch can predict the person involved, but not how or where they are involved. In his first assignment, Reese must help a district attorney who Finch has predicted will be involved in a violent crime.
"Ghosts" Season 1, Episode 2
When they are given the Social Security number of a teenager who was killed two years ago, Reese and Finch begin to question the infallibility of The Machine. Meanwhile, Finch flashes back to The Machine's origin and how it was developed.