The People of the Year Awards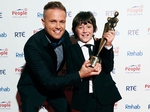 Now in its 40th year, the People of the Year Awards provide a unique opportunity for the Irish public to honour those who have made a real difference to people's lives, whether as unsung heroes or as household names.

This year's Awards will honour the truly inspirational, courageous and talented people within our society at a glittering Awards presentation ceremony in the Citywest Hotel on Saturday, 16th December 2014. The ceremony will be broadcast live on RTÉ One. If you would like to attend, please contact Rehab's Fundraising Department on (01) 210 0521 or email fundraising@rehab.ie.

The People of the Year Awards are organised by Rehab.

The Awards
The People of the Year Awards truly are Ireland's answer to a national honours system. Each year, members of the public are called upon to nominate people who have enhanced the quality of life in Ireland or internationally, increased civic pride or, through acts of bravery, have touched the lives of the community. Nominations can be made on www.peopleoftheyear.com or by emailing peopleoftheyear@rehab.ie Winners are finalised by a panel of adjudicators. The Awards were established in 1975 and have been televised live on RTÉ since 1983.
The Awards
People of the Year Awards to a number of individuals for extraordinary achievement in areas that include arts and culture, sport, community and older persons.
International Person of the Year Award to an Irish person who has made an outstanding contribution on an international level, or to a person from outside Ireland who has made a positive impact to life on the island of Ireland.
Young Person of the Year Award for extraordinary achievements made by a young person (aged 25 years or under).
Sportsperson of the Year Award for someone who has excelled in their chosen sport to create records and make living history.
The Awards presentation ceremony will be broadcast live on RTÉ One on Saturday, 6th December 2014.
For more information on the People of the Year Awards, including previous winners, visit www.peopleoftheyear.com

Rehab
Rehab is an independent international group of charities and commercial companies which work towards a world where every person has the opportunity to achieve their potential. Through its divisions, RehabCare, National Learning Network and Rehab Enterprises, over 3,300 staff members provide high-quality health and social care, training and education, and rehabilitation, employment and commercial services in Ireland, England, Wales, Scotland, the Netherlands and Poland.

The people who currently use Rehab's services include young people and adults with physical, sensory and intellectual disabilities, people with mental health difficulties, people with autism and people with an acquired brain injury. A range of essential services is also provided to older people, carers and others who are marginalised. Every year, more than 80,000 people and their families benefit from the supports provided by Rehab in more than 260 locations. For more information see www.rehab.ie

RTÉ One, Saturday 14 September 2013
Useful Websites