The People of the Year Awards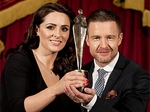 The People of the Year Awards, provide a unique opportunity for the Irish public to honour those who have made a real difference to people's lives, whether as unsung heroes or household names. The awards celebrate the truly inspirational, courageous heroes in Irish communities, those who have all made a difference to our lives over the last 12 months. Presented by Grainne Seoige and Aidan Power, the glittering awards presentation ceremony will be coming live this year from RTÉ studios on Saturday the 5th of December at 21:50 on RTÉ One.
The People of the Year Awards have been organised by Rehab since they began in 1974 and the event has provided a unique opportunity for the Irish public to celebrate the outstanding contributions made by individuals and organisations to life in Ireland. It celebrates the success and leadership of well-known people and also acknowledges our unsung heroes.

Previous high profile winners include Mary Robinson, Rory McIlroy, Katie Taylor, and the late Sir Terry Wogan, Gerry Ryan and Seamus Heaney, and of course so many men, women and children, whose generosity and achievements have touched our hearts and uplifted us all.
The Awards
The Awards this year include:
People of the Year Awards to a number of individuals for extraordinary achievement in areas that include replace with public service, social advocacy, culture and community life.
International Person of the Year Award to an Irish person who has made an outstanding contribution on an international level, or to a person from outside Ireland who has made a positive impact to life on the island of Ireland.
Young Person of the Year Award for extraordinary achievements made by a young person (aged 25 years or under).
Sportsperson of the Year Award for someone who has excelled in their chosen sport to create records and make living history.
Community Group of the Year Award to a group of people who have stepped up to the mark to support a cause.
Everyday Hero of the Year - in association with The Ray D'Arcy Show with RTÉ Radio 1, which honours an ordinary person who has done something extraordinary that has really made a difference to their family, friends, neighbours, work colleagues or local community.
For more information on the People of the Year Awards, including previous winners, visit www.peopleoftheyear.com

Rehab
Rehab is an independent international group of charities and commercial companies which work towards a world where every person has the opportunity to achieve their potential. Over 3,500 staff members provide high-quality health and social care, training and education, and rehabilitation, employment and commercial services in Ireland, England, Wales, Scotland, the Netherlands, Poland and Saudi Arabia. The people who currently use Rehab's services include young people and adults with physical, sensory and intellectual disabilities, people with mental health difficulties, people with autism and people with an acquired brain injury. A range of essential services is also provided to older people, carers and others who are marginalised including people who require supports to enter or re-enter the workforce. Every year, more than 80,000 people and their families benefit from the supports provided by Rehab in more than 260 locations. For more information see
For more information see www.rehab.ie