Paula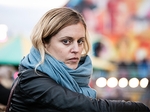 Three part series
Sparks fly, blood spills and rats rise up from below in this eerie revenge thriller from acclaimed playwright Conor McPherson and starring Denise Gough, Tom Hughes and Owen McDonnell.
Paula (Denise Gough) and James (Tom Hughes) are worlds apart. Paula is a respected science teacher, whereas James scratches a living day to day doing maintenance jobs, stealing from his poorly mother, and sleeping with his clients.
When Paula hears strange scuttling noises in her basement, she hires James to exterminate the rats, and silence her fears. The two share a frenzied one-night stand, in a fleeting moment of passion that will have a brutal impact on Paula's life.
Paula is quickly pulled into a vicious game of cat and mouse with James. Everything in Paula's life - her job, family, friends - is drawn into this dark new world. James seems to lurk on every street corner and behind every shadow - along with looming ghosts and silenced children, buried shame and harrowing secrets.
As James' grip strengthens, Paula's 'normal' life shatters. Local detective and confidante Mac (Owen McDonnell) struggles to reach or protect her. Paula is forced to dig deep, and access the very darkest depths of her soul, in a battle to survive. How well can we ever truly know ourselves - and how far would we go if pushed to the edge?
Credits:
Starring: Denise Gough (The Fall) , Tom Hughes (Victoria), Owen McDonnell (Single-Handed)
Writer: Conor McPherson (A Storm in the Stars)
Producer: Peter Norris (Line of Duty)
Director: Alex Holmes (Coalition)