Other Voices Series 13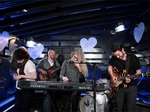 Acclaimed music series and unique arts festival set in Ireland Other Voices returns for its thirteenth season and will be aired on RTÉ2 commencing with a special on Hozier on Sunday March 15th.
Hozier came to prominence when he first played the Other Voices arts festival in Dingle in December 2013. He also played the Other Voices stage at Electric Picnic in August 2014. The filming of his performance at Other Voices was his first time to appear on television in his own right.
In the months following his TV debut at Other Voices, the young and promising singer songwriter had become a worldwide success with an album now parked at the top of the US chart.
In this special Other Voices film, the first of the new series of Other Voices (OV), Hozier gives an in-depth interview revealing his musical influences and the significance of his first playing of the OV festival.
Philip King, the founder of Other Voices, said Hozier represents all that the series holds as important. "Hozier bursts with talent but is modest about it. As with the old adage, with truth there is power, Hozier's honesty makes him a fascination in the music world. His interview for this series gives an insight into how he handles his stardom and where he is going in his musical development."
The first two programmes of the new Other Voices series are Hozier on March 15th and a Best Of on March 22nd which will have an Irish slant and features James Vincent McMorrow, Lisa Hannigan & John Smith, The Frames, Little Green Cars, The Coronas, Mick Flannery, Kodaline, Villagers, The Strypes and more.
The thirteenth series, filmed in Co Kerry Ireland in the main, will run over eight programmes and is presented by Aidan Gillen (well known for his roles in Game of Thrones, Charlie, The Wire) and BBC presenter Huw Stephens.
Other Voices is acclaimed for introducing new artists and bands, interviewing established performers in an in-depth way and providing a platform for unique performances.
As with previous series, Other Voices Season 13 will feature one-off performances, intimate acoustic sessions and interviews with some well known artists including Damien Rice, Jessie Ware, Wild Beasts, Jape, Delorentos, King Creosote; platform Mercury Award Winners Young Fathers Ibeyi, Walking on Cars, All We Are, The Lost Brothers and introduce new artists, Eaves, Wyvern Lingo, Buke & Gase, August Wells, Join Me In The Pines, Kormac's Big Band and Melanie De Biasio.
Programme on April 5th will feature music and conversation with Damien Rice, All We Are and Eaves. In The IMRO Other Room is Cloud Castle Lake and from the archives, Anna Calvi.
Other Voices Website: http://www.othervoices.ie/
Programmes
Programme 1 - Hozier, March 15th
Programme 2 Best of OV - An Irish Affair March 22nd
The Best Of, an Irish affair, will feature James Vincent McMorrow, Lisa Hannigan & John Smith, The Frames, Little Green Cars, The Coronas, Mick Flannery, Kodaline, Villagers, The Strypes and more.
April 12th
Damien Rice
All We Are
Eaves
Cloud Castle Lake
From the archives Anna Calvi
April 19th
Jessie Ware
Delorentos
Jape
Rusangano Family
From the archives John Grant & Conor O' Brien
April 26th
Ibeyi
Walking On Cars
Join Me in the Pines
Booka Band
From the archives James Vincent McMorrow
May 3rd
The Lost Brothers
King Creosote
Kormac's Big Band
Somerville
From the archives The National
May 10th
Wild Beasts
Melanie De Biasio
Wyvern Lingo
Staring at Lakes
From the archives East India Youth
May 17th
Young Fathers
Buke & Gase
August Wells
Ye Vagabonds
From the archive: The X
Series returns - Episode 4 of 6
On the fourth instalment of Other Voices Series 13 we have the northern folk duo The Lost Brothers, Scottish recording enthusiast King Creosote brings a song selection from his catalogue of more than 40 albums and we have Kormac's Big Band, a new Irish mix of hip-hop, house and brass. In the IMRO Other Room we have a sombre track from Galway-native Somerville and looking back at the Other Voices archives, we bring you a treat from The National's set in 2010.
Episode 5 of 6

On the fifth instalment of Other Voices Series 13 we have indie rock band Wild Beasts performing songs from their highly anticipated fourth album 'Present Tense', Belgian jazz singer-songwriter Melanie De Biasio plays a stunning set in St. James' Church, while Wyvern Lingo take a break from a UK tour with Hozier to perform some acoustic tracks in the breathtaking surrounds of the Dingle Peninsula. The episode also features a performance from the winners of the IMRO Ireland Other Room Open Call, Staring At Lakes.