Other Voices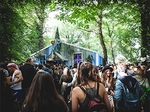 Other Voices returns to RTÉ 2 this Saturday 30th of July at 11.05PM with performances from the Other Voices Stage at Ireland's biggest music festival, Electric Picnic.
The hour long special, presented by MayKay, will include performances from Glen Hansard, Booka Brass Band, Otherkin, Colm Mac Con Iomaire, Ham Sandwich and many more. Expect invigorating, one-off performances from the intimate settings of the Other Voices Stage in the woods at Electric Picnic.
Other Voices will return to Electric Picnic this September.
Other Voices Website: http://www.othervoices.ie/