Other Voices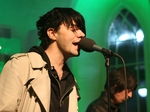 Presented by John Kelly, Other Voices has featured performances from Declan O'Rourke, Mark Lanagan, The Cowboy Junkies, American Music Club, The Divine Comedy, The Devlins, Dónal Lunny, Tom Baxter, Republic of Loose, Ocean Colour Scene, Gavin Friday & Maurice Seezer, Steve Earle, Cathy Davey, The Thrills and The Chalets.
Back when it started nobody could have predicted the success that Other Voices and the musicians themselves would enjoy. Several of the artists who previously took part, including The Frames, Damien Rice, Gemma Hayes and Bellx1 have gone on to success on a world-wide scale, received awards, had chart topping albums and achieved sell-out tours. Each series of Other Voices brings together musicians from various backgrounds, traditions and disciplines to celebrate different sounds and styles of music and voices.
In a region steeped in tradition and heritage that has long attracted musicians from different disciplines, over 100 musicians have gathered in the most westerly point of Europe over the last few years to perform in front of a small but privileged audience, in a 200-year-old church.
For a fortnight each year, some 35 cutting-edge artists gather in St. James's church and in this very special atmosphere create an exciting mix of modern sounds and new voices.
Other Voices captures a moment in music time and gives audiences an unmissable opportunity to witness and experience a richness and diversity of sounds and music as they echo out from the west of Ireland.