Two Music: Other Voices Live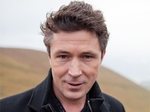 This season, Other Voices travelled from St James' Church, Kerry through The Glassworks, Derry to Wilton's Music Hall, London for 3 weekends of marvelous music.
Speaking of that journey, executive producer Philip King said "This has been the best musical trip of my life, uplifting and inspirational. We made great friends, took the spirit of Dingle on the road North along the Atlantic highway to the singing City of Derry, one of the most musical places on the planet. Soak got on the bus in Dingle and stayed on board for the London Set. Dingle Derry London what a trip.Let's do it all over again".
An eclectic mix of international and Irish acts took to the stage across the 3 venues including the likes of The Unthanks, Kodaline and Local Natives from Dingle; Marina & The Diamonds, Little Bear and Savages from Derry and John Grant, Villagers and Laura Marling from London.
Ahead of the RTE broadcast, you can watch some of the music from the 3 locations on the Other Voices Youtube channel - https://www.youtube.com/user/othervoiceslive https://www.youtube.com/user/othervoiceslive
There are also vlogs online from each location which can be viewed here - http://www.youtube.com/user/OtherVoicesVlog?feature=watch http://www.youtube.com/user/OtherVoicesVlog?feature=watch
Other Voices is supported by Derry-Londonderry 2013/Culture Company 2013 Ltd, The Department of Culture, Arts and Leisure Northern Ireland, the Department of Arts, Heritage and the Gaeltacht Ireland, Arts Council England, British Council, BBC NI, RTÉ, IMRO and Tourism Ireland.
Episodes
Episode One
The first act to grace the screen on the 8th May will be 2013 newcomer Laura Mvula who performed at the recent Other Voices London earlier this month. Also on episode 1 will be performances by English rock band Palma Violets, indie-folk trio Daughter, folk sisters The Staves and new singer-songwriter George Ezra.
Episode Two
The second programme in the series features Beth Orton, Matthew E. White, Kodaline, Savages and Ghosts Estates (IMRO Other Room).
Programme Three
Imelda May, Owen Pallett, Laura Marling, Little Green Cars and Drenge (IMRO Other Room)
RTÉ Two, Wednesday, 10.55pm

Related Links: