Ordinary Lies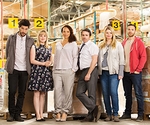 Created by award-winning writer, Danny Brocklehurst (The Driver, Accused) and produced by RED Production Company (Happy Valley, Last Tango in Halifax), the second series of Ordinary Lies will explore the lives, loves and lies of a brand new work place.
Overview

Based at a call centre and warehouse of a sports sales company in Wales, the six-part drama will introduce viewers to a fresh array of compelling and clandestine characters, with each episode delving into one of their tangled web of torrid secrets and lies.
The first episode of the new series sees affable Head of Sales, Joe (O'Neill), go to drastic measures to watch over his family when he suspects his wife of having an affair. Installing hidden cameras in his home in an act of desperation, will he soon realise that ignorance is bliss?
His suspicious actions don't bypass the all-seeing eye of General Manager and disciplinarian, Jenna (Griffin). Highly organised and always immaculately dressed, Jenna takes everything in her stride, much to the awe of her meek PA, Holly (Nixon), whose insecurities make her constantly feel that others lives are more exciting than her own. However, little does Holly know that under Jenna's composed exterior, a dark past is lurking.
Meanwhile, down in the warehouse, despite having a tough exterior and sharp tongue, gregarious Forklift Driver Wendy Walker (Staton) proves she will go to any lengths to protect those she loves. Prankster Warehouse Manager Toke (Fry) has an alter-ego that puts his generous nature to the test and one half of office couple, Warehouse Picker Fletch (Di Angelo) finds his happy marriage threatened when he is reunited with his estranged father.
Episodes
Episode 1
Joe seems to have the perfect family life - until he installs CCTV in his home.
Cast
Joe - Con O'Neill
Jenna - Angela Griffin
Holly- Kimberley Nixon
Toke - Joel Fry
Wendy - Rebekah Staton
Fletch - Matt Di Angelo
Ally - Jennifer Nicholas
Ray - Ian Davies
Karl - Gareth Pierce
Caz - Elen Rhys
Ash - Luke Bailey
Kim - Rachel Isaac
Neil - Noel Sullivan
Ruth - Kezrena James
Belinda - Jill Halfpenny
Patrick - Griff Rhys Jones
Tommy - Aled Herbert
Carly - Catherine Ayers
Jag - Simon Trinder
Adam - John Macmillan
Sal - Adelle Leonce
Chrissy - Ella Peel
Lenny - Aled Pugh
Sarah Jane - Elinor Crawley
Nina's Sister - Ruth Lloyd
Nina - Karen Paullada