Operation Transformation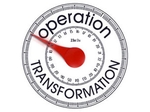 Operation Transformation will return to our television screens twice a week in 2013, on Tuesday and Wednesday nights starting from the 8th of January. Once again, RTÉ Radio 1's The John Murray Show is the radio home for the series and this year we are joining forces with digital station RTÉ Pulse for music to keep you motivated. There will be more interactive content available on www.rte.ie/ot and www.rte.ie/radio1/thejohnmurrayshow
With the help of presenter Kathryn Thomas, Karl Henry, fitness expert, Dr. Eva Orsmond, medical doctor and Dr. Eddie Murphy, a Principle Clinical Psychologist with the HSE the five leaders will drastically change their eating and exercise habits, and inspire listeners and viewers to follow them on their journey.
The final five leaders were chosen from hundreds of applicants. The final 19 applicants were invited to come to Santry Sportslink in November to be put through their paces and were assessed on their physical and emotional suitability for the television series.
The five leaders are: 1) Charlotte O' Connell (23) from Cavan 2) Gavin Walker (35), Dublin 3) Deirdre Hosford (31) from Cork 4) Greg Starr (36) from Co. Tipperary 5) Monica Percy (44)from Carlow.
Nationwide Events:
Nationwide Walk - Saturday 19th January. In conjunction with the Irish Sports Council Operation Transformation encourages everyone to get out and walk today. Sports Partnerships provide walking leaders to show people the pace they should be following and there will be walks taking place at over 30 venues all around the country. Details to follow.
5k Run - Saturday 23rd February. Building on last year's success which saw 5,000 people take to Phoenix Park for the annual 5K Fun Run, this year we will be holding two 5K Fun Runs in both Dublin and Cork. We want everyone to take part and Operation Transformation fitness expert Karl Henry has developed an audio 5K training plan which is available at www.rte.ie/ot
Roadshows - Operation Transformation will be on the road with Safefood this year where people can learn more about healthy eating, being more active and transforming their choices as well as meeting the leaders.'
RTÉ One, Tuesdays & Wednesday, 8,00pm