Celebrity Operation Transformation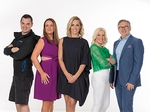 The second series of Celebrity Operation Transformation begins on Wednesday September 6th. X Factor singer Mary Byrne, beauty expert Triona McCarthy, chef Gary O'Hanlon, social media influencer James Patrice and singer Kayleigh Cullinan are confirmed to take part in the spin-off series.
Kathryn Thomas will present four one-hour episodes airing in September on RTÉ One. Celebrity Operation Transformation will follow the five leaders across a month as they inspire viewers to get back in shape post summer following the OT food and fitness plan. Tune in to see Mary, Triona, Gary, James and Kayleigh face the scales and the experts at the weekly weigh in, and experience the highs and lows as they embark on one of their biggest challenges to date.
Host Kathryn Thomas said: "I'm thrilled to be back on board for the second series of Celebrity Operation Transformation. We have five brilliant leaders on our hands this year who are brave enough to let cameras into their homes and lives as they face this struggle head on and set about losing the weight they feel is holding them back. Lots of people across the country will have put on weight over the summer holidays so join us - choose a celebrity to follow and start losing the pounds together. We've got a determined bunch of leaders on board this year and I have every confidence that they will inspire the nation to get up and get moving this autumn."
The five leaders will start the food and fitness plan on Monday 28th August and viewers can follow it with them by logging onto rte.ie/ot, where they'll find all the information they need, including a selection of brand new added recipes, perfect for autumn.
Our well known leaders will also face the ultimate test of fitness, strength and courage with our brand new weekly physical group challenge.
Celebrity Operation Transformation will be supported on RTÉ Radio 1 by The Ray D'Arcy Show. Tune in today at 3pm to hear interviews with the five leaders.
Celebrity Operation Transformation is sponsored by Safefood.
Biogs
Celebrity Operation Transformation is sponsored by Safefood.
Biogs:
Singer-songwriter, X Factor Semi Finalist Mary Byrne (58)
Weight: 18 stone 5.5lbs
Singer Mary Byrne captured the nation's hearts when she blew the X Factor Judges away at her Dublin audition for the show in 2010. The former Tesco checkout lady made it all the way to the Semi-Finals and enjoyed every minute of the experience.
In 2011 Mary performed for Her Majesty Queen Elizabeth II on her historic state visit to Ireland. She also shared the stage with Neil Diamond to perform for over 55,000 fans at Dublin's Aviva Stadium. Mary continues to be a presence on the Irish music scene and has just finished working on her new album due for release this autumn.
Mary and her daughter Debra live in her beloved Ballyfermot with their two rescue dogs and pet cat named 'Puche'. Showbiz life hasn't changed Mary, what you see is what you get. She can often be found sharing a pint (or sometimes four!) with friends in her favourite local pubsin Ballyfermot.
Mary has always turned to food for comfort and admits that she has a lot to learn when it comes to her culinary skills. Her daughter Debra does all the shopping and cooks all of the meals in an attempt to keep Mary on the straight and narrow!
Diagnosed with an underactive thyroid during X Factor, Mary has always struggled with her energy levels and to lose weight. She also suffers from arthritis in her knees. She recently started swimming, which she finds great for both her arthritis and her mental health. Mary has been very vocal about her struggles with depression and would love to help others be more open about their mental health.
While she is currently maintaining her weight since losing two stone two years ago, she is frustrated that she can't seem to shift any more pounds. Having kicked her smoking habit 4 years ago, she is desperate to finally get control of her health.
A born performer, Mary wants to still be on the stage at 70. She would love to have more energy to be able to dance on stage.
Beauty and fashion journalist Triona McCarthy (44)
Weight: 12 stone 6.5lbs
Beauty and fashion journalist Triona enjoys the sweeter side of life. The busy mum of two is on the guest list for almost every fashion event and product launch in town with tempting treats on the menu every where she goes. Temptation is often also delivered right to her door, with a constant stream of beauty products arriving to test, more often than not accompanied by delicious goodies! Every one of her teeth are sweet and a lunch of chocolate will always be her favourite option.
Triona has been working in the beauty industry for over 20 years. Having trained as a make up artist and worked as a fashion buyer, she has been writing for the Sunday Independent for the last 15 years. As well as writing her weekly column and appearing on TV3's Xpose, Triona is dedicated to entertaining and informing her 25,000 Instagram followers.
Originally from Schull, West Cork, Triona is the eldest of eight children. Born at 10lbs, she grew up thinking that meant she was more expensive than her siblings! She now lives in Dublin with her partner Will and their two kids Maxi (4) and Mini (2). Triona lost her dad to cancer in 2000 and then her little sister Tricia to breast cancer in 2010. Tricia's death at the age of only 30 had a huge impact on Triona's life and she thinks about her every single day.
Whilst Triona's default is to put on a happy face, she admits her weight is affecting her confidence. Being in the public eye, Triona feels there is a lot of pressure to look your best and with the beauty and health industries becoming more and more intertwined, she feels she should be a healthier role model.Turning 44 hasn't slowed 'Party McCarthy' down but now that she's a 'Midult' she knows she can't get away with her unhealthy lifestyle any longer. Her weight has slowly crept up over the years and she also has high cholesterol. She is tired of playing the role of the 'fat funny girl' and is determined to look and feel better but, being constantly surrounded by temptation and having never enjoyed exercise, Triona just doesn't know where to begin.Having never watched Operation Transformation, Triona isn't quite sure what she's let herself in for. When it comes to cooking she simply doesn't do it, luckily Will is happy to help!
Celebrity chef Gary O'Hanlon (39)
Weight: 15st
Gary O'Hanlon's life revolves around food; whether he's impressing the critics on TV3's The Restaurant or cooking up a storm as Head Chef at Viewmount House, Co. Longford. Gary lives in Granard, Co. Longford with his wife Annette and their two children, Cora (3) and Olly (11 months). Like most young parents, sleep deprivation is affecting Gary's energy levels. Life is hectic, with Gary splitting his time between home, Viewmont House and writing for the Irish Times, along with his various TV and radio appearances. Being in such high demand means getting into a routine isn't easy; every day is different and he's always on the go.
Despite being constantly surrounded by food, Gary could go an entire day without eating a proper meal. Turning instead to energy drinks, fizzy drinks, jellies, ice-pops, crisps and chocolate to keep him going. He admits as a chef he should know better but his eating habits are out of control.
Growing up Gary was always into sport, particularly soccer. He ran the Dublin marathon in 2008 and a Triathlon in 2009. A gym member, he once enjoyed weight training in the gym but now will only be found relaxing in the jacuzzi or sauna. Gary misses sport and exercise and would love to get back to a level of fitness to run marathons again. Working on his feet for 23 years has left him with joint and back pain. Even putting on socks has become torture.
A devoted father, Gary wants to be able to enjoy running around with his kids for a long time to come. He knows now is the time to put his health first and is ready to give it his all. While he may not be the food expert on this programme, he's confident he'll still be the one 'bringing the flavour' to this series of Celebrity Operation Transformation!
Social influencer and presenter James Patrice (28)
Weight 19 stone 1lbs
With over 62K followers on Instagram and his Snaps getting upward of 30,000 views a day, James has become a household name. But life as a social influencer, blogger and presenter, means temptation is never far away! There's always an event to attend with delicious canapés and bubbles and no two days are the same, meaning any routine goes out the window.
James lives at home with his older sister Vanessa, dad Tim and mum Fron (Veronica), who is now a social media star herself thanks to James's sneaky Snapchats showcasing her many talents!
Having studied French and Drama in Trinity College Dublin, James always loved to entertain. His presenting work includes his role as the official GlitterGuru of RTÉ's Dancing With the Star's Facebook Live spin off 'Best Foot Forward' and RTÉ's backstage reporter for The Rose of Tralee. James has never let his weight worries hold him back in front of the camera but admits he hates watching back any unflattering angles!
Fashion has always been a passion for James. He uses clothing as armour to hide his weight under jackets and planned poses but would love to be able to throw on a t-shirt and jeans without having to try on his entire wardrobe first to see what hides his belly best.
James doesn't have much experience in the kitchen. His family admit he does a mean toasted sambo but would struggle to turn on the oven! Instead James eats out most days, often only to come home to enjoy a second dinner cooked by Fron.
James has never enjoyed exercise or sport. He remembers always having a bit of a belly but his weight is getting progressively worse as time goes on. A number of health issues, including Meningitis at the age of 10, have left James feeling he was never in control of his body. He wants to stop procrastinating and putting so much energy into concealing his weight and just find a healthy balance once and for all instead.
Singer/ The Voice of Ireland finalist Kayleigh Cullinan (21)
21st 0.5lbs
The Voice of Ireland contestant and Singer Kayleigh Cullinan has overcome more than her fair share of challenges in her young life.
At over 21 stone at just 21 year's of age, Kayleigh has struggled with her weight since childhood and was often teased and bullied. After a serious physical attack in 2010 resulted in a detached retina, she underwent 12 painful surgeries leaving her almost completely blind in her right eye. During her recovery Kayleigh, who was just 14 at the time, had to lie face down in a pillow for weeks on end unable to move her eyes. With only her iPod for company, she spent her days listening to music and discovered her passion for singing.
Kayleigh's family were completely surprised to discover the beautiful voice she had been hiding for so long and encouraged her to pursue her passion. In 2015 Kayleigh made it to the quarter finals of The Voice of Ireland with coach Bressie. While she really enjoyed this experience of a lifetime, she dreaded the fittings for her onstage outfits each week and feels her weight held her back on stage. Having spent the last three years working on her new album, which is about to be released, Kayleigh is confident in her talent but she doesn't just want to sing, she wants to perform!
Food has always been a source of comfort for Kayleigh and she has developed even poorer eating habits since moving out of her parent's home, surviving on convenience food and fizzy drinks.
She would love to be a better role model for her little sisters Danielle (18) and Rhonette (15). Having gone through so much herself, Kayleigh loves inspiring and helping young people and is an ambassador for the Cycle Against Suicide campaign. Her goal is to complete the entire 11,000KM, 14-day cycle next year.
Kayleigh has never let her blindness hold her back and would hate her weight to be the thing that gets in the way of her dreams.