Operation Transformation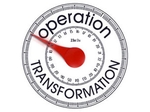 Operation Transformation is back for a seventh series. The chosen six brave, new leaders will need to radically change their eating patterns, exercise habits, and be prepared to inspire RTÉ viewers and listeners to follow them on their journey over eight weeks in January and February 2014.
Show 1
On Tuesday's night show we meet 20 hopefuls who made it to Sportslink in Santry for a day of rigorous assessment by our 4 four experts. Kathryn travels the length and breadth of the country to unveil our first three leaders. This year on Operation Transformation we are focusing on obesity and it's impact on the heart. In tonight's show we speak to top cardiology experts including Dr. David L. Katz who is the founding Director of Yale's University Prevention Research Center and knows only too well the devastating scale of the problem.
Show 2
On Wednesday night's show we meet our first group of 2013 and Kathryn unveils the next three leaders for 2014. Before they start their journey, the six undergo a full screening by Prof. Niall Moyna at DCU including a "Dexa Scan" to measure Bone Density, percentage of body fat & muscle mass and a "V02 Max" test which measures heart and lung functions for irregularities. He also sets them a bleep test to analyse their overall fitness levels - some struggle much more than others.
Presenter Kathryn Thomas will be on hand along with the four OT experts to encourage and motivate the assembled group. Two new experts have joined the panel - Aoife Hearne - a registered dietician and a member of the Irish Nutrition and Dietetic Institute and Dr. Ciara Kelly, GP and expert in family health join familiar faces Karl Henry, fitness expert and Dr. Eddie Murphy, a Principle Clinical Pyschologist with the HSE. Last year's five leaders - Monica Percy, Deirdre Hosford, Charlotte O'Connell, Gavin Walker and Greg Starr surpassed their original series targets and collectively lost 11 stone 6 pounds.
As Operation Transformation gets underway, The John Murray Show on Radio 1 will follow the leaders' journeys all the way to the grand finale in February. The four OT experts -Karl, Eddie, Aoife and Ciara will be dropping in to studio throughout January and February to provide the best tips and advice on calorie counting, healthy recipes, exercise and lots of other transformation topics. There will be more interactive content available on www.rte.ie
RTÉ One, Tuesdays & Wednesday, 8,00pm