Operation Transformation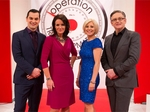 The eighth series of Operation Transformation returns to our screens on Wednesday January 7th and Thursday January 8th when presenter Kathryn Thomas will introduce the five new leaders.
Over the 8 weeks, the five brave leaders will radically change their exercise and eating habits and inspire the nation to follow them on their journey to a healthier lifestyle. It's a big ask, especially for 21 year old Alan Mullen, who at 27 stone is our youngest & heaviest male leader to date.
And with a new year, comes new challenges. On Thursday 8th of January, Operation Transformation will be revealing what's in store for the leaders as they face what will be the show's toughest physical challenges yet.
The four OT experts are back - fitness Expert Karl Henry, principle clinical psychologist Dr. Eddie Murphy, dietician Aoife Hearne and GP Dr. Ciara Kelly will be on hand to guide the leaders as they put the Operation Transformation health and fitness plan into action.
With Ireland on track to become the fattest of the 53 Euro-zone countries by 2030, Obesity Expert, Donal O'Shea explores what we can do to tackle this health emergency and will be calling on groups, schools and businesses from all around the country to get on board and make an impact.
This year there are more opportunities then ever to get involved, with brand new events happening across the country. Once again, Operation Transformation is teaming up with The John Murray Show on RTÉ Radio One and this year will also be broadcasting live on 2FM every Saturday morning with updates from our weekly events and you, the OT followers.
RTÉ One, Tuesdays & Wednesday, 8,30pm