Operation Transformation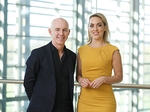 The tenth series of Operation Transformation returns to our screens on Wednesday the 4th of January when presenter Kathryn Thomas will reveal our five new leaders. Over the next eight weeks, these five brave leaders will radically change their exercise and eating habits, while inspiring the nation to follow them on their journey to a healthier lifestyle. With the country following their every step on television, on radio and online.
As always, the leaders will have support and advice from our qualified team of Operation Transformation experts including fitness coach Karl Henry; principal clinical psychologist Dr Eddie Murphy; dietitian and Healthy Ireland Council member Aoife Hearne and general practitioner Dr Ciara Kelly. All four will be on hand to guide the leaders as they put the Operation Transformation health and fitness plan in to action.
Operation Transformation will launch our biggest youth campaign to date called 10@10. We're asking the primary school children of Ireland to partake in the largest junior group exercise session to ever take place in Ireland. On Friday the 10th of February at 10am we want every primary school child in Ireland (over half a million students) to get active in a mass burst of physical activity. It doesn't matter what they do, or how they do it, we just want them to get moving.
We are launching an exciting new strand called Live Longer/Live Better, where we explore what can in terms of diet and physical and mental exercise help us to live longer, healthier lives. People are living longer, but recent years have also seen a rise in fatal or debilitating illnesses, and - after watching loved ones battle: cancer, strokes, arthritis, and dementia - many of us are wondering if there's anything we can do to avoid suffering the same fate.
Operation Transformation is teaming up again with parkrun. Over 60 venues nationwide will be ready for Club OT to start at 9.30am on the 14th January 2017. The Operation Transformation parkrun club continues to be the largest in the world, and this year we will be welcoming walkers, so that everyone can get up and active.
The Dublin Fire Brigade will be back on board to set the leaders physical and psychological challenges, with Officer Dave Connolly pushing them to their limits each week.
Once again you can keep up to date with Operation Transformation on radio. The Ray D'Arcy Show on RTÉ Radio 1 will continue to be the radio home for the series, with regular updates from the leaders, campaigns and events.
Operation Transformation is sponsored by Safefood.
EPISODE ONE, RTÉ ONE, WEDNESDAY, JANUARY 4TH AT 8.30PM
In the first episode of the 10th series, we meet 18 potentional Leaders who undergo a day of of physical and emotional assessment with the panel of experts at Sportslink in Santry. The first three Leaders who will lead the nation to a healthier future are revealed, and we launch an exciting new strand called Live Longer/Live Better, where we explore what can in terms of diet and physical and mental exercise help us to live longer, healthier lives.
EPISODE TWO, RTÉ ONE, THURSDAY, JANUARY 5TH AT 8.30PM
In the second episode of the new series, Kathyrn Thomas reveals the final 2 Leaders who are set to lead the Nation. Health and Human Performance Expert Prof. Niall Moyna puts the Leaders through paces at DCU, where he finds out how their lifestyles has had a dramatically negitive impact on their health.
Leader profiles:
Chris McElligott
Age: 46
Location: Dunshaughlin, Co Meath
Height: 5ft 7?
Weight: 17st 11lbs
Chris lives in Dunshaughlin, Co. Meath with his partner Elizabeth and their 3 children Ryan (8), Dylan (5) and Mya (10 months). Chris also has two older sons from a previous relationship, Wesley (24) and Curtis (19) who live in Dublin.
Sixteen years ago, Chris' right leg was severed below the knee in a road traffic accident. He was on his way back home to play a football match when the van he was driving was jackknifed by a truck. Six months later he was fitted for his prosthetic leg. Chris' weight makes his everyday mobility more of a struggle, putting undue pressure on his prosthetic limb.
Chris has always had a passion for football and he was capped 26 times for the Republic of Ireland Junior International team. He also played for St Patrick's Athletic F.C. with Brian Kerr from which he has a league winner's medal from 1995. He is now a Community Coach with the FAI programme Football for All working with children with disabilities throughout Leinster. He is also the current Head Coach of the Irish Amputee football team.
Chris spends much of his time motivating others, but doesn't seem to be able to motivate himself.
Maireád Redmond
Age: 22
Location: New Ross, Co Wexford
Height: 5ft 5?
Weight: 16st 5lbs
Chocolatier and Pastry Chef Maireád lives at home in New Ross, Co. Wexford with her parents Noel and Mary. Her younger brother Adrian (20) is in college in Waterford I.T. and she has two older brothers; Sean (27) living in Waterford and James (25) who lives locally.
Maireád studied culinary arts in college and is very passionate about working with food. This led her to what might be considered a dream job; making handmade truffles, artisan chocolates and pastries. She has recently gone back to college to get a degree in Business, as she wants to open her own business someday.
As a child, Maireád's weight was an issue. She remembers her mother sitting her down and telling her she'd have to lose weight as they were struggling to find a communion dress that fit her.
Maireád applied for Operation Transformation so she can finally put her physical and mental health first and not to consistently leave them at the bottom of her to-do list. Maireád wants to lose weight so she can be in control of her body and not let the image she sees in the mirror change her mood, her feelings or her confidence.
Marie Grace
Age: 32
Location: Pallasgreen, Co Limerick
Height: 5ft 5 lbs
Weight: 14st 2lbs
Part-time hairdresser Marie is originally from Tipperary but lives in Pallasgreen, Co. Limerick with her husband Fergal (40). They have two daughters Lily Mai (3) & Daisy (8 months).
After having daughter Lily Mai, Marie's waters broke early with their second child and she was rushed to hospital. Marie gave birth to a little girl they called Michaela, who sadly passed away a few days later on the 18 November 2014. In 2015, Marie became pregnant again and they welcomed youngest daughter Daisy to the world.
Daisy was diagnosed with severe acid reflux and is currently on medication for this condition. Despite medication, the reflux is still a cause of discomfort for Daisy and she regularly screams in pain throughout the night. This has meant that Marie hasn't had a full night's sleep since Daisy was born and both she and Fergal are exhausted all the time.
Marie's biggest concern at this point is that she will continue to get bigger and won't be able to run around with the girls. Marie applied for Operation Transformation because she's lost all her confidence in herself and has no motivation.
Seán Daly
Age: 25
Location: Clondalkin, Dublin 22
Height: 6ft 1?
Weight: 23st 12lbs
Retail Manager Seán lives in Clondalkin, Co. Dublin with his parents Lorraine and Alan and his younger brother Darren (19) with whom he shares a room.
Seán's family have been a great support to him since he came out five years ago. His mother Lorraine is very proud of him and tells everyone he's gay. Seán has only been to one gay bar and has never been on a real date. He doesn't know how someone else could love him if he doesn't love himself.
Seán is currently so unhappy with his weight that he has been considering going to Poland to get a gastric band fitted. Seán has always been heavy. For his Communion, he remembers getting his suit specially made.
Seán never has breakfast and admits to having a chicken wrap and chips at 12noon as it's technically lunch-time.
Sean's wish is to lose the weight and to one day look in the mirror and to actually like, possibly even love, what's looking back at him.
Yvonne Keenan Ross
Age: 48
Location: Carlingford, Co. Louth
Height: 5ft 6?
Weight: 16st 8.5lbs
Café owner Yvonne runs the business with her husband Stephen in Carlingford. They have two children: Luke (14) and Karla (11).
Yvonne struggled with her fertility for years. They did six unsuccessful rounds of IVF before having their son Luke. After Luke she knew she wanted another baby. They began IVF again, only to be told that her eggs were no longer viable. As they pursued other options, their daughter Karla was conceived naturally.
Five years ago, husband Stephen was diagnosed with stomach cancer and had to have major surgery, and in turn give up work. Yvonne cared for him throughout his treatment. Last year, a secondary cancer was found in Stephen's lungs. This meant more surgery and more treatment. Thankfully, Stephen has had a second clear scan and is delighted to be in remission.
After seeing herself in a full length mirror on holidays, Yvonne realised that she needed to make a change. Yvonne wants to be a shining example to her children so they will choose a healthy, active lifestyle for themselves as they grow older. Yvonne would love to get fit so that she could be more confident with her body.
RTÉ One, Wednesday & Thursday, 8,30pm