One Thing To Do Before You Die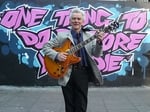 It's not the things you do in life that you regret, it's the things you don't do.
In Twenty-first century Ireland, we all have our 'to do' lists. Whether it's starting that pension or simply fixing that curtain rail. But when time's moving on, what's really important on life's 'to do' list?
Liberty Films finds out, in a new six-part series for RTÉ One entitled One thing to do before You Die. The series follows older people, who may be getting on in years but are definitely young at heart, as they cross that 'one thing' off their list.