One Night Stand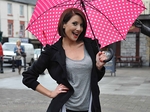 Jennifer Maguire presents this exciting new six-part dating show, One Night Stand.
Each week, Jennifer brings three single friends on the pull in the most extreme first date ever. It could be three guys or girls - straight or gay - friends, siblings, cousins or colleagues - but all single and hungry for love.
Jennifer Maguire commandeers nightclubs, campuses, seafronts, discos and castles all around Ireland as the site for One Night Stand. On arrival, the assembled mobs are put through their paces as the threesome try to weed out the dross, sort the men from the boys and hopefully score a hat trick of hook ups! The date takes place over three rounds: first impressions; the chat up; the dinner date and ends with a twist!
Over the course of the series, Jennifer attempts to makes matches for three sisters in Dublin, three gays in Bray, three macho men in Limerick, three models in Mullingar and three Roses, as well as a host of potential Mr and Mrs Rights including Firemen, Pageant Queens, Singers, Students and Professionals.
"It's clear Irish singletons need a helping hand!" says Jennifer. The feisty TV star, known for her outspoken demeanour added, "The threesomes I met were all stuck in various dating ruts. The show has opened them up to meeting new people and experiencing dates with a difference. Everyone has a lot of fun, a lot of laughs and there's even a few perfect matches, let's just hope they realise it, in time!"
Episodes
Programme One:
Jennifer descends on Waterford to find love for three lads, Keith, Aidan and Tommy.
Programme Two:
Jennifer meets Westmeath beauties Kate, Lareina and Yvonnne who are Man-Mad in Mullingar.
Programme Three:
Macho men Frances, Johnny and Greg are Loveless in Limerick and looking for ladies!
Programme Four:
We're in Gay in Bray as best friends Carl, Paul and Tony go on a mission for men!
Programme Five:
Pageant queens Martha, Frances and Isabelle are three Roses all ready for Romance.
Programme Six:
Sisters Rebecca, Rachael and Ruth Lee - collectively known as the Leesome Threesome - are Sleepless on the Southside!

RTÉ Two, Thursday, 10.00pm