On Hallowed Ground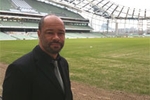 In this one-off documentary, we look at the re-opening of Lansdowne Road, exploring one of Ireland's most storied sporting venues, its many traditions and historic moments that together, make the new Aviva Stadium 'Hallowed Ground'.
It was inevitable that the Celtic Tiger would sign the original stadium's death warrant. Its crumbling concrete edifice hopelessly equipped to cope with 21st-century sport and the needs of modern-day spectators. With its rags-to-riches make over complete, it is fitting to mark the re-opening of the stadium with a lasting visual document that will bring together the ghosts and anecdotes of days past with the hopes and dreams for the days ahead.
When the Aviva stadium opens on May 14th 2010, it will mean the continuance of a sporting tradition on the site, which dates back to 1872. If Croke Park, as home of Gaelic Games and through the bloodshed of Bloody Sunday has become a symbol of Irish Nationalism, then Lansdowne Road has since its very inception been a symbol of tolerance and inclusion. The venue has served as a home to athletics, rugby and soccer and much of Ireland's national sporting history has been written at Lansdowne Road.
Stunning visuals and never-before-seen archive will complement contributors from Ireland's sporting landscape. Contributors include Ollie Campbell, Jack Kyle, Donal Lenihan, John Pullin John Giles. Paul McGrath, Mick McCarthy, Jason McAteer and Kevin Doyle. Each voice will add narrative twist and personal layers of meaning that will build a collective story celebrating a defining venue in Irish sport.
The documentary will celebrate past and present events and opportunities that make the re-opening of Lansdowne Rd. such a defining moment in Irish sport.
Over the course of thirteen decades, through two World Wars, the partition of Ireland and The Troubles that convulsed Northern Ireland - the stadium has borne witness to some of the most extraordinary sporting events in Ireland and welcomed Irishmen-and-women of all creeds, colours and political persuasion through the turnstiles. Every home has its own personal recollection of Ireland's national stadium. In 2010, the opening of the Aviva Stadium will mark a moment when Ireland, united in sport, looks forward to the next 130 years and the many more stories to follow.