O'Gorman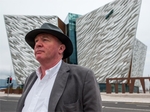 In this brand new series, Paddy O'Gorman travels the length and breadth of Ireland, meeting people, eliciting stories and listening, in his own, inimitable way.
Episodes
Programme 1: Belfast
In programme one, with Snoop dog in tow, Paddy follows the Titanic trail from Belfast to Cobh. First he pays a visit to the impressive, new Titanic Quarter in Belfast, the centrepiece of which is attracting a steady flow of tourists from all over Ireland and the world.
Visitors speak of the emotion the Titanic centre evokes and one woman tells of her grandfather who worked on the ship. Paddy meets a former publican who used alcohol to drown out the Troubles; and a priest who speaks candidly about the joys and difficulties of being a priest in the current climate.
Next, Paddy heads to the Titanic museum in Cobh, Co. Cork, where a cruise liner of Italian tourists docks bringing custom to local businesses. Paddy meets a man who used to work on ships and travelled the world from the age of fourteen, when he first went to sea, straight from industrial school. He also meets woman who runs her own horse and carriage business during the summer.
Programme 2: Cork
In this, the second programme in this summer series, Paddy O'Gorman talks horses and more at the Doneraile Point to Point races, now held near Mallow in Co. Cork.
The event dates to 1752 and was the world's first steeplechase, running as it did between Doneraile steeple and Buttevant steeple.
Programme 3: The Pipe Bands of Castleblaney
This week Paddy O'Gorman is in Castleblaney, Co. Monaghan, attending one of the many pipe-band competitions which are held across Ireland in any given year.
Fiercely competitive and yet full of fun, the day out attracts performers in pipe-bands, their fans and the general public whom Paddy will solicit for their take on the proceedings.
Programme 4: West Clare
Paddy O'Gorman takes a jaunt on the legendary West Clare Railway, to Slieve Callan from Moyasta station.
Paddy and his trusty, canine companion, Snoop then head to Ennis to listen to some jigs and reels at the Fleadh Nua.
Programme 5: Dublin Airport
Over the years, the departures areas of Dublin Airport have witnessed many a sad and tearful parting. This week, Paddy O'Gorman meets travellers, some departing Ireland for happy reasons and others for reasons of necessity.
Programme 6: Dublin Airport
This week sees Paddy hover in the arrivals areas of Dublin Airport, to meet people arriving from - amongst other places - England, Brisbane, Australia and China.
Programme 7: Duncannon Fort, Co. Wexford
Duncannon Fort, Co. Wexford, is a star-shaped fortress overlooking Waterford Harbour, and the venue for a military re-enactment and vehicle show. This week, Paddy O'Gorman meets some of the men and women who bring the past to life, in period costume, at this annual event.