Obama: An Fíor Nasc Gaelach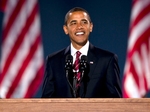 July 4th: Independence Day - The visit of Barack Obama (44th US President) earlier this year highlighted the links and Irish lineage that have been claimed by many a US President. However long before he was aware of any Irish ancestors, Barack Obama had a very genuine political connection with Ireland. Obama's connection to Ireland runs deep and goes to the core of what has made him the politician he is today.
This connection stems from an unlikely friendship in the 19th Century between "The Grandfather" of the US Civil Rights Movement - Frederick Douglass and our own "Emancipator" Daniel O'Connell. The roots of Obama's politics can be traced in no small part to this pair of heavyweight orators and activists. Obama knew and was inspired by Douglass and O'Connell long before he'd ever heard of Moneygall. As a community organiser in a disadvantaged housing project (Altgeld Gardens) in south side Chicago, one of America's most segregated cities, young Obama was advocating for grass roots communities, though it wasn't long before he was rising through the ranks of the Irish-American dominated and notoriously dirty world of Chicago's Democratic political scene becoming Senator, and eventually the first black President of the United States.
Daniel O'Connell, Frederick Douglass and Barack Obama - all inspirational political leaders at key moments in history. There is a direct line connecting them - their oratorical skills and ability to mobilise communities and citizens with a call for change.
This fascinating story of politics, leadership and social activism is Obama's real Irish connection - an fíor nasc Gaelach.
Celebrating Independence day with a difference this fascinating story is told with contributions from: Loretta Herron, a key community leader who worked with Obama in his early years in Altgeld Gardens, Chicago; Cheryl Johnson, a current Altgeld community activist; Richard E. Daley, Mayor of Chicago 1989-2011; Rev. Jesse Jackson; David Mendell, journalist and author; Irish American historian Úna Ní Bhroiméil.
Presenter/Reporter - Garry Mac Donncha
Produced and Directed by Laura Ní Cheallaigh
Obama's speech at the Democratic Convention in 2004 launched him to where he is today. That was his moment to either fly or crash, and he flew. In American sports jargon 'he hit the ball out of the ballpark'.
David Mendell
40 years ago we had been in Grant Park....Dr King had been killed, there was great sadness in the land. 40 years later in that same space and place President Barack Obama comes up on a giant jumbo screen as America's next President. What a moment.
Rev. Jesse Jackson
I cared a lot about my community and my family and Barack seemed to care too enough so that it made me step up to the plate and do the things I needed to meet politicians and push the issues.
Lorreta Herron (Former Altgeld Gardens Community activist)
Chicago was always a city of immigrants, and the Irish were always communicators, not only for their own but for every ethnic group that couldn't speak English.
Richard M. Daley (Mayor of Chicago 1989-2011)