OB Sport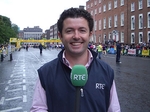 O.B. Sport, the TV sports magazine programme, is a continuing partnership initiative between RTÉ and the Irish Sports Council.
More than 35 different sports have been featured in the series, including; Athletics, Football, Hurling, Handball, Camogie, Soccer, Rugby, Boxing, Hockey, Basketball, Swimming, Showjumping, Tennis, Sailing, Golf, Rowing, Paralympics, Rifle Shooting, Racquetball, Table Tennis, Eventing, Fencing, Martial Arts, American Football, Skiing, Bobsleigh, Skeleton, Volleyball, Squash, Judo, Archery, Diving, Rallying, Rugby Sevens, Bike Racing and Cyclocross.
O.B. Sport has also shown comprehensive coverage of some of Ireland's most significant sporting successes including Derval O'Rourke's World Indoor gold medal run, Katie Taylor's World Championship success, and Jessica Kuerten's silver medal round at the World Showjumping Cup.
O.B. Sport provides RTÉ with the means to cover a wider range of overseas events involving Irish competitors. The programme has developed a low-cost, high-quality model for covering major events with a small team. This has enabled RTÉ to show, for the first time, international events such as the Winter Olympics in Italy, the Ulster Hurling final from Boston, the World Handball Championships from Canada, plus the Women's Hockey World Cup Qualifiers from Rome.
Highlights so far include:
GOLD: The Ronnie Delany story · GAA USA: Our special programme on the GAA in America · The GPA Awards · Handball World Championships and Irish National Championships · Athletics National Cross-Country Championships and European Cross-Country Championships · Basketball SuperLeague finals · Soccer: Ireland's Under-17s bid to qualify for Euro 2006 · Volleyball Cup finals · Tennis: National Indoor finals · Swimming: Irish Long-course Championships · Squash: Women's World Open and Irish Open finals · Diving: National Championships · Irish Examiner Junior Sports Awards