Nurse Jackie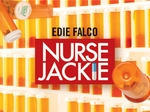 NURSE JACKIE is a half-hour dark comedy that is at turns wicked, heartbreaking and funny. Edie Falco stars as the title character Jackie Peyton, a strong-willed and brilliant -- but very flawed -- emergency room nurse working in the complicated and frenzied environment of a New York City hospital. A lapsed Catholic with a weakness for painkillers to get her through the days, Jackie keeps the hospital balanced with her unique bedside manner and own brand of medical justice.
Every day is a high-wire act of juggling patients, doctors and fellow nurses along with her indiscretions. Jackie's relentless dedication to her profession and her family come into conflict with the complicated decisions she's faced with on an hourly basis, leaving her in many moral and ethical quandaries that she somehow must find a way to figure out.
Episode 101 - Pilot
Written by - Liz Brixius & Linda Wallem
Directed by - Craig Zisk
Veteran ER nurse Jackie Peyton (Edie Falco) tries to make something good come from a senseless death at her under-funded Manhattan Emergency Room. Her day is complicated by the addition of first year nurse Zoey (Merritt Wever), frat-boy Dr. Cooper (Peter Facinelli) and a secret need for Adderall from her boyfriend Eddie Walzer (Paul Schulze), the pharmacist.
102: "Sweet-N-All"
Written by - Liz Brixius & Linda Wallem
Directed by - Craig Zisk
Jackie and her husband Kevin (Dominic Fumusa) become concerned that Grace, the older of their two daughters is suffering from anxiety. At work, an irate patient hauls off and hits Jackie, who tries to ease the pain with Percocet-laced coffee, only to have her administrator, Mrs. Akalitus (Anna Deavere Smith), drink the doctored coffee. Nursing student, Zoey, questions whether or not nursing is the right path for her -- a question prompted after a severed ear bubbles up in the toilet.
103: "Chicken Soup"
Written by - Mark Hudis
Directed by - Craig Zisk
Jackie and her husband continue to suspect that their daughter is suffering from anxiety. She shares this concern with the worldly and sophisticated Dr. O'Hara (Eve Best). At work, an elderly man (Eli Wallach), who has chosen to treat his heart failure with chicken soup, comes into the hospital to enjoy a bowl of soup before he dies. Eddie, Jackie's boyfriend and pharmacist, breaks the news that he will be replaced by an automated pill dispenser within a few months.
104: "School Nurse"
Written by - Christine Zander
Directed by - Steve Buscemi
Jackie and her husband Kevin are called to Grace's (Ruby Jerins) school, where her teacher, the school nurse and a district psychologist tell them that Grace needs to go on an anti-anxiety medication. Jackie resists this, planting the seed with Kevin that Grace might do better in private school. At work, a young boy has fallen from a jungle gym. Stoic O'Hara saves the boy's life and has to cope with the gooey gratitude of his twin brother. Zoey loses her first patient.
105: "Daffodil"
Written by - Taii K. Austin
Directed by - Steve Buscemi
It's Zoey's first night shift and a 10 year-old girl brings her mother, who suffers from Lupus, into the ER. Jackie realizes that the girl is her mother's primary caregiver. She breaks hospital policy to keep the girl in the loop, and sends her home with meds that the mother's HMO won't pay for. O'Hara treats Zoey to a four-star restaurant. Mrs. Akalitus accidentally suffers a self-inflicted tasering.
106: "Tiny Bubbles"
Written by - Rick Cleveland
Directed by - Craig Zisk
Jackie is caught off-guard when a nurse (Judith Ivey) she used to work with, who is dying of lung cancer, asks Jackie to help end her life. O'Hara steps up to the plate and offers to help Jackie navigate a very sad day with grace and humor. Meanwhile, Coop's mother (Blythe Danner) is admitted with a gall bladder attack. We learn that he is the only son of lesbians.a fact that delights Jackie and O'Hara.
107: "Steak Knife"
Written by - Nancy Fichman & Jennifer Hoppe
Directed by - Steve Buscemi
A man is admitted with a steak knife sticking out of his chest. He was on a first date with a woman whose ex-husband stabbed him. Eddie gives Jackie a Cartier bracelet for their one-year anniversary, but she rejects the gift. A baby is left in the nurses' station and Akalitus takes the infant to her office. O'Hara, who is usually on her game, is beginning to crack - there's a crisis in her private life. Jackie invites her to spend the night in Queens. Grace begins school at Immaculate Virgin, and her parents are hopeful that private school will ease her anxiety.
108: "Pupil"
Written by - Liz Flahive
Directed by - Steve Buscemi
A temp nurse is sent to help in the ER as a woman (Andrea Martin) is admitted with a head injury. One of the injured woman's 20-something daughters catches the eye of Dr. Cooper. Meanwhile, we learn that Mrs. Akalitus has not yet turned the abandoned baby from the previous episode over to social services. Instead, she asks Mo-mo (Haaz Sleiman) for advice on unconventional adoptions. Zoey figures out that the new temp nurse is on drugs. When Jackie confronts the temp, he tells her "takes one to know one." Grace has a panic attack in her new school. Coop finds out that Jackie has a child and tells Eddie. Jackie's secrets are starting to slip out.
109: "Nosebleed"
Written by - John Hilary Shepherd
Directed by - Paul Feig
Jackie admits a patient she has treated before. As his condition worsens, Zoey questions whether Jackie did enough to help him on his previous visit. Jackie's drug use starts to cause spontaneous nose bleeds. O'Hara tells Jackie that her sister, who lives in Paris, has benefited from Jackie's ability to juggle a job, family and affair at the same time. Jackie feels betrayed that O'Hara broke her confidence. A car accident victim is pronounced brain-dead, and rather than wait for Coop to certify legal brain death for organ donation, Jackie lies and says Coop signed off.
110: "Ring Finger"
Written by - Liz Brixius
Directed by - Paul Feig
Jackie and Grace begin mother-daughter tap class. Coop threatens to expose Jackie for falsifying a donor's record. Jackie has forgotten to remove her wedding ring, and needs to get it off before meeting Eddie for a quickie. She can't get the ring off and asks O'Hara to saw it off. To distract Coop from hassling her about the donor, Jackie baits him into grabbing her breast -- and rather than admonish him, she kisses him.
111: "Pill-O-Matix"
Written by - Rick Cleveland
Directed by - Scott Ellis
Kevin decides to buy Jackie a new wedding ring. At work, the automated pill machine replaces Eddie. A movie critic (played by Victor Garber) is admitted with a broken elbow. Zoey gives him the wrong dose of painkiller, resulting in a coma. Coop dumps his new girlfriend. The parents of the baby Akalitus has been taking care of come forward to resume custody. We learn that O'Hara's mother has slid into a coma - she believes that her stepfather is responsible. Eddie follows Jackie home, and sees her with Kevin and the girls.
112: "Healthcare & Cinema"
Written by - Liz Brixius & Linda Wallem
Directed by - Scott Ellis
Kevin invites Jackie for a midnight rendezvous, where he plans to surprise her with a new diamond ring. She promises to be there. O'Hara asks Jackie to help her admit her mother, who is being flown in from London. Jackie promises to be there. The movie critic wakes up - his taste in movies has been altered (suddenly, he loves "Showgirls"). After spending the day drinking at Kevin's bar, Eddie makes a scene at All Saints, threatening to tell everything. Desperate for a fix, and panicked because she can't go home and she can't stay at the hospital, Jackie takes three vials of morphine from Pill-O-Matix and collapses.