Now It's Personal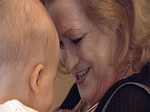 In Irish society there are people who don't shy away from controversial opinion. They tackle difficult subjects and voice feelings that may be politically incorrect. Their ideas provoke debate and anger; sometimes ridicule or shock; sometimes sympathy. Their ideas may go against consensus views. Or they may echo beliefs others hold, but are afraid to say.
Now It's Personal invites such opinion-makers to go one step further: to test their ideas or beliefs at the coalface. Shot in observational style, Now It's Personal immerses someone with strong opinions within a world they have previously criticised with a passion. Those they encounter along their week-long journey will challenge views. Whether or not opinions on either side will alter is all part of the ride. While some viewers may agree or disagree with points of view at the start, will their opinions change by programme's end?
Episodes
Programme One
Journalist Emer O'Kelly was a familiar face on RTÉ News for almost 20 years and is now a theatre critic and columnist with the Sunday Independent newspaper. Her controversial comments about women who work exclusively in the home have raised a few hackles.
In Now It's Personal, Emer goes on a mission to convince 'stay-at-home mothers' to get out of the house and into work. She says every wife and mother has a duty to herself, and to society, to earn a wage packet. She thinks 'stay-at-home mothers' are a burden on the State and need to contribute economically. For one week Emer will step into the lives of working and non-working women to challenge and be challenged.
Programme Two
Ian O'Doherty, who writes for the Irish Independent is one of Ireland's best-known and most controversial newspaper columnists. Ian has strong opinions about Ireland's growing Muslim population and is not afraid to criticise radical Islam. But for the course of a single week, Ian will live with and meet a cross-section of Muslims living in Ireland. Although he agrees to abide by Islam's rules, the living ain't always easy.
RTÉ One, Tuesday 08 November 2011, 10.15pm