Nollaig na Maggies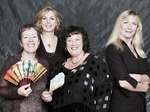 A Christmas homecoming with four of our best female singers as 'T with the Maggies' return to their beloved Donegal for the festive season. For one night only they perform an intimate concert for close friends & family in the spectacular setting of Glenveigh Castle.
"T with the Maggies" have been described by Hot Press Magazine as an 'extraordinary talent with a capital T'. The Maggies combine the extraordinary musical talents of sisters Tríona and Maighread Ní Dhomhnaill, Mairéad Ní Mhaonaigh and Moya Brennan, each with illustrious musical careers behind them with such acclaimed groups as The Bothy Band, Clannad, Coolfin and Altan..
In this festive programme, these four talented and spirited Donegal women celebrate the festive season by performing some of their favourite songs, reflecting on their lives, loves and losses, sisterhood and friendship and their own Christmas memories.
While a mutual love of music and song is their common bond, the fun and friendship between these women is palpable. Tríona Ní Dhomhnaill feels that the Maggies is a new beginning and direction for all four musicians, having toured the world individually with their music, the time is now right for something new that springs from a shared background and a shared friendship. Having reached a point in life and music where they haven proven themselves professionally, they now want to just enjoy brining their unique blend of music and song to new audiences.
This Christmas they celebrate their shared friendship, heritage and musical talents in the seasonal and romantic setting of Glenveigh Castle in the heart of the Donegal hills.
All four women have deep connections with the Donegal parishes of the Rosses and Gaoth Dobhair (Gweedore) and each bring a unique and varied interpretation of their musical heritage, creating a magical sound of the Irish female voice. Mairéad Ní Mhaonaigh describes Donegal as the 'well' from which all four singers draw their inspiration and rich musical heritage. Although lifelong close friends, this grouping only performed together for the first time in 2007 at a tribute concert to Micheál Ó Domhnaill of the Bothy Band, who died suddenly the previous year. This became the spark which led to the formation of 'T with the Maggies' and a critically acclaimed album.
Nollaig na Maggies
Filleann ceathrar de bhan-amhránaithe iomráiteacha Thír Chonaill ar an bhfód dúchais don Nollaig. I gCaisleán álainn Ghleann Bheithe, le linn seasúr na Nollag, tugann 'T with the Maggies' coirmcheol iontach pearsanta agus neamhfhoirmeálta dúinn i gcomhluadar a gcáirde is a muintir ionúin.
Fuair 'Hot Press' i gceart é nuair a chuireadar síos ar 'Divas Thír Chonaill', mar a thugtar orthu, le briathra meala: 'Extraordinary talent with a capital T'. Cé hiad, ach na deirféaracha Tríona agus Maighréad Ní Dhomhnaill, i dtaca lena gcáirde Mairéad Ní Mhaonaigh agus Moya Brennan. Tá gairm-ré órdha ag gach aon duine díobh cheana féin, agus seasamh ar leith acu i stair cheol tíre na hÉireann. Is amhránaithe aonair den scoth gach duine díobh, agus nach iad a thuil clú agus cáil sna sár-ghrúpaí idirnáisiúnta - The Bothy Band, Clannad, agus Altan.
Tá gaol do-bhriste idir na mná seo agus dúiche na sinsear - paróistí na Rossan agus Ghaoth Dóbhair. Tarraingíonn siad uile as tobar an cheoil dúchais. Tá a bealach inste amhrán dá cuid féin ag an gceathrar ban. Deir Mairéad Ní Mhaonaigh go dtarraingíonn siad, in a mbealaí eagsúla, as tobar saibhir an dúchais áitiúil. Cé gur cáirde ón gcliabhán iad, níor cheol siad le chéile mar cheathrar go dtí 2007, ar ócáid chomórtha Míchíl Uí Dhomhnaill, ón mBothy Band, deartháir na beirte Domhnallach, a d'éag chomh luath sin roimh am dó sa bhliain 2006.
Cuireadh síol 'T with the Maggies' an oíche sin. Tugann an céirnín nua agus an turas ceoil reatha an cairdeas is an cheoltóireacht chun foirfeachta.
Tá idir éacht agus tragóid blaiste acu go léir, agus, tráth seo na Nollag, tugann siad go fial dúinn, idir amhráin, ceol agus scéalta pearsanta, i gCaisleán álainn Ghleann Bheithe, ar ardchlár siamsúil Dhún na nGall.
RTÉ One, Friday 23 December, 7.30pm