No Frontiers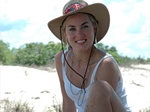 No Frontiers returns this summer with More Good Reasons to pack your bags and do some travelling. The series will revisit some of the best holiday reports from the No Frontiers archives. Each programme will be themed, whether it's family breaks or saddling up for an equestrian holiday. More Good Reasons will also feature plenty of well-known faces such as George Hook, Sonya Lennon and Tracy Piggott.
This year even more people have decided to holiday at home. So each programme of More Good Reasons will see Kathryn Thomas present the show from a location around Ireland. Whether it's beautiful Cobh or adventure sports in Carlingford, Kathryn will show you that there are some great holiday options on our home turf.
Episode One: More Good Reasons - To Say G'Day
Arnhemland
Kathryn Thomas heads into the outback to spend time with the native aboriginal people. She finds out how to survive in the bush and sees amazing examples of wood and stone sculpture.
Tasmania
Kathryn Thomas visits the Australian Island of Tasmania. Home to one of the world's great beaches at Wineglass Bay, Tasmania is the perfect place to see a different side of Australia whilst indulging in great food and wine.
Great Ocean Road
Kathryn Thomas revs up her engine and travels along the picturesque Great Ocean Road in South East Australia. The road travels through lush forests and past stunning cliff faces. Along the way Kathryn encounters everything from treetop walks in the rainforest to traditional aboriginal dancing.
Episode Two: More Good Reasons - To Saddle Up
On this week's programme garden designer Diarmuid Gavin explores Iceland's wild landscape and famous geysers on horseback; John Kelly stops off in Bandera, Texas. In the lone star state John can't help transforming into an unlikely cowboy, riding horses and roping steers; Kathryn Thomas saddles up as she follows the Gaucho Trail from Argentina and Chile and experiences first hand what it takes to become a Gaucho cowboy.
Episode Three: Greece, Alentejo, Fuerteventura
The first thing that may come to mind when someone mentions Island hopping in Greece may be tons of post-leaving cert students. But there is a more relaxing side to the islands in locations like Skopelos, known better as the island of Kalokairi in the hit film Mamma Mia.
Alentejo is a beautiful, yet largely unknown area of the south-central region of Portugal. It is the warmest region in Portugal and its inhabitants are known for their slow paced and easygoing lifestyle. Lisbon is the nearest airport, and Évora is the main city and the best place in the region to base you.
Corralejo is the largest resort in Fuertaventura and home to thousands of Irish families in search of a sunny summer escape. When most families choose this location they do so for a peaceful and more importantly "child-friendly" atmosphere.