No Experience Required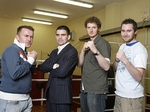 No Experience Required aims to change all that by offering the complacent masses the opportunity to flee their forlorn worklives and land the kind of job they've always wanted.
The series offers people a foot in the door and an opportunity to "be all you can be".
Each week candidates compete for a six month contract and a once-in a lifetime opportunity to land their dream job.