Neven's Food Trails: The Basque Country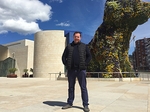 Neven Maguire is back on RTE this autumn with his 9th series, Neven's Food Trails: The Basque Country. The ever popular chef visits the Basque Country and La Rioja, two regions in Northern Spain which are renowned for their cuisine. Neven has a particular affinity with this part of Spain: as a young chef, he did a 'stage' at Arzak, the famous restaurant in San Sebastian which has held 3 Michelin stars since 1989 - the only restaurant in Spain to have had three stars for nearly 40 years.
In this seven part series Neven visits Bilbao, San Sebastian and Bermeo in the Basque Country; and Haro in La Rioja.
Every part of the region has its own speciality: fish in Bermeo, where Neven sees mackerel being landed and visits a tuna canning plant, pinchos in San Sebastian (which has more Michelin star restaurants per square kilometre than any other place on earth), wine in Haro, cider in Altzaga and cheese in Segura.
Neven visits his old mentor, Sr Juan Mari Arzak, tours the Marques de Riscal winery, takes a balloon trip over La Rioja's countryside, learns how to make pinchos (the Basque equivalent of tapas), watches sheep's milk cheese being made by hand, and sees how two of Bilbao's famous pastries are created.
Also in this series Neven enjoys a boat trip past the Guggenheim Museum, a football match at Athletico Bilbao, and visits the 'cemetery' at the Cune bodega (winery) where penicillin grows over the bottles of wine to protect them.
Neven returns to Ireland to cook dishes inspired by his travels.
This is Neven's most exciting and ambitious series to date, and he relishes the chance to bring viewers to a part of the world that he loves and admires.
Episodes
Programme one:BILBAO
The first stop on Neven's Basque Country food trail is Bilbao. Neven takes a look at the city's incredible modern architecture, and of course its culinary delights. He calls in at the Manuel Angulo patisserie, where even the sweetest tooth can be satisfied. Neven also takes a trip to Zortziko, one of Blibao's Michelin star restaurants and meets Chef Daniel Garcia who is renowned for his innovative approach to cooking.
Neven's recipes this week include: Buffalo Chicken Wings with Blue Cheese Dip, and Prune and Armagnac tart.
Series One, Programme two: Wine Country

On the second stop of his Food Trail adventure, Neven takes a hot air balloon trip over the vineyards of the spectacular La Rioja wine region. He then heads back to the Basque Country to visit the Cune winery. This week's recipes include Air-dried Lamb Carpaccio with Roasted Beetroot and Mustard Cream.
Programme three: Fish
In the third programme, Neven takes a trip to the beautiful fishing port of Bermeo, gets to grips with cooking octopus, and visits a tuna cannery where the preparation of fish requires great skill and precision. He eats at one of the Basque Country's finest fish restaurant, Portu-ondo.
Neven's own recipes this week are: Tuna and Hummus Bruschetta with Spinach Salad and Capers;and Grilled Black Sole on the Bone with Lime and Caper Butter.