Neven's Food from the Sun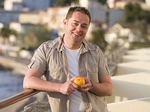 "Neven's Food From The Sun" is a new 13-part series from the talented Cavan chef. Shot on location in Mallorca, and in Neven's own kitchen in Cavan, the series will bring a much-needed touch of sunshine into our lives.
Inspired by the authentic tastes and new flavours experienced when on holiday, Neven shows us how to recreate a range of wonderful recipes and bring a little sunshine into our own kitchens.
In each programme Neven focuses on a particular ingredient or type of ingredients and takes us through various recipes from different countries. From fish, lamb, fruit, olive oil and vegetables to tapas, mezes and desserts. Each programme and each recipe is introduced from a location which is relevant to the food being cooked.