Neven Maguire: Home Chef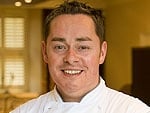 Neven Maguire returns for the second part of his seventh consecutive series with Neven Maguire:Home Chef. The emphasis in this new series is on quick, family-friendly dishes rather than the more complex, restaurant-style recipes of his previous series.
"Before we had children, Amelda and I would grab something to eat at the end of a busy night in the restaurant. Now, we try to eat as a family and that has changed the way I cook at home" says Neven. The recipes in the new series can all be made in under half an hour, and in most cases less, and I understand that speed is important.
"I always buy food with the Quality Mark as I know it has been produced to the highest Bord Bia standards from the farm right through to the table. Also before they can use the Quality Mark, all farms and food premises are inspected against the quality standards and passed. Therefore you can feel good about what you are feeding your family."
"As a chef, I'm really interested to see how chefs cope in different environments. I'm used to cooking in restaurants, but it's fascinating to see 80 chefs work at the Aviva, or chefs preparing food in a tiny kitchen for 300 guests at Bunratty Castle, where two banquets are served every night. All these chefs are producing high quality food for large numbers of people, and it's fascinating to see them at work."
Neven Maguire :Home Chef is produced and directed by David Hare of InproductionTV for RTÉ and is sponsored by Bord Bia
RTÉ One, Wednesday, 8.30pm