Neither Fish Nor Fowl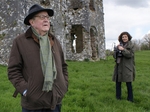 A personal documentary about how the washed up colonial class of practical joking, horse riding, literary Anglo Irish saw themselves after Ireland's independence. Film maker Fiona Murphy's film about her own family, struggling to stay on in Ireland in the 1930s is imaginative, political, moving and funny.
The Murphys, neither pure bred toffs nor fully Irish, have sharp perceptions, a relish for the absurd and wounds that still show. A father in colonial Sri Lanka, a home in the West of Ireland, school in England: were they Irish? English? Children of the Empire? Each has a different answer.
RTÉ One, Thursday, 10.15pm