Nationwide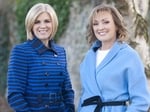 Presented by Mary Kennedy and Anne Cassin, Nationwide brings Irish viewers an eclectic round-up of news, views and events from around the country.
Programmes
MONDAY 26TH JUNE
FETHARD, COUNTY TIPPERARY PROGRAMME
We travel to the medieval town of Fethard in County Tipperary for the opening of a brand new visitor center which celebrates Tipperary's long Equine History. The new center known as 'The Fethard Horse Country Experience' was opened recently by Andrew Lloyd Webber who has a Castle outside the town. We also hear about tourism in the area and the hopes for the future of this town which is rich in horse heritage. Mary Kennedy also takes a walk around the 14th century medieval walls which are some of the most impressive in the country.
Website: www.tipperary.com
HORSE MUSEUM/REPORT BRIAN WALSH
We visit the newly opened visitor attraction the 'Fethard Horse County Experience' which is set in the town's 400 year old Tholsel. This state of the art horse country museum is bringing a new lease of life to the town which is known for its thoroughbred links.
Contact: Fethard Horse Country Experience, The Tholsel, Main St., Fethard, Co. Tipperary.
Telephone: +353 (0) 52 6130439
Website: www.fhcexperience.ie
Email: enquiries@fhcexperience.ie
WEDNESDAY 28TH JUNE
FRANCIS LEDWIDGE NATIONWIDE SPECIAL
This programme is about the Irish poet, Francis Ledwidge, who was killed 100 years ago next month at the Third Battle of Ypres during World War 1. He was 29 when he died. We take a look at his life in Slane at the turn of the last century, as farm labourer, road worker and struggling poet, his patronage by Lord Dunsany, who introduced him to the literary world, and his unrequited love for a local girl, Ellie Vaughey. We hear his poetry and of his war experiences in his own words. We also hear the voice of Seamus Heaney, who championed Ledwidge as an important Irish poet, and from a dedicated local committee who have succeeded in keeping Ledwidge's memory alive.
Contact: Francis Ledwidge Museum and War Memorial Centre Ltd, Janeville, Slane, Co. Meath
Telephone: +353 (0)41 9824544
Website: www.francisledwidge.com
FRIDAY 30TH JUNE
SPECIAL PROGRAMME FROM AND ABOUT COUNTY CLARE
In this programme we attend the Irish Seedsavers plant share day at Scariff in Co. Clare. We learn about bushcraft in the woods with Tom Bán. We also visit the Sea Eagles at Mountshannon and from surf to turf, we meet the Pro Surfer who has started a Community Farm in Lahinch.
Website: www.nigelbeerssmith.com
Website: www.irishseedsavers.ie
Website: www.mountshannoneagles.ie
Website: www.fergalsmith.com/blog
Facebook: www.facebook.com/wovenworld-bushcraft
Twitter: @RTENationwide
Email: nationwide@rte.ie
Programme Enquiries to: nationwide@rte.ie

RTÉ One, Monday, Wednesday & Friday, 7.00pm
Visit the website