Nationwide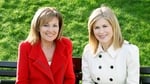 Presented by Mary Kennedy and Anne Cassin, Nationwide brings Irish viewers an eclectic round-up of news, views and events from around the country.
Programmes
MONDAY 12TH OCTOBER
PROGRAMME ON NEW BUSINESS
IMPROPER BUTTER/REPORT MARY FANNING
Entrepreneurship in young people is an encouraging signal for the future of our country and two young women who started a company called Improper Butter have taken the food industry by storm. They have won several awards getting their flavoured butters competitive in the retail market and have joined forces with an established production company combining great taste, superb marketing with a product that has already gained massive attention at home and abroad.
Contact: Improper Butter, LINC, IDA Business Park, Blanchardstown Road North, Blanchardstown , Co. Dublin
Telephone: 353 85 286 0121
Website: www.improperbutter.com
MULTYFARNHAM COOKERY SCHOOL/REPORT VALERIE WATERS
Many people from all over the country will remember the Agricultural College at the Franciscan Friary in Multyfarnham, Co. Westmeath. Now a section of that building has been given a new lease of life. It's where the Multyfarnham Cookery School is housed and it's a cookery school with a difference, as reporter Valerie Waters found out.
Contact: Multyfarnham Cookery School, Coole Road, Multyfarnham, Co. Westmeath
Telephone: (044) 93 71808 & (087)627 1164
Website: www.multyfarnhamcookeryschool.ie
WEDNESDAY 14TH OCTOBER
OPEN HOUSE DUBLIN/REPORT ANNE CASSIN
Whether we realise it or not we all respond to architecture, to how it looks and how it makes us feel. 'Open House Dublin' is a simple concept. Many buildings across the city throw open their doors to the public one weekend a year allowing us to connect with a range of spaces in an immediate and meaningful way. This weekend coming, marks the 10th year of 'Open House Dublin', and Anne Cassin got a sneak peek on her very own preview tour.
Website: www.openhousedublin.com
PRINCE AUGUST/REPORT BARRAI MESCALL
The largest toy soldier exhibition and visitor centre in the world was established earlier this year at The Prince August Toy Soldier Factory in the West Cork Gaeltacht of Kilnamartra near Macroom. Comprising of 15,000 pieces each individually moulded and painted, it re-enacts one of Europe's most defining battles, The Battle of Waterloo. Reporter Barraí Mescall has the story.
Contact: Prince August, Kilnamartyra Village, Macroom, Co. Cork.
Telephone: (026) 40222
Website: www.princeaugust.ie
Email: info@princeaugust.ie
FRIDAY 16TH OCTOBER
CHURCH FLOWERS/REPORT CIARAN MULLOOLEY
We travel to County Offaly where one of the largest floral festivals in the country took place recently to mark the 200th anniversary of St. Catherine's Church in Tullamore. The event attracted visitors from home and abroad and featured no less than 13,000 flowers on display. Reporter Ciaran Mullooly went along and took a trip down memory lane.
GUITAR MAKER/REPORT DAMIEN TIERNAN
We visit the South East where one man and his love of music and carpentry has led him down a new career path which is paying handsome dividends so far. Martin Murphy lives in Wexford town and makes custom built guitars. His eye for detail and ear for the perfect note is being well received by musicians, as reporter Damien Tiernan has being finding out.
Contact: Martin Murphy, Wexford
Telephone: (087) 2343228
Website: www.menapiaguitars.com
Email: menapia44@gmail.com
YOUTH SAILING/REPORT NIALL MARTIN
During the Summer young people from North and South got a unique opportunity to learn how to sail on the open sea. The Atlantic Youth Trust is aiming to buy a brand new sail training vessel to replace the Asgard which sank off France some years ago. Reporter Niall Martin has more.
Contact: Atlantic Youth Trust, Commissioners of Irish Lights, Harbour Road, Dun Laoghaire, Co Dublin
Telephone: +353 1 271 5598
Website: www.atlanticyouthtrust.org
Twitter: @RTENationwide
Email: nationwide@rte.ie
Programme Enquiries to: nationwide@rte.ie

RTÉ One, Monday, Wednesday & Friday, 7.00pm
Visit the website