Nationwide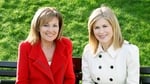 Presented by Mary Kennedy and Anne Cassin, Nationwide brings Irish viewers an eclectic round-up of news, views and events from around the country.
Programmes
MONDAY 26TH JANUARY
SHOWCASE IRELAND PROGRAMME
On tonight's Nationwide programme, Ireland's top Crafts people travel from all over the country to showcase their work for international buyers who have come to Ireland to find new products for stores all over the world. We meet the country's crafts men and women as they lay out their stall at Showcase 2015 at the RDS, Ireland's largest international trade fair.

Contact: Showcase Ireland, RDS, Dublin
Telephone: (01) 2958185
Website: www.showcaseireland.com
Email: info@showcaseireland.com
Contact: Barry Doyle, 30 Georges Street Arcade, Dublin 2
Telephone: (01) 6712838
Website: www.barrydoyledesign.com
Email: barrydoyledesign@yahoo.com
Contact: Brendan Joseph Madden
Telephone: (086) 3841722
Website: www.brendanjoseph.com
Contact: Cian Murphy, Chart Datum
Telephone: (086) 3556077 or (027) 70846
Website: www.chartdatum.ie
Contact: Hazel Greene
Telephone: (087) 2209414 or (0505) 47025
Website: www.hazelgreene.ie
Contact: Nicola Smyth, Big Red Kitchen
Telephone: (086) 1508462 or (01) 6978092
Website: www.bigredkitchen.ie
Contact: Brid Lyons Ceramics
Telephone: (087) 2570735 or (056) 7724977
Website: www.bridlyonsceramics.com
Contact: Linda Wilson Knitwear
Telephone: (087) 2886277 or (061) 419477
Website: www.lindawilsonknitwear.com
Contact: Conor Kelly & Nell Roddy, Snug
Telephone: (087) 6486522
Website: www.snug.ie
Contact: Bláithín Ennis
Telephone: (087) 7676026
Website: www.blaithinennis.com
Contact: Susan Brindley, Design & Crafts Council of Ireland
Telephone: (056) 7796152
Website: www.dccoi.ie
WEDNESDAY 28TH JANUARY
ORDNANCE SURVEY PROGRAMME
We visit Ordnance Survey Ireland in the Phoenix Park to see how they map Ireland. We rely on OSI for our street maps, our hill walking maps and even the Hailo taxi service uses OSI data. Mary Kennedy flies low over Ireland with the surveyors who gather the most minute detail of the Irish landscape. We learn of the history of mapping right back to the early 1600's when the Queen's cartographer Richard Barlett had his head cut off by the locals in Donegal who weren't best pleased by his attempts to map their area. Plus we meet a former Chief Executive of OSI whose life took a dramatic turn from the factual to the spiritual after he retired due to stress.
Contact: Ordnance Survey Ireland, Phoenix Park, Dublin 8.
Telephone: (01) 8025300 & Lo-Call Number: 1890-674-627
Website: www.osi.ie (To view the OSI free map viewer)
Richard Kirwan's book is called "If maps could speak" and it's published by Londubh Books
Website: www.londubh.ie

FRIDAY 30TH JANUARY
ARTS & CRAFTS PROGRAMME
TOUCH DESIGN/REPORT MARIA MULLARKEY
Over the last 10 years, thousands of people from other EU countries moved to Ireland to start new lives for themselves. However, following the economic downturn, many of them returned to their home countries, while many more decided to stay here. Maria Mullarkey recently met a couple who moved here from different countries, set up their own respective successful businesses, fell in love with each other and got married.
Contact: Radek Zemlicka - 086-3270526
Website: www.touchdesignceramics.com
Email: touchdesignceramics@gmail.com
Contact: Alice Coghlan, Artistic Director & Company Director, Wonderland Productions Ltd., 58E, Bellevue, Islandbridge, Dublin 8.
Telephone: (01) 6337783
Website: www.wonderlandtheatre.com
Email: alice@wonderlandtheatre.com

BATIK ARTIST/REPORT EILEEN MAGNIER
It's a big step to give up a secure, permanent and pensionable job to try to make your living at something which has always been your hobby but that's what Fiona Higgins from Letterkenny has done. Fiona is a Batik artist and she's been supported in her move to make it her full-time job by her family because they understand her passion as her father, sister and brother are all artists also.
Contact: Fiona Higgins, Letterkenny, Co. Donegal
Telephone: (086) 1578829
Website: www.fionahiggins.com
JEWELLERY/REPORT TERESA MANNION
This is a story of an award winning Galway jewellery designer whose work has received international acclaim and even featured in a Harry Potter movie! Natasha Heaslip, from Salthill, is also a very spiritual person and she has studied crystal healing as part of her deep interest in holistic health. More and more she is combining her jewellery making with alternative treatments to create one off pieces personal to her clients.
Contact: Natasha Heaslip
Telephone: (091) 590880 & (085) 7190411
Website: www.natashaheaslip.com

Twitter: @RTENationwide
Email: nationwide@rte.ie
Programme Enquiries to: nationwide@rte.ie

RTÉ One, Monday, Wednesday & Friday, 7.00pm
Visit the website