Nationwide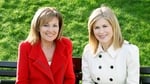 Presented by Mary Kennedy and Anne Cassin, Nationwide brings Irish viewers an eclectic round-up of news, views and events from around the country.
Programmes
MONDAY, 6TH JULY
On tonights programme we visit county Wexford where we will showcase the heritage sites of North Wexford we visit Enniscorthy town and look to Vinegar Hill and the battle sites associated with it, we visit the Equinox site at Oulart and the historic village of Ferns.
CONTACT: www.visitwexford.ie
Big estates have always been costly to run...... that's why so many have fallen into disrepair. For their owners, opening their 'Big House' to the public is one way of funding there upkeep but it also gives us a fascinating insight into the lives of the privileged classes. Recently Helen McInerney visited 'Wells House and 450 acre Estate' near Gorey in Co.Wexford where she heard tales of Romance Intrigue and inherited wealth.
Contact: www.wellshouse.ie
(053) 9186737
WEDNESDAY, 8TH JULY

On tonights programme we're here in Wexford, we visit some South Wexford's tourism sites we take a Hooked Safari we enjoy the thrills and spills of adventure with Sheilbaggan and Hooked Kite Surfing and we explore the exciting tourism plans for the wonderful Johnstown Castle.
CONTACT: www.visitwexford.ie
FRIDAY, 10TH JULY

COUNTY OFFALY PROGRAMME
On this evenings programme from County Offaly we pay a visit to Moneygall which became world famous when US President Barack Obama visited there in 2011. We hear about a guidebook about County Offaly, plus we take a trip to Lough Boora Discovery Park to find out what it has to offer.
HENRY HEALY MONEYGALL/REPORT ANNE CASSIN
Moneygall was a little known village on the main Dublin to Limerick road before 2011 when it played host to US President Barack Obama and became world-famous. Anne Cassin meets Henry Healy, President Obama's distant relative, and finds out what the President's visit did for Moneygall and its people.
QUIRKY FACTS BOOK/REPORT ANNE CASSIN
For this story we travel to County Offaly where Anne Cassin teams up with Amanda Pedlow. Her job as Heritage Officer with Offaly County Council has given her such an insight into the county that she has authored a small guidebook on the matter. When Anne met her last Summer they began their trip around the county at St Carthage's Church at Rahan about 10 kilometres from Tullamore.
Telephone: (086) 4425458
Website: www.offalytourism.com
E-mail: info@offalytourism.com
Contact: Offaly County Council
Telephone: (057) 934 6800
Website: www.offaly.ie
LOUGH BOORA DISCOVERY PARK/REPORT ANNE CASSIN
Anne Cassin visits Lough Boora Discovery Park which extends to over 2,000 hectares and is located half way between Birr and Tullamore in County Offaly. This great natural amenity, which has a network of off-road walking and cycle routes, is owned by Bord na Mona and is a wonderful environmental resource to be explored all year round.
Contact: Lough Boora Discovery Park, Visitor Centre, Boora, Co Offaly, Ireland
Telephone: (057) 9340010
Website: www.loughboora.com
Website: www.bordnamona.ie

Twitter: @RTENationwide
Email: nationwide@rte.ie
Programme Enquiries to: nationwide@rte.ie

RTÉ One, Monday, Wednesday & Friday, 7.00pm
Visit the website