Nationwide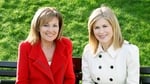 Presented by Mary Kennedy and Anne Cassin, Nationwide brings Irish viewers an eclectic round-up of news, views and events from around the country.
Programmes
MONDAY 13TH OCTOBER
Tonight we focus on small Irish food businesses and their potential to grow. We also feature Joe Duffy to hear more about the RTE Live Line Fiver Friday campaign and the concept behind it.
DROP CHEF/REPORT FAILSAFE
After a busy day of work, we don't always have the time or energy to shop for ingredients and cook a nutritious meal. A new food delivery service called Dropchef hopes to change all of that. Started by two students in Dublin, Dropchef puts a fresh new spin on the term 'takeaway food'.

Website: www.dropchef.com
CROSSOGUE PRESERVES/REPORT MARIA MULLARKEY
It's definitely fair to say that food producers are key to the success of the Irish food industry. And, in the last few decades, Ireland's artisans have given this country a reputation to be proud of. These people are passionate about food, in sourcing the best ingredients for their customers and in producing the best products they possibly can. Recently Maria Mullarkey travelled to Co. Tipperary to meet a couple who have been in the business of producing award winning preserves for nearly 20 years.
Contact: Crossogue Preserves
Telephone: (0504) 54416
Website: www.crossoguepreserves.com
OYSTERS/REPORT EMMA MCNAMARA
8,700 tonnes of oysters were produced in Ireland last year, with their export valued at over €35 million. More than 1,100 people are directly employed in the industry with France being the biggest destination for exports of Irish oysters, accounting for 87% of the market. Hong Kong is the second biggest export market. Reporter Emma McNamara caught up with one of the 130 companies farming oysters and clams on the Irish coastline.
Contact: North West Clam Marketing Group, Tullyhill, Rathcormack, Co. Sligo.
Telephone: (071) 9142990

WEDNESDAY 22ND OCTOBER
EB SKIN/REPORT VALERIE WATERS
Debra Ireland is an organisation which raises funds for people who have a skin disorder known as E.B. and in two days time it will be E.B. Awareness Day. So we're bringing you a story about a wonderful young girl in Dublin who has E.B. and who faces the challenges of life very bravely indeed and with great spirit. She is the same girl who featured in a Nationwide report four years ago and now we see how she's doing in St. Louis Senior Primary school. Valerie Waters has the story.

Website: www.debraireland.org

MUSCULAR DYSTROPHY/REPORT VALERIE WATERS
To be a third level student can be quite demanding at the best of times. To be a third level student living away from home and having the condition Muscular Dystrophy can be more challenging still. However, reporter Valerie Waters met with one such young man who despite the challenges he faces, is enjoying student life thoroughly, especially when he's playing power-chair football.
Email: info@mdi.ie
FRIDAY 24TH OCTOBER
NO NATIONWIDE PROGRAMME

Twitter: @RTENationwide
Email: nationwide@rte.ie
Programme Enquiries to: nationwide@rte.ie

RTÉ One, Monday, Wednesday & Friday, 7.00pm
Visit the website