Nationwide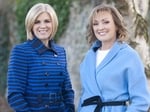 Presented by Mary Kennedy and Anne Cassin, Nationwide brings Irish viewers an eclectic round-up of news, views and events from around the country.
Programmes
MONDAY 16th October - no programme
WEDNESDAY 18TH OCTOBER

KCAT/REPORT HELEN MCINERNEY
The Equinox Theatre Company based in Callan in Co. Kilkenny gives actors, who have an intellectual disability, the opportunity to work with professional practitioners to produce plays for the general public. A recent production of theirs called 'The M House' was a great success. Helen McInerney has the story.
Website: www.kcat.ie
LAKERS CLUB/REPORT NIALL MARTIN
We've recently been out to see the range of sports and activities available at Lakers, a wonderful club based in Bray, County Wicklow.
Website: www.lakers.ie
EMPLOYMENT RESPONSE/REPORT EILEEN MAGNIER
Getting a job can be a challenge for most people but for those of us with a disability, an injury or an illness, it can be especially difficult. However, help is available through the EmployAbility Service funded by the Department of Social Protection and our reporter Eileen Magnier has been finding out how that works in the North West where the Employment Response North West Service has six offices and has made some perfect job matches between job seekers and businesses.
Contact: Dermot Cunningham, Service Coordinator, Employment Response North West, 1 Custom House Quay, Sligo
Telephone: (071) 91 53222
Website: www.employmentresponse.ie
Email: info@employmentresponse.ie
FRIDAY 20TH OCTOBER
SHANE CONNAUGHTON/REPORT TOMMIE GORMAN
Author, Shane Connaughton has known success as a writer and actor, his books have been published all over the world and his success, as a film writer, has even brought him to the Oscars where his film won an academy award. Recently Tommie Gorman met Shane to find out what this talented man is working on at present.
SOLDIER POET/REPORT VALERIE WATERS
When we think of the War Poets, those of the era of WW1 usually come to mind. We have today a serving airman in the Irish Air Corps who is a published poet. Reporter Valerie Waters went to meet Michael J. Whelan to find out about how the experience of serving as a Peacekeeper over seas influenced his writing.
Website: www.michaeljwhelan.wordpress.com
CARLOW AUTHOR/REPORT HELEN MCINERNEY
How many people realise that they are in the wrong job but are unable to make the decision, for whatever reason, to follow a different path. One young Carlow woman who fell prey to the strain of a lot of emotional anxiety decided to leave a teaching career after five years in the classroom. No longer able to keep up a front she embarked on a quest to develop her creative talents. This decision changed her life. She discovered her love of writing and has published a book to help people who struggle with anxiety. Helen McInerney has the story.
Website: www.carolinecunningham.com
Twitter: @RTENationwide
Email: nationwide@rte.ie
Programme Enquiries to: nationwide@rte.ie

RTÉ One, Monday, Wednesday & Friday, 7.00pm
Visit the website