Nationwide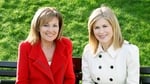 Presented by Mary Kennedy and Anne Cassin, Nationwide brings Irish viewers an eclectic round-up of news, views and events from around the country.
Programmes
MONDAY, 27TH JULY
We hear the remarkable story of the Scottish fisherman who left his fishing boat behind to set up an organisation which is today feeding millions in Africa. Plus we hear about a project called the Heart of Ireland which has been set up to honour those who work tirelessly in communities up and down the land.
MARY'S MEALS/REPORT MARY KENNEDY
It's hard to believe in this day and age that 18,000 children die of hunger every day. Thankfully there are people whose life's work is to try to alleviate that problem. One of them is Magnus Macfarlane Barrow, founder of the charity Mary's Meals. Magnus who is from Scotland was a fisherman who left the nets and fishing boats behind to become a charity worker, little did he know then that one day his efforts would be sustaining lives in many parts of the developing world. His work is supported by many people in this Country and recently he came to visit Donegal to meet some of them and Mary Kennedy met him for a chat at Trinity Hall in Letterkenny.
Contact: Mary's Meals Ireland, Room 82, Senior House, All Hallows College, Grace Park Road, Drumcondra, Dublin 9.
Telephone: +353 (0) 1 857 2155
Website: www.marysmeals.ie
Email: websupport@marysmeals.org
HEART OF IRELAND/REPORT CIARAN MULLOOLY
This time of year there are festivals going on all over the country but recently the people of Mullingar came up with an event with a very real difference, to not just have a good time but honour some of the finest Irish people from all over the country and abroad. They called it the Heart of Ireland Festival and Ciaran Mullooly went along to meet some of the worthy winners.
Contact: Heart of Ireland Festival, San Antonio, Lynn Road, Mullingar, County Westmeath.
Telephone: +353 87 9980056
Website: www.heartofireland.ie
Email: info@heartofireland.ie
WEDNESDAY 29TH JULY
The focus this evening is on some stories of Church of Ireland communities around the country and we begin in County Limerick.
ADARE CHURCH/REPORT CATHY HALLORAN
To the beautiful and historic village of Adare in Co. Limerick, where the Church of St. Nicholas, the village's Church of Ireland, is marking its 700th year. It has played a significant role in village life over all those centuries, and the whole community, including young children, have been taking part in a number of celebrations to mark this historic milestone. Mid West Correspondent Cathy Halloran has been finding out more.
ST. BARTS/REPORT VALERIE WATERS
This next story takes us to a Church of Ireland parish in Dublin. St. Bartholomew's is located in Ballsbridge and is a very busy parish church with a very special Choir. Our reporter Valerie Waters went to visit to hear the choir and to see the renovation work which is ongoing.
Website: www.stbartholomews.ie
VICAR/REPORT MARY KENNEDY
A couple of years ago a new Vicar arrived in Dún Laoghaire, within a short space of time she had made her presence felt beyond the local Church of Ireland Community. Mary Kennedy went to visit her recently to find about life in this port town in South County Dublin.
FRIDAY 31ST JULY
We feature stories from the West of the Country.
TOMMY STENSON/REPORT AINE LALLY
Tommy Stenson is a 16 year old County Mayo Secondary school student who has a passion for Sean Nós dancing. In recent times he has been bringing his love of the dance to schools in the West.
Contact: Tommy Stenson
Telephone: (087) 6455922
Website: www.tommystensonseannosdancer.com
Email: seannostommy@gmail.com
TERRYBAUN POTTERY/REPORT MARIA MULLARKEY
Ireland is not only a place where French people like to visit, some come on holiday and make a home here. Henri Hedou moved to County Mayo forty three years ago to work as a potter and now Mayo is very much his home. Maria Mullarkey visited Henri recently to find out what life has been like for him as a potter down through the years.
Contact: Terrybaun Pottery, Bofeenaun, Ballina, Co Mayo, Ireland
Telephone: +353 (0)94 9256472
Website: www.terrybaunpottery.com
Email: info@terrybaunpottery.com
FRENCH SONG/REPORT AINE LALLY
The West of Ireland attracts more French people than any other part of the country. We've been finding out about a famous French song which has enormously helped to strengthen the brand of Connemara in France and in turn has greatly assisted in increasing the number of French holiday makers to the West.
Contact: Kylemore Abbey & Garden, Renvyle, Connemara, Co. Galway
Telephone: 095 52001
Email: Isabelle@kylemoretourism.ie
Website: www.kylemoreabbeytourism.ie
Website: www.failteireland.ie
Website: www.michelsardou.net
Contact: Lough Inagh Lodge Hotel, Recess, Connemara, Co. Galway.
Telephone: (095) 34706
Email: inagh@iol.ie
Website: www.loughinaghlodgehotel.ie

Contact: Cashel House Hotel, Cashel, Connemara
Telephone: 095 31001
Email: res@cashel-house-hotel.com
Website: www.cashel-house-hotel.com

Twitter: @RTENationwide
Email: nationwide@rte.ie
Programme Enquiries to: nationwide@rte.ie

RTÉ One, Monday, Wednesday & Friday, 7.00pm
Visit the website