Nationwide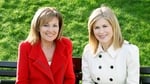 Presented by Mary Kennedy and Anne Cassin, Nationwide brings Irish viewers an eclectic round-up of news, views and events from around the country.
Programmes
MONDAY 18TH MAY
DÚN LAOGHAIRE PROGRAMME
This evening's Nationwide programme comes from the beautiful seaside town of Dún Laoghaire in County Dublin. We hear about the impact of cruise liners on the town and learn about new businesses opening and plans for the main street. We meet Icelandic native Rev. Asa Bjork Olafsdottir who is the first female cleric in Dun Laoghaire. We also pay a visit to the four-storey Lexicon library and cultural centre near the harbour's seafront which opened last year. Plus we hear the story of Dún Laoghaire's Victorian baths and the plans for its redevelopment.
Website: www.dunlaoghaire.ie
Website: www.libraries.dlrcoco.ie
Website: www.dlharbour.ie
WEDNESDAY 20TH MAY
BALLYMALOE LITERARY FESTIVAL OF FOOD & WINE
Nationwide features the third Kerrygold Ballymaloe Literary Festival of Food and Wine in Ballymaloe in East Cork. It's an international event with some of the World's best known chefs and food and wine writers in attendance. The Festival has a line up of panel discussions and interactive cookery demonstrations and it's expected to attract thousands to the various food and wine events. It's an opportunity for people from at home and abroad who are passionate about quality Irish Food to gather and exchange information and ideas and we will be talking to some of those international visitors and to some who are closer to home. Food Tourism is big business and Mary Kennedy will be finding out how much it is worth to our tourism industry and what the potential is to develop it further.
Website: www.litfest.ie
Telephone: (021) 4645777
Contact: Gillian Duke, Client Director, Host & Co., 22 South William Street, Dublin 2
Telephone: 353 1 855 8500
Website: www.hostandcompany.ie
Email: gillian@hostandcompany.ie
B&B COURSE/REPORT NIALL MARTIN
The mainstay of Ballymaloe through the year are their cookery courses. One in particular caught our attention, the start your own B&B or guesthouse course. With the growth in tourism and new booking sites like Airbnb on the rise we went along to find out how the image of the Irish B&B can be refreshed.
Website: www.cookingisfun.ie (For more details on Ballymaloe courses)
Website: www.theinntothewest.com (For details on Inn to the West in Clifden)
FRIDAY 22ND MAY
CONNACHT SHOW
We visit the Connacht Spring Show at Ballinrobe Racecourse in County Mayo to see some of the many events taking place including fashion shows, sheep shearing, trade stands, cookery demonstrations and a craft village.

Website: www.connachtspringshow.com
CARRIAGE DRIVING/REPORT AINE LALLY
A new and very interesting element at the Connacht Spring Show is 'Carriage Driving'. Elaine Hunt who is based in Co. Leitrim is one of the carriage drivers involved in this year's Spring Show. Carriage Driving requires a great deal of skill to accurately guide horses without mishap. Reporter Áine Lally went along to Carrick on Shannon to meet Elaine Hunt and to find out some more about this type of sport.
Contact: Elaine Hunt
Website: www.nacuasaigheminiaturestud.webs.com
Website: www.miniatureshowhalters.webs.com
Telephone: (087) 8113372
Contact: Brendan Flynn
Website: www.miniatureponiesie.webs.com
Telephone: (087) 7702112 & (0) 719620943
Email: flynnsminiaturehorses@gmail.com.

Contact: Moorlands Equestrian Centre, Drumshanbo, County Leitrim
Telephone: (071) 964 1500
Website: www.moorlands.ie
Email: info@moorlands.ie

Contact: Robert H Steinke, Museum of the Master Saddler, Corlough, Co. Cavan.
Telephone: (00353) 086 3946467
Email: Rob@MuseumOfTheMasterSaddler.com
CUTTING GLOBE/REPORT TERESA MANNION
We travel to Galway for a story on an innovative gardening product that will have your most stubborn plants flowering in no time. The Cutting Globe is a pre-drilled plastic ball that allows you take cuttings from trees and shrubs which are slow to propagate. Plants that can take years to flower and fruit are now yielding results in as little as 8 weeks. Teresa Mannion has been to the village of Kilconnell, outside Ballinasloe to find out more.
Contact: Kilkonnell Garden Centre/Gras Landscape, Unit 1 Bally Glass Road, Kilconnell, Ballinasloe, Co. Galway
Telephone: 353 909686861
Website: www.buyglobe.ie
Email: info@buyglobe.ie

Twitter: @RTENationwide
Email: nationwide@rte.ie
Programme Enquiries to: nationwide@rte.ie

RTÉ One, Monday, Wednesday & Friday, 7.00pm
Visit the website