Nationwide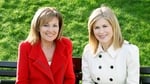 Presented by Mary Kennedy and Anne Cassin, Nationwide brings Irish viewers an eclectic round-up of news, views and events from around the country.
Programmes
MONDAY 21ST JULY
WATERFORD GARDEN TRAIL PROGRAMME
Nationwide visits County Waterford to see some of the most beautiful Gardens in the world, all part of the Waterford Garden Trail which runs until the 24th of August. The trail includes a variety of Gardens from Castle Gardens to Heritage Houses to smaller private gardens. We visit the recently re-opened Mount Congreve Estate just outside Waterford aswell as Cappoquin House & Gardens and Tourin House & Gardens in the West of the county.
Website: www.waterfordgardentrail.com
Contact: Estate Office, Mount Congreve Gardens
Tel: +353 (0)51 384 115
Website: www.mountcongreve.com
Email: info@mountcongreve
Contact: Cappoquin House, Cappoquin, Co. Waterford
Tel: +353 58 54290 (mornings)
Tel: +353 87 670 41 80 (mobile)
Website: www.cappoquinhouseandgardens.com
Email: charleskeane@cappoquinestate.com
Contact: Tourin House & Gardens, Cappoquin, Co. Waterford
Telephone: 058 54405
Website: www.tourin-house.ie
Email: info@tourin-house.ie
Contact: Georgina & Michael Penruddock, Newtown House, Kinsalebeg, Youghal, Co. Cork,
Tel: +353 (0)24 94304
Website: www.stayatnewtown.com
Email: info@stayatnewtown.com
GROW IT YOURSELF/REPORT HELEN MCINERNEY
This is a story about a family who moved to Waterford to develop their love of the outdoors. Their plan was to use their Garden to grow their own food but little did they realise that they would inspire thousands of people around the country to get out into their gardens and follow suit. Reporter Helen McInerney meets Michael Kelly, the founder of the Grow It Yourself organisation.
Website: www.giyireland.com
Telephone: 051 302191
Website: www.michaelkelly.ie
WEDNESDAY 23RD JULY
COUNTRY MUSIC PROGRAMME
Country music takes centre stage as we meet some Irish people involved in the country scene. The Offaly singer, who packed up his family to head to Nashville to pursue his dream and the story of a Meath woman who lived the dream in Nashville but came back home for song writing inspiration.
GARTH BROOKS SINGER/COLM FLYNN
There was great disappointment for the thousands of Gareth Brooks fans when it was confirmed that the Concerts planned for this week in Dublin would not go ahead. This evening Nationwide meets some people for whom country music is their passion. We begin with the story of a man who latterly towers over Dublin city everyday and who sings Garth Brooks songs to himself as he works away high up in the sky. Our reporter Colm Flynn has the story.
PETE KENNEDY/REPORT CIARAN MULLOOLY
Nationwide meets an Irish man who has travelled across the Atlantic ocean in search of fame. Pete Kennedy from Clareen in County Offaly was inspired by the music of Garth Brooks, so much so, he decided to start a professional career as a singer/songwriter and now he's uprooted his whole family and moved to Nashville to try and make it big. Ciaran Mullooly met the singer and his family just before they left for the USA.
Website: http://www.petekennedy.net/
For press inquiries please contact KEMC Global: Email: info@kemcmusicmedia.com
MARIA BUTTERLY/REPORT DAMIEN TIERNAN
Maria Butterly is a singer songwriter who is growing in popularity and success. She comes from County Meath and is a multi-award winning artist whose new album, Blue Mandolin, is getting rave reviews, as reporter Damien Tiernan has been finding out.

Website: www.mariabutterly.com
Email: info@mariabutterly.com
Contact: Pat Butterly, He Will Lead You Productions
Website: www.hewillleadyou.net
Email: hewillleadyou@gmail.com
FRIDAY 25TH JULY

With Summer festivals in full swing Nationwide meets people who are learning about Street performance and entertaining on a course in Waterford and The Pipes are in tune at the Pipe band festival in New Ross in County Wexford.
SPRAOI COURSE/REPORT BRIAN WALSH
The Spraoi festival which is held each August in Waterford City has been entertaining and thrilling audiences young and old for 22 years. The effort and imagination that goes into creating such a spectacle takes a lot of hard work and preparation. This year Spraoi has diversified even further, by hosting a workshop for emerging street entertainers, to pass on some of the wealth of knowledge that has been accumulated over the years.
Contact: Spraoi Studios, Carrickpherish, Waterford, Ireland
Telephone: 00353 (0)51 841808
Website: www.spraoi.com
Email: info@spraoi.com
CLOWNS/REPORT ÁINE LALLY
Jonathan Gunning enjoys loves working as an actor and especially thrives when in the role of a clown. The Galway man is extremely driven and enthusiastic about the world of a clown, so much so, that he co-founded 'Clowns without Borders Ireland' in 2007. This voluntary aid organisation performs for communities all around the world, communities that are under stress or in crisis due to disease, war or poverty. Áine Lally has this report.
Contact: Clowns Without Bordors Ireland, 133 Gaybrook Lawns, Malahide, Co Dublin
Tel: +353 87 2263164
Website: www.cwbireland.com
Email: info@cwbireland.com
PIPE BAND NEW ROSS/REPORT DAMIEN TIERNAN
It's a form of music which attracts thousands every week to dedicated practice with friends and family. There are hundreds of Pipe Bands north and south, and the skill of playing is in many cases passed from generation to generation. Reporter Damien Tiernan has been to the recent All Ireland Pipe Band Championships, which were held in New Ross in County Wexford and the town was buzzing for the day.

Website: www.ipba.ie
Website: www.newrosspipeband.com
Twitter: @RTENationwide
Email: nationwide@rte.ie
Programme Enquiries to: nationwide@rte.ie

RTÉ One, Monday, Wednesday & Friday, 7.00pm
Visit the website