Nationwide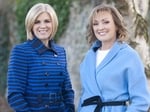 Presented by Mary Kennedy and Anne Cassin, Nationwide brings Irish viewers an eclectic round-up of news, views and events from around the country.
Programmes
MONDAY 21ST AUGUST
THE IRISH IN NEW YORK/REPORTER COLM FLYNN
All this week on Nationwide, we are meeting some of the Irish who are following their dreams in the 'Big Apple'. On this the first programme we meet the Kerry woman who is quickly becoming one of New York's most popular 'digital influencers'. Erika Fox, aka RetroFlame, started her blog 'RetroFlame' when she was in college and then made the decision to chase the American dream. She now works full time on her blog and works with huge brands to market and advertise their products.
Tyrone footballer and All-Ireland Champion Mickey Coleman who runs a successful waste management company in upstate New York talks to us about the challenges and opportunities of doing business in New York.
Finally the story of a Cork man who moved to New York to follow a very different type of dream, to become an undertaker. Since his father passed away when he was 15, all Clive Anderson ever wanted to do was to own his own funeral home. He moved to New York to study the funeral business professionally and now has his own undertakers in Pelham.
Website: www.retro-flame.com
Website: www.pelhamfuneral.com
WEDNESDAY 23RD AUGUST
THE IRISH IN NEW YORK/REPORTER COLM FLYNN
This evening on Nationwide from New York we meet the Clare girl who is now a manager in one of the world's most plush hotels, the Waldorf Astoria hotel. Over the past 100 years the hotel has played host to movie stars and US presidents, and has been used in several Hollywood films. The hotel is soon to close, and Caoimhe Greene feels privileged to be among the last group of staff to work in this iconic hotel.

Also we visit one of the biggest advertising firms in the world to meet Dubliner Jonathan Cloonan and hear how he beat off thousands of applicants to land his dream job. He also talks about how he, along with Mark Zuckerberg and Lady Gaga, were named as one of Forbes 30 Under 30, ones to watch.
Also on the programme we meet the 24 year old Carlow man who, at the age of 19, decided to move to New York rather than go to college. He had been developing a whiskey brand and last year sold his whiskey business to a competitor for $60 million.
FRIDAY 25TH AUGUST
YOUNG IRISH IN NEW YORK/REPORTER COLM FLYNN
The final of three Nationwide specials from New York. We meet Cork woman Michelle McCarthy who always dreamed of a job in the music industry. She worked her way up through the ranks and is now head of marketing at New York's world-famous Madison Square Garden. She tells us about the up's and down's of working and living in the city that never stops. We also meet ex-Irish boxer John Duddy who moved to New York to pursue his boxing career. His success in New York was huge, and he fought in Madison Square Garden seven times winning titles and gaining huge popularity under the name of the 'Derry Destroyer'. John suddenly had a change of heart, and fell out of love with the game and the business around it, and turned his attention to his next love, acting. From one tough profession to another, John was finding it hard to land good roles, until one day when he received a phone call from Robert De Niro. Finally we meet Sorcha Kelly who works with Irish Network USA and talks about the reality of moving to, and living in New York city.
Website: www.irishnetwork-usa.org
Twitter: @RTENationwide
Email: nationwide@rte.ie
Programme Enquiries to: nationwide@rte.ie

RTÉ One, Monday, Wednesday & Friday, 7.00pm
Visit the website