Nationwide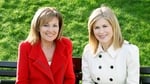 Presented by Mary Kennedy and Anne Cassin, Nationwide brings Irish viewers an eclectic round-up of news, views and events from around the country.
Programmes
MONDAY 24TH AUGUST
HERITAGE WEEK
BLACKSMITH/REPORT MARIAN MALONE
There was once a forge in every village in Ireland, but now a County Limerick town has become the focus of the revival of this traditional Irish craft and, in so doing, this community is also honouring a local sporting legend. Marian Malone has been to Cappamore to witness the resurgence of iron craft.
COB HORSES/REPORT AINE LALLY
The Irish Cob is a native Irish breed of horse which are known worldwide by many different names such as Gypsy Cob, Gypsy Horse, Gypsy Vanner and Irish Tinker. The Irish Cob breed was developed by the Travelling Community in Ireland and for hundreds of years these sturdy hardworking horses were used for agricultural work, pulling barges and barrel-top wagons throughout Ireland, Britain and Europe. Reporter Áine Lally went along to Longford to find out more about this type of horse which is a dying breed in Ireland and to speak to breeders about the future of the Irish Cob.
Contact: National Heritage Week
Telephone: 1850 200 878
Website: www.heritage.ie
Contact: Brigid Devine, Devine Equestrian
Telephone: (086) 8237628
Email: brigiddevine@gmail.com
Contact: Sean Murray, Liberty, Ballydangan Irish Cobs, Athlone, Co. Roscommon
Telephone: (086) 8742201
KNITTING MAP/REPORT JENNIE O'SULLIVAN
One of the most controversial pieces of "craft" to be made in recent years is the infamous knitting map of Cork, knitted during the city's tenure at European Capital of Culture ten years ago. It recently got a rare but very welcome airing at the Gluckman Gallery at University College Cork and reporter Jennie O'Sullivan went along to see it.
WEDNESDAY 26TH AUGUST
INSPIRATIONAL & UNUSUAL HOMES
In this programme we travel around Sligo and Leitrim to see a selection of unusual and inspirational homes that will feature in next weekend's Green Door showcase of sustainable buildings in the Northwest. Mary Kennedy gets a sneak preview of three houses that will be open to the public this weekend, Anne Cassin visits a beautiful old cottage that now has a wraparound straw bale extension and Niall Martin meets the architect who built his house in Leitrim for €25,000.

Website: www.inspirationalhomes.ie
FRIDAY 28TH AUGUST
MARY KEANE/REPORT ANNE CASSIN
There was great sadness in the town of Listowel last week as Mary Keane wife of writer John B was laid to rest. About a year ago Anne Cassin went to Listowel to meet Mary and to hear the story of her life with John B. This evening we look back on that visit.
BOYNE GARDEN TRAIL/REPORT VALERIE WATERS
Along the banks of Boyne River many great gardens are to be found and in recent times some of the owners of these gardens have come together to form the Boyne Valley Garden Trail. Our Reporter Valerie Waters has been a whistle stop tour of the Counties Meath and Louth to see some of these gardens which are in public and some in private ownership.
Website: www.boynevalleygardentrail.com
Email: boynevalleygardentrail@gmail.com
Twitter: @RTENationwide
Email: nationwide@rte.ie
Programme Enquiries to: nationwide@rte.ie

RTÉ One, Monday, Wednesday & Friday, 7.00pm
Visit the website