Nationwide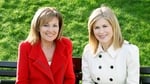 Presented by Mary Kennedy and Anne Cassin, Nationwide brings Irish viewers an eclectic round-up of news, views and events from around the country.
Programmes
MONDAY 17TH OCTOBER
ETHIOPIA PROGRAMME
We travel to the continent of Africa for the second of our programmes from and about Ethiopia where we meet some Irish people who live and work in this vast country. We meet an Irish priest, visit an Ethiopian prison, and hear about a life's vocation. Plus we witness an eye opening account of a justice system which is miles apart from our own.
WEDNESDAY 19TH OCTOBER
NATIONAL WOMEN'S ENTERPRISE DAY
On this National Women's Enterprise Day we meet just a few of Ireland's enterprising ladies.
UISCE SADDLERY/REPORT MARIA MULLARKEY
Many different nationalities with many different talents decide to emigrate here and quickly call Ireland home. Maria Mullarkey met a girl from Lincolnshire in England recently, who knew from the young age of 16 that when she grew up, she wanted to move to Dingle, Co. Kerry, which is exactly what she did.
Contact: Elaine Waters, Uisce Saddlery, Holyground, Dingle, Co. Kerry
Telephone: +353 876 920 378
Website: www.uiscesaddlery.com
Email: elaine@uiscesaddlery.com
WHEEL CHAIR/REPORT VALERIE WATERS
This story is about a new type of fashion accessory. A recent graduate of the National College of Art and Design has designed a beautiful range of spoke covers for wheelchairs. These covers are to go with the colours of the outfit the person using the wheelchair is wearing. Valerie Waters went to Galway to meet the Keane sisters and to see the spoke covers in action.
Website: www.izzywheels.com
Email: izzywheels1@gmail.com
THE SCULLERY/REPORT HELEN MCINERNEY
Next we go to a woman in Nenagh in Co. Tipperary who has re-built her food business following the economic crash in 2008. Its been a challenging 8 years for Florrie Purcell but with passion and determination she has developed new ideas and expanded her business. Helen McInerney has the story.
Contact: Florrie Purcell, The Scullery, Unit 4C, Stafford St. Business Pk., Nenagh, Co. Tipperary
Telephone: +353 86 174 4402
Website: www.thescullery.ie
Email: florrie@thescullery.ie
HELLE HESNER/REPORT MARIA MULLARKEY
We move to West Cork to meet a Danish lady who moved to Ireland in the 1990's and for the past 5 years has been running her very own studio doing what she loves - sculpting. Reporter Maria Mullarkey visited her at home to find out how her business has been doing over the past number of years.
Contact: Helle Helsner
Telephone: (086) 3256689 or (023) 8849223
Website: www.h2studioart.com
Email: h2studioart@gmail.com
FRIDAY 21ST OCTOBER
REMEMBRANCE RUN/REPORT ANNE CASSIN
With the Dublin City Marathon taking place shortly most participants will be resting their bodies before the big race but not everyone runs competitively. The number of reasons why people run is as varied as the abundance of fun runs and challenges available. One man who has kept faith with running is Frank Greally, now well out of the competitive scene he keeps his hand in as editor of the Irish Runner magazine as organiser of his annual Remembrance Run. Anne Cassin went along to hear his story.
Website: www.remembrancerun.ie
STONEY ROAD PRESS/REPORT VALERIE WATERS
We go to the pasture land of Co. Limerick not far from Ballingarry to meet a native of that county whose work is informed by the surrounding landscape. Valerie Waters went to meet the artist Michael Canning there.
Website: www.stoneyroadpress.com
Email: mail@stoneyroadpress.com
Twitter: @RTENationwide
Email: nationwide@rte.ie
Programme Enquiries to: nationwide@rte.ie

RTÉ One, Monday, Wednesday & Friday, 7.00pm
Visit the website