Nationwide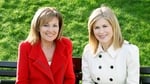 Presented by Mary Kennedy and Anne Cassin, Nationwide brings Irish viewers an eclectic round-up of news, views and events from around the country.
Programmes
MONDAY 2ND MARCH
PROGRAMME ON THE DISAPPEARED
Tonight's Nationwide programme tells the story of the six families from the group, known as 'The Disappeared' who are still hoping that information will be provided to allow them locate the remains of their missing loved ones and lay them to rest on sacred ground. During the 1970's and 1980's republican paramilitaries abducted, killed and secretly buried sixteen people. Ten of those bodies have been recovered but six families are still hoping that the vital details will be provided to allow them bury their loved ones.
If you have any information concerning this evening's programme, you can contact:
Confidential Telephone Britain and Ireland
00800 - 55585500
Confidential Post Box:
ICLVR, PO BOX 10827, Dublin 2, Ireland
WEDNESDAY 4TH MARCH
KILKENNY FOOD PROGRAMME
On tonight's programme we have food on the menu. We visit County Kilkenny to find out all about the Kilkenny 'Town of Food' Initiative. Kilkenny is a county which is better known for its hurling and tourism than perhaps for its Cuisine but in recent times efforts have been made to brand and identify Kilkenny food, not just the producers but also the restaurants who prioritise the produce of the Marble city and County. We travel around Kilkenny meeting some of those producers including one living in the picturesque village of Inistioge.
Contact: Annaliese Fallon, Inistioge Food Company, Cappagh, Inistioge, Co. Kilkenny
Telephone: (087) 6459927 & (087) 1915389
Website: www.inistiogefoodco.com
Email: inistiogefoods@yahoo.ie
Contact: Mary Deevy, Butterfly Valley Cookie Mix
Facebook: https://www.facebook.com/ButterflyValleyireland
Contact: Edel Lawlor, EDelicious Cooking sauces
Facebook: https://www.facebook.com/Edelicioushomemadeinedelskitchen
THOMASTOWN SCHOOL OF FOOD/REPORT HELEN MCINERNEY
We travel to Thomastown and see how the community has transformed a derelict building into a thriving centre for the support of artisan food businesses. Reporter Helen McInerney visits the newly developed School of Food to see how food producers in the area are using the state of the art facilties.
Contact: School of Food, Dublin Road, Thomastown, County Kilkenny
Telephone: (056) 775 4397 or (087) 335 0500
Website: www.townoffood.com
Email: info@townoffood.com
FRIDAY 6TH MARCH
UNIVERSITY COLLEGE CORK PROGRAMME
This evening we are back at College with a Nationwide special from the Campus of University College Cork. Students from all over Ireland and many others from around the world attend this College which has been at the centre of Cork life for almost 170 years. We meet some of them and discover what College life is like in 2015. Plus we look back on the life of a man whose methodical research led to the Computer Revolution of the present age.
Contact: Universite College Cork, College Road, Cork
Telephone: +353 (0)21 490 3000
Website: www.ucc.ie
BOOLE HISTORY/REPORT JENNIE O'SULLIVAN
Boole Library on UCC's campus is named after George Boole, one of the great unsung architects of today's hi-tech world. Without Boolean Algebra we wouldn't have the computer or even the smart phone. This year the College is marking the 200th anniversary of his birth with a series of events and reporter Jennie O'Sullivan has been finding out a little more about the shy genius, the college's first Professor of Mathematics, whose work changed our world.

Twitter: @RTENationwide
Email: nationwide@rte.ie
Programme Enquiries to: nationwide@rte.ie

RTÉ One, Monday, Wednesday & Friday, 7.00pm
Visit the website