Nationwide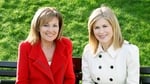 Presented by Mary Kennedy and Anne Cassin, Nationwide brings Irish viewers an eclectic round-up of news, views and events from around the country.
Programmes
MONDAY 30TH NOVEMBER
PROGRAMME ON REFUGEES LIVING IN IRELAND
In the next few months Ireland will be accepting four thousand refugees who are fleeing conflict in Syria. On tonight's programme we meet some people who came to this country as Refugees many years ago and who have now settled here and call Ireland home including the Hungarian who came to Limerick and the Vietnamese woman who came here as a little girl with her parents in 1979.

HUNGARIAN REFUGEE/REPORT TOMÁS O'MAINNÍN
In the coming weeks up to 4,000 refugees will be welcomed to Ireland as part of the Governments response to the refugee crisis in Europe. Ireland's first involvement with the United Nations refugee programme was back in 1956 when the country responded to the refugee crisis after the Hungarian uprising against Communist rule. Of the 350 refugees that came to Ireland that year, very few remain and reporter, Tomás O'Mainnín has met one of them in Limerick.

VIETNAMESE REFUGEE/REPORT HELEN MCINERNEY
In 1979 Ireland agreed to take in over 200 Vietnamese Boat People who were fleeing the Communist regime in Vietnam. Called 'Programme Refugees' because they were invited into Ireland by the Government, the refugees were eventually housed throughout the country. Reporter Helen McInerney spoke to one young Vietnamese woman who arrived with her family into Ireland in 1979 when she was two years old.

WEDNESDAY 2ND DECEMBER

As the National Crafts fair gets underway at the RDS we visit Cork to see the crafts on display at the Craft fair in Cork's city hall and we meet the Mayo boy whose embarking on a musical journey just right for the Christmas period.
ASA, A CHRISTMAS STORY/REPORT NICK SHERIDAN
The story of an Irish boy with a very special dream at Christmas 1916 will make its world premiere this December, and will make the dreams of a young Irish dancer come true at the same time. As well as introducing the world to young Stephen Gallagher from Co. Mayo, "Asa, A Christmas Story" features music by Golden Globe-nominated composer Brian Byrne, and choreography by world-famous Irish dancer, Breandán de Gallaí. We caught up with them at rehearsals in Dublin's Liffey Trust Dance Studios.
Website: www.asachristmasstory.com
Email: asachristmas@gmail.com
CORK CRAFT FAIR/REPORT ANNE CASSIN
With Christmas only three weeks away we go in search of some Irish produced gifts at the Cork Craft Fair at City Hall, Cork. We meet some of Munster's craft produces to see their work and we find how business is going for the men and women in Ireland's craft businesses.
Website: www.cityhallcraftsfair.ie
FRIDAY 4TH DECEMBER
LIMERICK PROGRAMME
Limerick takes centre stage as we visit some of the thriving industries and businesses of the city which are all members of the 200 year old Chamber. We meet a world champion of Boxing in his home place of Castleconnell and we find out how the locals feel about Andy Lee.
ANDY LEE/REPORT MARIAN MALONE
Limerick is a city and county with many sporting hero's. One of those is a young 31 year old boxer from Castleconnell. This time last year Andy Lee became WBO Middleweight World Champion and received a great Limerick welcome on his return home. In two weeks' time he will defend his title but recently we got an opportunity to meet the man in his home village where he is a local hero. Reporter Marian Malone has been to Castleconnell.
LIMERICK CHAMBER/REPORT MARIAN MALONE
2015 has been a year of reflection for Limerick Chamber, as it looks back on and celebrates two centuries in existence. The organisation may have evolved in terms of its membership and values from that founded by Limerick's Merchant Princes in the early years of the 19th century but it retains its determination to be part of Limerick's story.
Contact: Limerick Chamber of Commerce, 96 O'Connell Street, Limerick
Telephone: (061) 415 180
Website: www.limerickchamber.ie
Email: info@limerickchamber.ie

Twitter: @RTENationwide
Email: nationwide@rte.ie
Programme Enquiries to: nationwide@rte.ie

RTÉ One, Monday, Wednesday & Friday, 7.00pm
Visit the website