Nationwide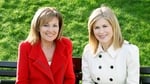 Presented by Mary Kennedy and Anne Cassin, Nationwide brings Irish viewers an eclectic round-up of news, views and events from around the country.
Programmes
MONDAY 18TH AUGUST
MAYO GREENWAY PROGRAMME
Nationwide comes to you from Mayo, Ireland's third largest county. Jutting proudly into the Atlantic Ocean, Mayo has a stunningly beautiful, unspoilt environment and whether you're looking for an action packed, fun filled break or a relaxing one, there is something here for everyone. In tonight's programme we've come to the areas of Achill, Mulranny, Newport and Westport, where we're going to be taking you along The Great Western Greenway. We'll also be taking a look at some of the other outdoor activities available here both on land and sea, meeting some of the people and visiting some of the places near to and along the Greenway.
CONTACTS FOR THE GREAT WESTERN GREENWAY PROGRAMME
Website: www.greenway.ie
1. TRAVIS ZERAY - CLEW BAY BIKE HIRE - 098-24818 OR www.clewbaybikehire.ie OR info@clewbaybikehire.ie
2. KEVIN MORAN - YVONNE'S COTTAGE - 087-2363673
3. BRIAN QUINN - FÁILTE IRELAND - 087-2598089
WEDNESDAY 20TH AUGUST
CARLOW TIDY TOWNS/REPORT HELEN MCINERNEY
It's been a succesful year for Gardens and Garden Festivals and many of those involved are also busy with the Tidy Towns Competition. Recently Helen McInerney visited a number of Villages and towns in Carlow where communities are seeing the benefit of all their hard work.
Contact: Eileen O'Rourke Carlow Tourism (059) 9130411
ALZHEIMERS GARDEN/REPORT VALERIE WATERS
We visit a garden in Blackrock Co. Dublin which is a place of serenity and calm. It belongs to the Alzheimer's Society of Ireland and is usually only experienced by people living with dementia and their families and friends. So now we are fortunate to get a look over the garden wall to see the beauty that lies within. Valerie Waters met the woman who lead the development of this plant's persons dream.
CONTACT: www.alzheimer.ie
KINVARA GARDEN/REPORT TERESA MANNION
Next to Kinvara in County Galway where a once derelict, neglected garden has been transformed into a flourishing community project. The walled garden at Doorus House is now at the height of productivity with orchards, polytunnels and beehives. There are even pizza huts to complete family days out! Our reporter, Teresa Mannion, has been to Kinvara to meet the two women who turned their passion for gardening into a wonderful local resource.

Back Ref:
Don't forget that a special Harvest Festival is taking place at Doorus House in September to mark the 10th anniversary of this community project. All are welcome!
CONTACT:
Website is www.kinvarasustainableliving.com
Doorus Orchard Project
Kinvara's community garden
Visit doorusorchard.wix.com/communitygarden
FRIDAY 22ND AUGUST
CRAFT PROGRAMME
Nationwide focuses on small entrepreneurs in the crafts world.
ENRIGHT JEWELLERY/REP. MARIA MULLARKEY
Ireland has a vibrant entrepreneurial culture and a very positive attitude towards entrepreneurship. And, it's fair to say that Irish women are exceptional business women with more and more women starting up successful ventures throughout the country every year.
In Kinsale, Co. Cork Maria Mullarkey met a lady whose hard work and determination enabled her to open her very own jewellery making business...........
Back ref: And, we've no doubt that Mary's love and enthusiasm for her craft will continue on for many years to come.
CONTACT:Mary Enright - 021-4774474 or www.maryenright.com or info@maryenright.com

PERSPEX/REP. ANNE CASSIN
Our next story is about a young woman who is producing commerically successful art in Perspex.
Perspex is an unusual, not to say challenging, medium to paint so I've come to Midleton in County Cork to meetin Avril Hutch and find out more about her work.
Her story starts here at her father's farm and one dilapidated Massey-Ferguson tractor.
B/ref: And if you'd like to see more of Avril's work you can go to her website which is on your screens now.
www.avrilhutch.com
WOOD TURNER/REP. MARIA MULLARKEY
In Ireland there are about seven and a half thousand different species of trees. And, since the very beginning, trees have furnished us with two of life's essentials, food and oxygen. When trees die because of disease or they come down in a storm, their worth is seen differently by many. Yes, they can be used for firewood, but also if placed in the right hands, some can be transformed into beautiful objects giving the tree a new lease of life.
Maria Mullarkey met a Mayo man recently who loves nothing more than to see a tree living on in something he's created, so that it can be admired for generations to come...........
Back ref: A man who definitely works in harmony with our environment, creating beautiful pieces of work.
CONTACT:Chris Sweeney - 086-2718055 or www.chrissweeneyturning.com
GERMAN-KERRY/REPORT ANNE CASSIN
The Irish landscape particularly around the coast of Ireland has long been the inspiration for painters and photographers alike.
But few photographers produce images as striking as those that come from the lens of Tim Schmelzer a German visual artist who is based in Vienna. Tim is a regular visit to these shores and has completed a set of images from this country juxtasposing the most mundane structures with dramatic landscape. During the summer I met him in Slea Head in County Kerry.
B/ref
And if your interested in looking at more of Tim's work go to his website which is on your screens now.
Website: www.lookoutpost.com
MONDAY 25TH AUGUST
THATCHER/REP. HELEN McINERNEY
Thatched houses were once commonplace in Ireland, they represent a traditional image of rural life and are very popular with visitors to this country. In recent years there has been a decline in Historic thatched houses and a number of reports on the future of Thatch have been published. Helen McInerney recently visited Dunmore East in Co.Waterford to see master Thatchers at work and to find out what grant aid is available to owners of Thatched houses.

Back Ref: Isn't it wonderful to see the traditional skills of the Thatcher in action.
CONTACT: Thatcher Hugh O'Neill, email:hughoneill07@gmail.com Mobile:0872841495.
FOLKLORE NOTEBOOKS/REPORT NIALL MARTIN
Have you ever wondered what was going through your mind when you were a child ? Well if you kept a diary you'll know that giddy feeling of reading entries written perhaps decades ago ...well we've been re-uniting some very special school notebooks written in 1937 and 38 with their authors ...77 years after they wrote them !

Niall Martin has the story ...

CONTACT:
To view the first school notebook entries from Counties , Dublin , Donegal , Mayo and Waterford see www.duchas.ie
The next county to be put online will be County Galway . A compendium of entries is being put up online first and if funding allows individual copybooks will be digitised over time .

The original copybooks can be accessed by appointment through the Folklore Dept of UCD . www.ucd.ie/irishfolklore

In Donegal a booklet containing a compendium of stories from the Donegal copybooks will be published soon . For more details contact the Heritage office of Donegal County Council 074 91 53900


CLONONY CASTLE/REPORT CIARAN MULLOOLY
Next on the programme this evening to the midlands ad one of the hidden gems of the heritage tourism market there. For many years the 15th Century Clonony Tower House near Shannon Harbour lay derelict falling into a state of continuing disrepair on a site that is just down the road from Clonmacnoise. But now an American woman who was once a ballerina has moved in, transformed the castle and has it in tiptop shape for heritage week visitors this year. Our Ciaran Mullooly went along to take a peep inside.
CONTACT: Clonony More, Cloghan, Offaly - 087-7614034
WEDNESDAY 27TH AUGUST
AIRFIELD HOUSE AND GARDENS PROGRAMME
A Nationwide special from Airfield House and Gardens in Co. Dublin. Airfield is a charitable organisation & was established in 1974 by the Overend family. It's set on 14 hectares of land with beautiful gardens and woodland. Nationwide takes a tour of the House and Gardens and we meet the Head Gardener at Airfield who shows us around. We also visit the working farm at Airfield to see the selection of animals there. Plus we learn about the history of Airfield House.
Website: www.airfield.ie

AIRFIELD HOUSE HISTORY/REPORT EMMA MCNAMARA
Sisters Letitia & Naomi Overend were born 20 years apart and were daughters of a prominent Dublin solicitor. They travelled the world and had great interest and love for motor cars but they were also very down to earth. They worked on their farm and generously gave time and money to various charities. They were involved in founding the childrens' Sunshine Homes, worked with St. John's Ambulance, and, through their links with the Womens' National Health Association, gave pasteurised milk from their Jersey dairy herd to Milk depots in Dublin's inner city. Emma McNamara tells the story.
FRIDAY 29TH AUGUST
KILCOOLE/REPORT VALERIE WATERS
This is a story of how the coastal community of Kilcoole, Co. Wicklow are remembering a significant historical event which happened in 1914. The locals, be they members of the Church of Ireland, Catholics or neither have shown togetherness in celebrating their place in Irish history. Valerie Waters has the story.
CONTACT: Ros Keddy on kilcoolegunrunninghistory@gmail.com and 1914kilcoolecommitte@gmail.com

CAMPHIRE HORSE TRIALS/REPORT HELEN MCINERNEY
They travelled from all over the World to the banks of the River Blackwater in West Waterford to attend the Camphire International Horse Trials and Country Fair. The Sun Shone, the going was good and the Horses were expensive and impressive. The event began in the year 2000 and with the support of the local community has grown into the International event it is today. Helen McInerney has the story.

Back Ref: What a magnificent setting for an International event.

Contact: www.camphirehorsetrials.com
M.J. MOLLOY/REP. PAT McGRATH
A Co. Galway village has been remembering one of its most famous sons, in this, the centenary year of his birth.
Playwright M.J. Molloy was born and bred in Milltown, where the local community came together recently to celebrate his work and mark his legacy.
The Facebook page for Milltown Drama Society is https://www.facebook.com/milltowndramasociety


Twitter: @RTENationwide
Email: nationwide@rte.ie
Programme Enquiries to: nationwide@rte.ie

RTÉ One, Monday, Wednesday & Friday, 7.00pm
Visit the website