Nationwide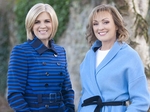 Presented by Mary Kennedy and Anne Cassin, Nationwide brings Irish viewers an eclectic round-up of news, views and events from around the country.
Programmes
MONDAY 24TH APRIL
We meet people who have come to live in Ireland and who have settled and made a life for themselves here in this country.
CONGO MUSICIAN/REPORT VALERIE WATERS
We meet one of the most talented guitarists in this country who is living in Co. Wicklow. Ever since Niwel Tsumbu came to Ireland 13 years ago, from the Democratic Republic of Congo, he has been in demand as Irish musicians of all genres love playing with this man. Reporter Valerie Waters recently met him and his family in Greystones.
Facebook: www.facebook.com/rizasounds
HOMEOPATHIC CONSULTANT/REPORT DAMIEN TIERNAN
Coming to Ireland to escape conflict and strife is, for many, seen as a temporary measure but for some it's for life. In the 1980's, a group of Irananians had to flee their country because of religious persecution. Damien Tiernan has the story of one man who has made his home in Callan, County Kilkenny.
Contact: Abbas Ghadimi, Food For Life Wellness Centre, Green Street, Callan, Co. Kilkenny.
Telephone: (056) 7725777
Website: www.wellnesscentre.ie
Email: info@wellnesscentre.ie

GOREY DESIGNER/REPORT HELEN MCINERNEY
Throughout our history Irish people have left our shores to seek opportunities abroad but during the Celtic Tiger years the tables were turned and Ireland saw a huge influx of Immigrants into this country. Among those who came to Ireland in the early years of the boom were a French couple who have settled here and made Ireland their home. Helen McInerney travelled to Gorey in Co. Wexford to meet them.
Contact: Kabira Allain
Telephone: (+353) 087 631 5371
Website: www.kymaia.com
Email: info@kymaia.com
WEDNESDAY 26TH APRIL
FARMING PROGRAMME
YOUNG FARMER/REPORT MARY FANNING
Agriculture is the backbone of rural Ireland but these days, there's a lot of doom and gloom about. Macra Na Feirme, the young farmers' organisation, is constantly promoting awareness and education and recently honoured leaders who play a major role in their communities and bring a message of hope and positivity.
Mary Fanning went to Laois to meet a young man who sees a bright future ahead.
Contact: Irish Farm Centre, Naas Rd, Drimnagh, Dublin 12
Telephone: (01) 426 8900
Email: macra@macra.ie
KILDALTON COLLEGE/REPORT HELEN MCINERNEY
Springtime is one of the busiest periods in the farming Calendar, lambing, calving the preparation of the ground and the sowing of crops mean farmers are working around the clock at this time of the year and while farming may be a way of life it also has to be efficient and profitable. Recently Helen McInerney visited Kildalton College in South Kilkenny to speak to young farmers and educators about the business of farming.
Contact: Kildalton College, Piltown, Co. Kilkenny
Telephone: (051) 644 400
Website: www.teagasc.ie/education/teagasc-colleges/kildalton
SNAIL FARM/REPORT MARY FANNING
A young polish lady made headlines, three years ago, when she started to clock up several wins in young entrepreneurial competitions with her pioneering Irish snail farming enterprise in Carlow. Since then, she has passed the knowledge on and snail farms are springing up all over the country but this inspiring woman admits that getting the formula 100 per cent right took time. Reporter Mary Fanning went to Gaelic Escargot for one of her teaching sessions.
Contact: Eva Milka, Gaelic Escargot, Garryhill, Co. Carlow
Telephone: (085) 1000919
Website: www.gaelicescargot.com
Email: info@gaelicescargot.ie
FRIDAY 28TH APRIL
BEVEL FURNITURE/REPORT HELEN MCINERNEY
Working with our hands and creating something is said to be therapeutic and relaxing and if you can make something useful in the process all the better. Near Fethard on Sea in Co. Wexford one craftsman has discovered that teaching traditional woodworking skills not only benefits the students but also himself and the community. Reporter Helen McInerney has the story.
Contact: Tommy Kelly, Bevel Furniture, Poulfur, Fethard-on-Sea, Co. Wexford
Telephone: 353 +51 397463
Mobile: 353 086 8232180
Website: www.bevelfurniture.com
Email: tkelly@bevelfurniture.com
PLASTIC HURLEYS/REPORT BRENDAN WRIGHT
You may not have noticed but there's a crisis in hurling, not on the field in Tipperary or Kilkenny, but it concerns a possible shortage of the traditional wooden Hurley sticks due to disease affecting the ash trees they're made from. Now, one enterprising inventor has come up with a replacement for the traditional wooden Hurley, one made from composite or plastic materials. It will last a lot longer, but will it score with hurling community? Reporter Brendan Wright has the story.
AFRICAN CHOIR/REPORT COLM FLYNN
A charity in Northern Ireland, Abaana, has been working with some of the poorest children in Uganda for the past number of years now and recently the charity started a very special Ugandan choir which visited Ireland last month. Colm Flynn has this report.
Website: www.abaana.org
Twitter: @RTENationwide
Email: nationwide@rte.ie
Programme Enquiries to: nationwide@rte.ie

RTÉ One, Monday, Wednesday & Friday, 7.00pm
Visit the website