Nationwide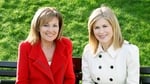 Presented by Mary Kennedy and Anne Cassin, Nationwide brings Irish viewers an eclectic round-up of news, views and events from around the country.
Programmes
MONDAY, 29TH JUNE

IRISH DERBY PROGRAMME
Special programme for and about the Dubai Duty Free Derby which this year celebrates its 150th year with three days of classic racing. The event attracts visitors and stars from all over the world.
Mary Kennedy on the day will speak to irish man Colm McLoughlin who started Dubai Duty Free from a very small enterpirse to a global empire and his irish aide de come Sinead El Sinbai, an Irish woman heading up marketing.
she will also speak to a number of sporting starts and interview the daughter of Bing Crosby who created quite a stir when he came to the Irish Sweeps Irish Derby in 1965 with his friend's horse, Meadow Court.!!!
CONTACTS:
Barbara White
Marketing & PR Manager
Horse Racing Ireland
Ballymany
The Curragh
Co Kildare
Tel: +353 (0) 45 455 682 (direct)
Mobile: +353 (0) 87 2511482
facebook.com/goracing
twitter.com/goracing
BOLGER/ REPORTER/ MARY FANNING.
Our reporter, Mary Fanning talks to trainer Jim Bolger who holds the record for the fastest ever derby in 1992 and who employs hundreds at his racing / breeding business here in Ireland.
DERBY ECONOMIC SPIN OFF/ REPORTER MARY FANNING.
The Irish Derby provides a major boost to the local economy of County Kildare with visitors coming to the racing spending money in the towns of Kildare and Newbridge. Our reporter, Mary Fanning has been finding out about the benefits of this major racing event to the area.
WEDNESDAY, 1ST JULY
DUNGARVAN 800 FESTIVAL PROGRAMME.
This evening we're in the beautiful Harbour town of Dungarvan in Co Waterford which is marking the 800th Anniversary of the granting of the Charter to the town by King John in 1215 and although founded by Saint Garbhann in the 7th Century it was during the Norman period that Dungarvan really developed into a town. For centuries it was a thriving port and in the 18 hundreds the town was replanned by the Dukes of Devonshire. Today it's a thriving business town in a glorious coastal location approximately midway between Waterford City and Cork...
www.waterfordcouncil.ie and www.waterfordmuseum.ie
PAUL FLYNN-MY TOWN/REP. MARY KENNEDY
One of the best known faces in Dungarvan is celebrity Chef , Paul Flynn who runs his successful business , the Tannery Restaurant in the town. Mary Kennedy went on a tour of Dungarvan with Paul to see where he grow up and to hear stories of Life in this seaside town.
FRIDAY, 3RD JULY

YOUGHAL HERITAGE PROGRAMME/ PRESENTER ANNE CASSIN
This evening's programme is from the walled seaport town of Youghal in County Cork. We meet the town crier Cliff Winser and learn about Youghal's heritage. We visit the 900 year old St. Mary's Collegiate Church in the town where a burial vault was recently discovered. Also featured in the programme is Youghal's iconic Clock Gate Tower and we hear about the restoration work of the medieval walls.
Website: www.youghal.ie
Website: www.youghal.cloyne.anglican.org
Website: www.crazyglazing.com
Facebook: www.facebook.com/YoughalHeritage

Twitter: @RTENationwide
Email: nationwide@rte.ie
Programme Enquiries to: nationwide@rte.ie

RTÉ One, Monday, Wednesday & Friday, 7.00pm
Visit the website