Nationwide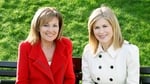 Presented by Mary Kennedy and Anne Cassin, Nationwide brings Irish viewers an eclectic round-up of news, views and events from around the country.
Programmes
MONDAY 20TH JUNE
SUPERVALU TIDY TOWNS COMPETITION
This evening, we are focusing on one of Ireland's most enduring and successful competitions, the Super Valu Tidy Towns competition. Every year in September, the representatives of the 800 entries travel to the Helix at DCU in the hope of winning an award. At this time of year, the judges are at work visiting the entries all over the country.
Contact: Depart of Environment, Community & Local Government, Tidy Towns Unit, Government offices, Ballina, Co Mayo.
Telephone: (096) 24309
Website: www.tidytowns.ie
Email: TidyTowns@environ.ie
LETTERKENNY TIDY TOWNS/REPORT HELEN MARK
The overall winner and title holder of Ireland's tidiest town is Letterkenny in County Donegal and last week there was great excitement as the President came to visit to unveil the winners plaque. A few days before we sent our reporter, Helen Mark along to meet the Letterkenny Tidy towns team.
Facebook: www.facebook.com/letterkenny.tidytowns.7
PRESIDENT VISITS TIDY TOWNS/REPORT EILEEN MAGNIER
The community spirit is strong in Letterkenny and there is no bigger day for a village or town than the day that the President of Ireland comes to visit, particularly if he is coming to congratulate the locals on winning a major award. Recently the President came to Letterkenny and our reporter Eileen Magnier was there and brings us this report.
TIDY TOWNS 2016 ENTRIES & JUDGING/REPORT MARY KENNEDY
With upwards of 800 entries, the Tidy Towns competition, has to be one of Ireland's most successful voluntary competitions. All over the country teams of locals in villages and towns are out every evening doing their bit to make their place clean and beautiful. At present the Tidy Towns judges are on the road visiting all the locations and adjudicating the entries. Mary Kennedy talks to Ann O'Leary who is one of the judges.
WEDNESDAY 22ND JUNE
IVEAGH TRUST PROGRAMME
We focus on the Iveagh Trust, the provider of affordable housing in and around Dublin. We look back over the history of this voluntary housing association which was developed in 1890 by Edward Cecil Guinness to house Dublin's working poor. We visit some of the flats, as well as the hostel once affectionately known as the Working Men's Hotel.
Website: www.theiveaghtrust.ie
FRIDAY 24TH JUNE
PROGRAMME ON UNIVERSITY COLLEGE DUBLIN
In this programme we look at developments at UCD including NovaUCD, the Centre for New Ventures and Entrepreneurs, where we look at the success of a lingerie business developed as a college spin-in. Another project being developed through NovaUCD is a spin-out which has developed a wearable device for mares that brings them into fertility at the right time. We also pop into the new Law Faculty building to see law students run a mock trial and we visit the UCD vet school for neutering day.
Website: www.equilume.com
Website: www.theyahealthcare.com
Website: www.ucd.ie/innovation
Website: www.ucd.ie
Website: www.ucd.ie/novaucd
Website: www.ucd.ie/vetmed
RTÉ One, Monday, Wednesday & Friday, 7.00pm
Visit the website