Nationwide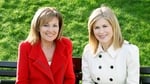 Presented by Mary Kennedy and Anne Cassin, Nationwide brings Irish viewers an eclectic round-up of news, views and events from around the country.
Programmes
MONDAY 23RD MARCH
PROGRAMME ON THE TEMPLE ARTS PROJECT IN DERRY
This is a special Nationwide programme on an extraordinary arts project in Derry. The images of fire and flames in Northern Ireland were at one time a nightly feature on the news from burnt out cars and buses to whole streets in flames, fire has been a potent negative symbol. But Californian artist David Best is aiming to give the people of Derry a chance to turn fire into a symbol for healing and positivity. For the last few weeks Nationwide has been filming as Best and a team of volunteers have been building a 70 foot high Temple on a hill overlooking the city. The structure made from a timber frame is the result of over 2 years hard work and will be burnt to the ground in a special ceremony on Saturday 21st March.
Website: www.templederry-londonderry.com
Website: www.nervecentre.org/projects/fab-lab (For more details about the Fab Lab in Derry)
WEDNESDAY 25TH MARCH
POLISH PROGRAMME
This evening on Nationwide we focus on stories of the Polish living in Ireland as the Polska Éire Festival gets underway here. This festival is designed to encourage the Irish to find out more about our Polish neighbours. We meet a Polish couple who moved to Ireland ten years ago and we visit County Donegal to see how the Polish community are keeping their culture alive. Plus we find out about the issues dealt with on a day to day basis by the Polish embassy in Dublin.
Website: www.PolskaEireFestival.com
Website: www.polskaeire2015.com
Email: office@polskaeire.com
Website: www.dublin.msz.gov.pl/en (Polish Embassy)
Website: www.irishpolishsociety.ie (Irish Polish Society)
DONEGAL SCHOOL/REPORT EILEEN MAGNIER
For Polish people living in Ireland, like Irish people living abroad, a connection with their own culture, language and heritage is obviously important. It's also important that the language and culture is passed on to their children and so in Letterkenny, County Donegal every Sunday one of the local schools becomes a Polish school for the day.
Contact: Robert Fabisiak
Telephone: 353 872031999
Website: www.psletterkenny.eu
Contact: Errigal College, Windyhall, Letterkenny, Co. Donegal
Telephone: 353 749121047
POLISH COUPLE/REPORT MARIA MULLARKEY
We head to Mayo to meet a Polish couple who moved here almost 10 years ago. Settling in Westport and starting up their own ceramics business, they have made Ireland their home and can never see themselves moving back to Poland. Maria Mullarkey visited them at their home recently to see how they've adapted to and are enjoying Irish life.
Contact: The Mood Designs
Telephone: (086) 2339318
Website: www.themooddesigns.ie
Email: themooddesigns@gmail.com
FRIDAY 27TH MARCH
DAFFODIL DAY
It's the Irish Cancer society's biggest fund raising day and as the Daffodil collectors make their way home we hear stories of people who have had to face cancer in their lives. Plus the New Ross school girl whose mothers diagnosis of Cancer lead to her setting up a support project for the children of those with the disease.
Website: www.cancer.ie
CANCER BOOK/REPORT HELEN MCINERNEY
When you lose someone close to you the shock and grief can be almost unbearable. Many avail of counselling to help them cope with their loss. For one Tipperary woman that support helped her come to terms with the death of both her parents within a short space of time. Now she's written a cook book to raise funds for the Suir Haven Cancer Support Centre in Thurles. Helen McInerney has the story.

Back Ref: and if you want to find out more about Suir Haven and the Food for Thought Cook book check out the website which is on your screens now.
Website: www.northtipphospice.ie
Email: eileencoffey21@gmail.com
DOMINI KEMP/REPORT ANNE CASSIN
On Daffodil Day we are put in mind of people who have struggled and, perhaps, succumbed to cancer. What is particularly painful for sufferers and their families is that the disease can appear to strike people indiscriminately. One person who felt she was "too young" to get cancer was Food writer and Businesswoman, Domini Kemp who was diagnosed with breast cancer in 2013 at the age of 41. She told her cancer story to Anne Cassin when she met her a couple of weeks ago. she was as busy as ever having made a full recovery.
Website: www.itsa.ie
NEW ROSS/REPORT ORLA WALSH
We travel to New Ross in County Wexford where after finding it difficult to deal with the news of her mother's stomach cancer diagnosis, one girl felt more support was needed for young people in her situation. Eden Fitzgibbon and her transition year class decided it was time to change that and our reporter Orla Walsh has more.
Website: www.leanonmeireland.weebly.com

Twitter: @RTENationwide
Email: nationwide@rte.ie
Programme Enquiries to: nationwide@rte.ie

RTÉ One, Monday, Wednesday & Friday, 7.00pm
Visit the website