Nationwide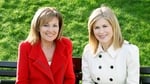 Presented by Mary Kennedy and Anne Cassin, Nationwide brings Irish viewers an eclectic round-up of news, views and events from around the country.
Programmes
MONDAY 20TH FEBRUARY
NATIONWIDE FROM SHANNON TOWN
Anne Cassin visits Ireland's first new town which was developed in the 1960's and looks at how Shannon has evolved over the past few decades. Some of the early residents share their experiences of living in the town, including returned emigrants who were lured back to Ireland with the assurance of jobs and houses - as well as refugees from Northern Ireland and Chile. Anne also pays a visit to the Atlantic AirVenture Aviation centre where she gets a flight lesson in a simulator, witnesses confessions in the local shopping centre and hears about ambitious plans for 'The Venue' a new centre for creative, community and civic engagement.
Contact: Atlantic Air Venture, Link Road, Shannon, Co Clare
Telephone: +353 61 363687
Website: www.atlanticairventure.com
Email: info@atlanticairventure.com
Website: www.shannonvenue.com
Website: www.shannonparish.ie
Website: www.duchasnasionna.eu
WEDNESDAY 22ND FEBRUARY
AUSTRALIA PROGRAMME/REPORT COLM FLYNN
The Irish who are making a life for themselves thousand of miles away on the other side of the planet. We travel to Australia to meet the young and not so young who have set up home in Australia.
FRIDAY 24TH FEBRUARY
BAKING
This evening we are focusing on the art of home Baking. Meeting people with a love for baking, teachers, parents and some young people keen to learn to create wonderful breads, cakes, buns, tarts and biscuits.
BAKING ACADEMY OF IRELAND/REPORT ANNE CASSIN
In recent times there has been a renewed interest in Baking programmes on TV. This has led to many Irish people taking classes to learn about or improve their skills. We visited the Baking Academy of Ireland in Dublin's Palmerstown Village to meet the teachers and students as they hone their baking skills.
Website: www.bakingacademyireland.ie

CHAMPION BAKER/REPORT CIARAN MULLOOLY
The tale of the Roscommon public health nurse who is making headlines in a very different field. Margaret Sexton is passionate about baking and now devotes much of her time to teaching others how to do it. She's a former winner of the brown bread baker of the year and now she's embarking on an exciting new career move on the super market shelves of the country. Ciaran Mullooly went along to see her in action.
Facebook: www.facebook.com/MargaretSextonBakes
GLUTEN FREE BREAD & CAKES/REPORT NIALL MARTIN
Niall Martin has been to visit a gluten free bakery in Dublin to see how gluten free breads and cakes can be every bit as tasty as regular bakery produce.
Website: www.coeliac-ireland.com
Contact: Antoinettes Bakery, 6 Kevin Street Lower, Dublin 8
Telephone: (01) 4759008
Twitter: @RTENationwide
Email: nationwide@rte.ie
Programme Enquiries to: nationwide@rte.ie

RTÉ One, Monday, Wednesday & Friday, 7.00pm
Visit the website