Nationwide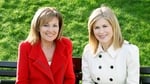 Presented by Mary Kennedy and Anne Cassin, Nationwide brings Irish viewers an eclectic round-up of news, views and events from around the country.
Programmes
MONDAY 29TH SEPTEMBER
INTER TRADE IRELAND
We meet large and small companies in both the Republic and the North whose goods are being sold on both sides of border. We visit some of these businesses and we find out how to establish a foothold in both jurisdictions with support from the all Ireland body, Inter Trade Ireland.
Contact: Inter Trade Ireland, The Old Gasworks Business Park, Kilmorey Street, Newry, Co. Down, BT34 2DE.
Telephone: 028 3083 4100 (048 from Ireland)
Textphone: 028 3083 4169 (048 from Ireland) Designed for people with hearing problems
Website: www.intertradeireland.com
Email: info@intertradeireland.com
DONEGAL & SLIGO/REPORT COLM FLYNN
Atlantic Composites is a Donegal based boat design, manufacture and repair company specialising in Ribs using Vacuum infusion, the only boat manufacturing company in Ireland using this process. From their base in Gweedore they are selling their boats all over the world. Voya Seaweed products are produced from hand harvested seaweed, certified organic and produced in Sligo. The company's products are sold all over the island of Ireland and beyond. Reporter Colm Flynn has the story.
Contact: Atlantic Composites in Donegal
Telephone: (074) 9560011
Website: www.atlanticcomposites.com
Contact: VOYA Products Ltd, Unit 2, IDA Cluster, Finisklin Business Park, Co. Sligo, Ireland
Telephone: (071) 9161872
Website: www.voya.ie
Contact: Glen of Antrim Potatoes, 118 Middlepark Road , Cushendall , County Antrim, Northern Ireland, BT44 0SH.
Telephone: (0044) 028 2177 1396
Website: www.goapotatoes.co.uk
Contact: QUAD X, 37 Carnearney Road, Ahoghill, Ballymena, Co. Antrim BT42 2PJ
Telephone: 0282 5872 800
Website: www.quad-x.com
Contact: Blaney Agri Solutions, 37A Carnearney Road, Ahoghill, Ballymena, County Antrim, Northern Ireland, BT42 2PJ
Telephone: 0282 5872 801
Website: www.blaneyagri.com
Email: info@blaneyagri.com
Contact: Ducks Silver Farm, Emyvale, Co. Monaghan
Telephone: 00 353 47 87124
Website: www.silverhillfarm.ie
Email: info@silverhillfoods.com
Contact: Kellys, Milltown East Industrial Estate, Upper Dromore Road, Warrenpoint, Newry, County Down, N. Ireland
Telephone: 028 4177 3674
Website: www.kellys.uk.com
CORK & KERRY/REPORT BRIAN WALSH
Inter Trade Ireland runs an "Elevate" programme to help small companies in the export market. We went to Cork and Kerry to see two such companies, Dees Vegan Foods and Leah's Gourmet foods, to see how they have benefited from the programme and assistance.
Contact: Leah's Gourmet Foods, Littor Strand, Asdee, Listowel, Co. Kerry.
Telephone: (068) 41924
Website: www.leahs.ie
E-mail: info@leahs.ie
Contact: Dee's Vegan Foods
Telephone: (021) 2348668
Website: www.dees.ie
Email: info@dees.ie
Contact: Green Saffron Spices, Unit 16 , Nordic Enterprise Park, Knockgriffin, Middleton, County Cork.
Telephone: 353 (0)21 463 7960
Website: www.greensaffron.com
Email: eatwell@greensaffron.com
Contact: Irish Atlantic Seasalt, Lickbarrahan, Cahermore, Beara, Co. Cork.
Telephone: 00353 86 1620994 or 00353 27 73868
Website: www.irishatlanticsalt.ie
Email: info@irishatlanticsalt.ie
Contact: The Burren Smokehouse, Kincora Road, Lisdoonvarna, Co.Clare, Ireland
Telephone: 353 65 707 4432
Website: www.burrensmokehouse.ie
Email: info@burrensmokehouse.ie
WEDNESDAY 1ST OCTOBER
Tonight on Nationwide we are in Limerick, Ireland's capital city of Culture 2014 for a programme full of nostalgia and memories.
COMEDY DUO/REPORT MARIAN MALONE
In the 1950's and 1960's, long before D'Unbelievables were ever heard of, a comic duo emerged from Limerick who were to achieve international acclaim. Tom & Paschal went on to appear on stage at the Royal Albert Hall in London and Carnegie Hall in New York, as well as in theatres the length and breadth of Ireland. Marian Malone takes a look back at their career, including a never-before-seen interview she conducted with Tom O'Donnell, who sadly died in February 2013.
ROYAL DE LUXE - GRAND OLD LADY/REPORT PAT McGRATH
Nationwide travels to Limerick, Ireland's City of Culture 2014. One of the highlights of the Cultural events this year was the performance by a grand old lady from the Royal de Luxe theatre in France. The parade attracted over 200,000 people to the streets of the city and will be remembered for years to come. Pat McGrath was there and brings us this report.
Website: http://www.royal-de-luxe.com/fr/
Website: http://limerickcityofculture.ie/
FRIDAY 3RD OCTOBER
WOMEN IN BUSINESS PROGRAMME
We meet some of Ireland's up and coming female entrepreneur's to find out about getting started and making a success of a small business.
WOMEN IN BUSINESS/REPORT HELEN MCINERNEY
While many women in Ireland have started their own businesses some may be reluctant to grow and expand and take on more staff. Reporter Helen McInerney meets some business women with small companies who have had the opportunity to meet with other business women who are successfully growing their companies, sharing experiences and receiving support.
Contact: City Analysts Limited, Pigeon House Road, Ringsend, Dublin 4.
Telephone: 01 6136003
Website: www.cityanalysts.ie
E-mail: info@cityanalysts.ie
Website: www.goingforgrowth.com
Contact: Critical Healthcare Limited, Comagh Business Park, Kilbeggan, Co. Westmeath.
Telephone: +353 (0) 57 93 33111
Website: www.criticalhealthcare.com
Email: wecare@criticalhealthcare.com
OGHAM WISHES/REPORT MARIA MULLARKEY
Irish women are exceptional business women and leaders in a diversity of businesses across Ireland and abroad and every year more and more women start up successful ventures throughout the country. Maria Mullarkey recently met two such Athlone women, sisters Ethel Kelly and Katie McCay who run their own creative businesses in Athlone, Co. Westmeath and Knockcroghery in Co. Roscommon.
Contact: The Clay Pipe Centre - (0906) 661923 or Ethel on (086) 0566800
Website: www.oghamwish.com
Contact: The Bastion Gallery - (0906) 494948 or Katie on (086) 8437802
Email: bastiongallery@eircom.net
WEDDING DRESS/REPORT VALERIE WATERS
This is a story about an enterprising woman who has come up with a business idea inspired by her own wedding dress. Valerie Waters met illustrator Audrey Vance in Co. Wicklow whose business is set to grow as the orders come in from home and abroad.

Contact: Audrey Vance, Wedding Dress Ink, Bray, Co. Wicklow
Telephone: (086) 8036914
Website: www.weddingdressink.com
Email: audrey@weddingdressink.com

Twitter: @RTENationwide
Email: nationwide@rte.ie
Programme Enquiries to: nationwide@rte.ie

RTÉ One, Monday, Wednesday & Friday, 7.00pm
Visit the website