Nationwide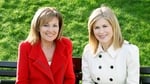 Presented by Mary Kennedy and Anne Cassin, Nationwide brings Irish viewers an eclectic round-up of news, views and events from around the country.
Programmes
MONDAY 3RD AUGUST
NO PROGRAMME - BANK HOLIDAY

WEDNESDAY 5TH AUGUST
On tonight's Nationwide programme we meet singer songwriter Charlie McGettigan in County Leitrim and also the volunteers and cyclists who take part in the Tour De Munster cycle race.
CHARLIE MCGETTIGAN/REPORT MARY KENNEDY
It's always nice to spend time with people in their home place and nice also to get to meet the person behind the public image. We know Charlie McGettigan as a very talented singer songwriter, winner of the Eurovision Song Contest in 1994. Charlie is actually from Ballyshannon in County Donegal but for more than forty years now he has lived in Drumshanbo in County Leitrim where he is a very active member of the community. Recently he took Mary Kennedy on a little tour around his adopted home town and we begin the journey at the picturesque Acres Lake just outside the town.

TOUR DE MUNSTER/REPORT GRETT O'CONNOR
The Tour de Munster cycle race begins on Thursday 6th August in Waterford & finishes on Sunday at St. Patrick's Hill in Cork city centre. One hundred and ten brave cyclists will get on their bikes to begin a 650 kilometre journey around the high ways and byways of Munster. Reporter Grett O'Connor went along to the launch of the Tour de Munster to find out all about this major cycling event which raises funds for people with Down's Syndrome.

Website: www.tourdemunster.com
Contact: Down Syndrome Ireland, Citylink Business Park, Old Naas Road, Dublin 12
Telephone: (01) 426 6500
Low-call number: 1890 374 374
Website: www.downsyndrome.ie
Email: info@downsyndrome.ie
FRIDAY 7TH AUGUST
DISCOVER IRELAND HORSE SHOW PROGRAMME
We visit the RDS for the 142nd Dublin Horse Show which takes place from August 5th-9th. Mary Kennedy meets the Connemara stallion men and discusses the preparations for the International Stallion parade which includes France and England for the first time. We speak to an international show jumper or two at the event and also the CEO of the RDS on the €35 million revamp of the complex due to start next year & we also hear about the nostalgia and the economic worth for tourism of the show this year. Plus we find out about Show jumping in the city at the Greyhound Stadia and about the retired racehorse 'Forpadydeplasterer' who is now a champion riding horse.
Website: www.dublinhorseshow.com
FORPADYDEPLASTER/REPORT MARY FANNING
Retired racehorses have their day out at the Discover Ireland Horse Show. Irish Thoroughbred Marketing came up with this idea some years ago and joined with the RDS with a show class that sees the stars of the track retrained to become show horses. It's fascinating to watch famous stars from Aintree, Punchestown and the Curragh turn their careers around but it takes an awful lot of training. 'Forpadydeplasterer' is one of those stars and his handler Joanne Quirke from Ashbourne won the class last year and will be defending her title tomorrow at the Horse Show. Mary Fanning went to see how things were going in the run up to the big event.
Contact: Irish Thoroughbred Marketing, Ballymany, The Curragh, Co. Kildare, Ireland.
Telephone: +353 45 443060
Website: www.itm.ie
Email: info@itm.ie
Website: www.rds.ie
JUMPING IN THE CITY/REPORT EMMA MCNAMARA
On three Friday nights in June greyhound stadia in Cork, Limerick and Dublin were transformed to accommodate "Jumping in the City". Run by Horse Sport Ireland with the Irish Greyhound Board and Show Jumping Ireland, the idea was to create an evening of entertainment, designed to attract a new audience to show jumping and equestrian sport. It saw three classes each night, an amateur Top Score Competition, a Grand Prix and a High Jump. Reporter Emma McNamara went to the finals in Dublin's Shelbourne Park.
Website: www.igb.ie/jumpinginthecity
Website: www.sji.ie
Contact: Horse Sport Ireland, 1st Floor, Beech House, Millennium Park, Osberstown, Naas, Co. Kildare
Telephone: +353 45 850800
Website: www.horsesportireland.ie
Email: info@horsesportireland.ie
Twitter: @RTENationwide
Email: nationwide@rte.ie
Programme Enquiries to: nationwide@rte.ie

RTÉ One, Monday, Wednesday & Friday, 7.00pm
Visit the website