Nationwide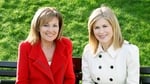 Presented by Mary Kennedy and Anne Cassin, Nationwide brings Irish viewers an eclectic round-up of news, views and events from around the country.
Programmes
MONDAY 25TH MAY
MUSIC PROGRAMME
On this evening's Nationwide programme we have music on the menu.
LOUTH SINGER/REPORT MARY KENNEDY
Dundalk singer Tara Erraught has always loved to sing. Still only 28, she has numerous opera roles under her belt and has been causing a sensation in the International Opera circuit. Described as a 'genuine find' and the 'new Queen of Bel Canto', Tara is now based in Munich, but we were lucky enough to catch up with her on a brief visit home.
Website: www.taraerraught.com
CLARE MUSIC COLLECTORS/REPORT TOMAS O'MAINNIN
A unique collection of Irish traditional songs and folklore has been donated to the Clare county library in County Clare. It's a small part of a huge collection that was recorded in England and in County Clare over the past 4 decades by an English couple who took a keen interest in Irish traditional songs and the historic events that prompted them. The collection features songs and local history, some of which has been largely forgotten with the passage of time.
Contact: Clare County Library
Telephone: (065) 6821616
Website: www.clarelibrary.ie
WEDNESDAY 27TH MAY
BOYNE SLANE PROGRAMME
As the Slane Rock Concert approaches, we take a trip through County Meath. We discover quality food producers who have come together to form the Slane Food circle. We fly through one of the County's lesser known passage tombs and we meet the farming family who decided to use their barley straw to build a guesthouse.
Contact: Rock Farm Slane
Telephone: (041) 9884861
Website: www.rockfarmslane.ie
Email: info@rockfarmslane.ie
Facebook: www.facebook.com/RockFarmSlane
Website: www.strawbuild.org (For information about Straw Build)
FRIDAY 29TH MAY
We focus on food and positive health options.
BLACKCURRANT CORDIAL/REPORT HELEN MCINERNEY
This story is about a new Irish product grown on a farm in County Wexford. Mr. Jeffares is a Blackcurrant Cordial produced with no added sugar. Reporter Helen McInerney has been down on the farm to get the background story to this new Irish product.

Contact: Des Jaffares, Ballykelly Farms Ltd, Ballykelly House, Drinagh, Wexford.
Telephone: +353 (0) 87 2867455
Website: www.mrjeffaresblackcurrants.ie
Email: sales@mrjeffaresblackcurrants.ie
YOGA LADY/REPORT ANNE CASSIN
An increasingly popular way to unwind from the slog of everyday life is, literally, to do that. Unwind, stretch, bend and loosen out the joints through yoga. Many people, and it seems to be overwhelmingly women, are drawn to the slow pace of yoga, but it can be challenging as Anne Cassin found out when she spent the day with yoga teacher Dubliner Sylvia Ferguson.
Contact: Sylvia Ferguson
Telephone: (087) 6822362
Website: www.sylviayoga.com
Email: sylviaferg@yahoo.com
HERBAL WEEK/REPORT VALERIE WATERS
Last Saturday was the start of National Herb Week. Valerie Waters went to see the newly restored garden in St. Anne's Park in Raheny in North Dublin and met a group of people who are passionate about herbs and their valuable uses in everyday life.
Website: www.nationalherbweek.ie
Contact: St. Anne's Park, Raheny, Dublin City Council
Telephone: (01) 8331859

Twitter: @RTENationwide
Email: nationwide@rte.ie
Programme Enquiries to: nationwide@rte.ie

RTÉ One, Monday, Wednesday & Friday, 7.00pm
Visit the website