Nationwide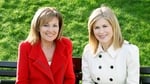 Presented by Mary Kennedy and Anne Cassin, Nationwide brings Irish viewers an eclectic round-up of news, views and events from around the country.
Programmes
MONDAY 25TH JULY
DUBLIN HORSE SHOW PROGRAMME
We head to the Dublin Horse Show at the RDS and meet some of the international show jumpers, horse breeders and dealers. Mary Kennedy goes behind the scenes at Ladies Day with a visit to the Fuchsia Fashion Health and Beauty zone, a new addition to this years festival with fashion shows and beauty make overs. She will also have a chat with CEO of the RDS, Michael Duffy who talks about the future plans of the RDS. We visit Jimmy Quinn from Annaghdown, Galway who will have his four top Irish Draught Stallions on parade and who is also in a big deal with the Chinese for a 700 million euro education equestrian centre in Shanghai.
Website: www.dublinhorseshow.com
Website: www.cappastud.com

JIM DERWIN EQUESTRIAN/REPORT MARY FANNING
Getting to the show at the RDS is an event in itself and competitors national and international hand down the traditions and the talent. We're in Simmonscourt where the baby showjumpers are in action and Frano Derwin is one of the many Derwins from Athlone getting ready to compete. Reporter Mary Fanning went to the famous dealing yard in Athlone where the seeds were sown for greatness many generations ago.
Contact: Jim Derwin Equestrian, Auburn, Athlone, Co. Westmeath
Telephone: (087) 2301776
Website: www.jimderwin.com
Email: info@jimderwin.ie
WEDNESDAY 27TH JULY
A focus on some successful Irish businesses.
BE SWEET COMPANY/REPORT COLM FLYNN
Bernice Moran is a pilot from Dublin who has had her wings from a very young age but having a high flying career wasn't enough for Bernice. She also had a dream to start up another business, something completely unrelated to aviation. She set out to achieve that dream with a little help from one of the worlds most famous entrepreneurs. Our reporter Colm Flynn went to meet her.
Website: www.thebesweetcompany.com
LISMORE FOOD COMPANY/REPORT BARRAÍ MESCALL
A successful business which went through the Food Works programme is the Lismore Food Company. Reporter Barraí Mescall went to the beautiful town of Lismore in County Waterford to pay them a visit.
Website: www.thelismorefoodcompany.com
Email: info@thelismorefoodcompany.com

FRIDAY 29TH JULY
LEITRIM PROGRAMME
DESIGN HOUSE/REPORT MARY KENNEDY
Mary Kennedy visits The Dock art space in Carrick on Shannon which last year celebrated it's 10th birthday. The Dock is host to the Design House which showcases the best in County Leitrim art, craft and design. In addition The Dock hosts regular art exhibitions and music & dance performances. Mary pops in to see the local youth theatre during their summer workshops and talks to Anna McLeod whose Water Conversations exhibition is the highlight of the Dock's summer arts programme.
Contact: The Dock, St Georges Terrace, Carrick on Shannon, Co. Leitrim
Telephone: (071) 965 0828
Website: www.thedock.ie
FOOD HUB/REPORT EILEEN MAGNIER
Like many small towns, Drumshanbo has struggled with the issue of unemployment but the people living there are very determined and they don't give up with the first knock. When the main employer in the town closed down in the 1990's, the people of Drumshanbo decided they would go it alone and this is the story of their quite remarkable achievement.
Contact: Food Hub, Carrick Road, Drumshanbo, Co. Leitrim.
Telephone: +353 71 96 41848
Website: www.thefoodhub.com
Email: info@thefoodhub.com
Contact: Carrig Brewing Company, Drumshanbo, County Leitrim
Telephone: +353 (0)86 8106703
Website: www.carrigbrewing.com
Email: hello@carrigbrewing.com
Contact: McNiffes Bakery, County Leitrim
Telephone: +353 (0) 71 9644625
Website: www.mcniffesbakery.com
Email: info@mcniffesbakery.com
Contact: The Cheese Hub, Drumshanbo, County Leitrim
Telephone: +353 (0)86 1728442
Website: www.thecheesehub.ie
Email: info@thecheesehub.ie
Contact: The Shed Distillery, Drumshanbo, County Leitrim
Telephone: (01) 5079170
Website: www.thesheddistillery.com
Email: rdunne@pjrigneydistillery.com
Contact: Bo Peep Preserves, Drumshanbo, County Leitrim
Telephone: +353 (0) 86 255 9556
Website: www.bopeep.ie
Email: mcpartlandnoel@gmail.com
Contact: Chef in a Box, The Food Hub, Carrick Road, Drumshanbo, County Leitrim.
Telephone: (071) 9641857 & (071) 9641815
Website: www.chefinabox.ie
Email: accounts@paulmulliganfoods.com

Twitter: @RTENationwide
Email: nationwide@rte.ie
Programme Enquiries to: nationwide@rte.ie

RTÉ One, Monday, Wednesday & Friday, 7.00pm
Visit the website