Nationwide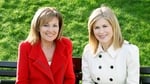 Presented by Mary Kennedy and Anne Cassin, Nationwide brings Irish viewers an eclectic round-up of news, views and events from around the country.
Programmes
MONDAY 8TH FEBRUARY
This evening the focus is on small Irish businesses and their plans to expand and to export around the world.
CHOCOLATE PILOT/REPORT COLM FLYNN
Bernice Moran is a pilot from Dublin who has had her wings from a very young age but having a high flying career wasn't enough for Bernice and she also had a dream to start up another business, something completely unrelated to aviation. She set out to achieve that dream with a little help from the one of the world's most famous entrepreneurs. Our reporter Colm Flynn went to meet her.
Website: www.thebesweetcompany.com

APPLES/REPORT MARY FANNING
A family that grows together stays together and the McNeeces who have over 100 years of tradition in apple growing have made that journey of excellence coming from Armagh to Drogheda keeping their Brambley growing tradition alive on the banks of the Boyne with the fourth generation diversifying into juice and craft cider named after their great grandfather, Dan Kelly. Reporter Mary Fanning made her way to the orchards just outside Drogheda.
Contact: Boyne Grove Fruit Farms, Stagrennan Farm, Stameen, Drogheda, Co. Louth
Telephone: (041) 9837333
Website: www.boynegrove.ie
Email: [email protected]
WEDNESDAY 10TH FEBRUARY
This evening we meet three people who have great passion and enthusiasm for their chosen interest.
TREE MAN/REPORT VALERIE WATERS
We visit the very beautiful Tullynally Estate in Co. Westmeath, it's been continuously in private ownership going back to the 17th century. Our reporter Valerie Waters met the present owner who is well known for his writings on remarkable trees and she asked him about his latest book on his favourite subject.
Website: www.tullynallycastle.ie

CLARE PHOTOGRAPHS/REPORT CATHY HALLORAN
John Kelly is a photographer with the Clare Champion newspaper, who recently marked his 25 years working there with an exhibition of his work at Glor in Ennis. Many of his photographs are award winning front page features focusing on individuals, and a lot of them happen completely by accident, as our Mid West Correspondent Cathy Halloran has been finding out.
STONEMASON/REPORT AINE LALLY
Stone Masonry is an art form and a Craft that has existed for a very long time. It's a skill that one man in Gort in County Galway uses to bring what is in his imagination to life. Jethro Sheen loves everything about stone, its texture, its complexity and its potential to be structured into something breathtaking. Reporter Áine Lally went along to met him.
Contact: Jethro Sheen, Gort, Co. Galway
Telephone: (086) 3502394
Website: www.sheenstoneworks.ie
Email: [email protected]

FRIDAY 12TH FEBRUARY
OVERCOMING ADVERSITY
We meet some inspirational people from around the country.
BLIND ART/REPORT VALERIE WATERS
A ceramic artist in County Wicklow has come up with a novel idea which helps people with a visual impairment. She makes 3D representations of 2D well known works of art. Reporter Valerie Waters met both the artist and a young man with low vision at the artist's studio at Russborough House in Co. Wicklow.
Contact: Eleanor Swan Ceramics
Telephone: 00353 87 2875616
Website: www.eleanorswan.com
Email: [email protected]

RUGBY INJURY/REPORT CIARAN MULLOOLY
This is the remarkable story of how a young Longford rugby player, paralysed after a serious neck injury in the game, has turned around his life and embarked on a successful career path as a counsellor and psychotherapist. Victor Connell from Killoe in County Longford faced the biggest decision of his life ten years ago when the injury took place. Reporter Ciaran Mullooly went along to see the extraordinary progress he has made in the decade since.
DOG AGILITY/REPORT MARY FANNING
Dog agility has become a very competitive sport in Ireland, the UK and in Europe. Ireland has excelled in international competition and some of the handlers involved have had to overcome personal health problems to compete but the dogs have helped and in addition, the sport is a great way to stay young. Reporter Mary Fanning joined some of the Irish team members at a training session in Kildare.
Contact: Working Canine Association of Ireland - Facebook Page
Facebook: https://www.facebook.com/The-Working-Canine-Association-of-Ireland-135041266524021/
Telephone: Liam O'Brien (086) 0867266
Twitter: @RTENationwide
Email: [email protected]
Programme Enquiries to: [email protected]

RTÉ One, Monday, Wednesday & Friday, 7.00pm
Visit the website