Nationwide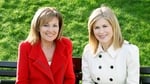 Presented by Mary Kennedy and Anne Cassin, Nationwide brings Irish viewers an eclectic round-up of news, views and events from around the country.
Programmes
MONDAY 22ND SEPTEMBER
CONNEMARA PROGRAMME
We visit the wilds of Connemara to see the beauty of the landscape and to explore and discover all that this part of the West of Ireland has to offer. We visit an outdoor activity centre whose high wire trail is not for the faint hearted. And we meet some of the people of Galway Mayo who call this part of Ireland home.
Contact: Killary Adventure Centre (095) 43411 or (095) 42276
Website: www.killaryadventure.com
Contact: Dorothy Cross, Artist, Renvyle - (086) 8532563
Website: www.rhagallery.ie
Contact: Mary Ruddy, Artisan House, Letterfrack - (091) 452031 or (087) 3334627
Website: www.artisanhouse.ie
Contact: Vincent Murphy, Artisan House - (091) 452031 or (087) 3334626
Website: www.artisanhouse.ie
Contact: Máirín Uí Chomáin, Artisan House - (091) 452031
Contact: Damian Joyce, Lowry's Irish Pub, Clifden - (095) 21347
Email: lowrysbar@eircom.net
Contact: Dr. Kevin Heanue, Connemara West Plc- (095) 41047
Contact: Noreen D'Arcy, D'Arcy Marketing & PR - (091) 568390
Website: www.darcymarketingandpr.ie

WEDNESDAY 24TH SEPTEMBER
NATIONAL PLOUGHING PROGRAMME
Nationwide will be out and about at the National Ploughing Championships chatting to young farmers about their future on the land and meeting a company that has been entrepreneurial for ten organic farmers in Munster and Leinster. We find out about the diabetes screening and see what RTE is offering the public. We also have a chat with the Revenue Commissioners about why people should not be afraid to approach them. Plus we look at some beef animals and how their quality transfers to the plate and get some advice on carbon monoxide safety in the home.

Website: www.npa.ie
FRIDAY 26TH SEPTEMBER
LARCHE/REPORT NIALL MARTIN
The first L'Arche community in Ireland was founded in 1978 in a small village in Co. Kilkenny. Reporter Niall Martin visited this community in Kilmoganny for a very special anniversary and also to find out about what they do.

Website: www.larche.ie
Website: www.larchebelfast.org.uk
IMMUNISATION 4 LIFE/REPORT EOIN RYAN
Immunisation 4 Life is made up of health professionals from the West of Ireland, who run health clinics for children in one of the poorest countries of the world - we met some of the team as they worked in their regular jobs in Galway and at one of their clinics in Zambia.

Website: http://immunisation4lifechildhealthspecialists.com/
Website: www.nericlinics.org
ARC SUPPORT CENTRE/REPORT VALERIE WATERS
It is often the case when a person is diagnosed or going through treatment for cancer that all the attention can be focused on one's physical needs. It is important however to take into account one's emotional and psychological needs too, and that's where Arc Cancer Support Centres can help. Valerie Waters visited Arc in Eccles St. in Dublin to see the hugely valuable services that are on offer to both men and women and indeed to family and friends of people with cancer.

Website: www.arccancersupport.ie
Twitter: @RTENationwide
Email: nationwide@rte.ie
Programme Enquiries to: nationwide@rte.ie

RTÉ One, Monday, Wednesday & Friday, 7.00pm
Visit the website