Nationwide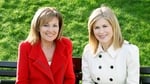 Presented by Mary Kennedy and Anne Cassin, Nationwide brings Irish viewers an eclectic round-up of news, views and events from around the country.
Programmes
MONDAY 14TH APRIL 2014
MIDLANDS FOOD PROGRAMME
Nationwide focuses on the food producers of the Midlands as they gather in Portlaoise for a showcase of the industry to promote their products and to engage with local restaurants, shops and outlets to get the message out there and letting everyone into this region's amazing array of culinary emporiums, growers and innovative entrepreneurs. All part of midlandsireland.ie brand.
Contact for all Producers: Sarah Morgan, Policy, Planning & Research Officer, Midland Regional Authority, Bridge Centre, Bridge Street, Tullamore, Co. Offaly
Telephone: +353 57 93 52996
GALLIC KITCHEN/REPORT MARY FANNING
Food reviewers have described the Gallic Kitchen in Abbeyleix as one of Ireland's hidden gems but there's much more to this outlet. Sarah Webb is the driving force, an award winning pastry chef who worked with, among many other luminaries, the famous Roux brothers in London and has resettled in the Midlands in County Laois where her culinary talents are attracting worldwide attention.

Website: http://www.gallickitchen.com/
GLENISK/REPORT EMMA MCNAMARA
The Clearys have been making their organic dairy and goats milk products in the midlands since the 1980's. Their company's mission is to make good food in a sustainable way. Glenisk has grown to become the country's biggest yoghurt producer, so big it's now stocked by over 2000 shops, including all the major supermarket chains and most independent stores. Emma McNamara went to Killeagh and met some of the Cleary family.
Contact: Glenisk Organic Dairy, Newtown, Killeigh, Co Offaly
Telephone: (057) 9344000
Website: http://www.glenisk.com/
Email: info@glenisk.com
WEDNESDAY 16TH APRIL
CLONTARF 1000 PROGRAMME
This Nationwide programme focuses on the Battle of Clontarf which took place 1,000 years ago and on the plans to commemorate the death of the High King of Ireland Brian Ború during this Battle in April 1014.
MARTY WHELAN/REPORT MARY KENNEDY
Mary Kennedy meets well known Clontarf man Marty Whelan who talks about life growing up in the Dublin suburb. Marty brings Mary on a tour of this town most famous for the battle of Clontarf in 1014.
BRIAN BORÚ CROWN/REPORT ANN MARIE O'CALLAGHAN
There is no historical evidence to show that Irish Kings including Brian Ború ever wore a crown; at odds perhaps with the image of this adventure hero from childhood story books; So a thousand years on from the battle of Clontarf - one Dublin lady had the idea of finally acquiring a crown for our ancient High King. The Brian Boru Millennium crown will be officially unveiled tomorrow by Minister Deenihan at Dublin Castle.

Website: www.jewelsforcures.ie
EVENTS/REPORT JOHN KILRAINE
The 1,000th anniversary of the Battle of Clontarf and the death of Brian Boru are being marked in many places around the country this weekend. Over the years there have been different perspectives on the significance of the Battle. But some modern historians have come to the view that King Brian did in fact save Ireland from the Vikings. Reporter John Kilraine visited some organisations that are preparing to mark this historic occasion.
FRIDAY 18TH APRIL
GOOD FRIDAY PROGRAMME
ARMAGH/REPORT MARY FANNING
It's a time of hope and renewal for Christians going into the Easter holidays and the Catholic Church has a new leader, in waiting, so to speak, Coadjutor Archbishop Eamon Martin. Mary Fanning travelled to Armagh to meet him.
Contact: Archdiocese of Armagh, Ara Coeli, Cathedral Road, ARMAGH BT61 7QY
Telephone: (028) 3752 2045
Website: http://www.armagharchdiocese.org/
Contact: Rev. Michael Toner, Diocesan Secretary
Email: mtoner@aracoeli.com
LADY BISHOP/REPORT VALERIE WATERS
Towards the end of last year history was made in the Church of Ireland as the Reverend Patricia Storey was appointed Bishop of Meath and Kildare. Now just a few months later the new Bishop is settling in nicely to her new home and job. Valerie Waters went to Maynooth in Co. Kildare to meet with this woman whose work is all about being a good pastor to her flock.

Twitter: @RTENationwide
Email: nationwide@rte.ie
Programme Enquiries to: nationwide@rte.ie

RTÉ One, Monday, Wednesday & Friday, 7.00pm
Visit the website