Nationwide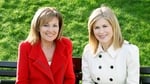 Presented by Mary Kennedy and Anne Cassin, Nationwide brings Irish viewers an eclectic round-up of news, views and events from around the country.
Programmes
MONDAY 21ST APRIL
EASTER MONDAY - NO PROGRAMME
WEDNESDAY 23RD APRIL
PUBLICANS
A focus on the hospitality industry and on two people who are well recognised in the business.
CHARLIE CHAWKE/REPORT MARY KENNEDY
Mary Kennedy travels to Adare in Co. Limerick to the birth place of one of Ireland's best known publicans. Charlie Chawke is well known for his many pubs. Just over 10 years ago he was the victim of a shooting in which he tragically lost a leg. Mary talks to this successful and determined man who fought his way back to good health.
MARY KEANE/REPORT ANNE CASSIN
Anne Cassin travels to Listowel, Co. Kerry, where she recently met up with a stalwart in the hospitality industry, Mary Keane, wife of the late John. B Keane
FRIDAY 25TH APRIL
CITIZENSHIP EVENT
Nationwide visits the Convention Centre in Dublin, where 4000 people officially became Irish citizens. We meet some of these new Irish citizens, hear their background stories and see the journey they have travelled to become Irish citizens.
CITIZENSHIP/REPORT HELEN MCINERNEY
Reporter Helen McInerney meets an IT professional from Russia, a political refugee from Pakistan, a nurse from India and a lady from America who all recently became Irish citizens.
WATERFORD/REPORT DAMIEN TIERNAN
Becoming an Irish citizen is, for many, a major goal and a fabulous event. Thousands of immigrants over the past decade have been granted citizenship, with many now being conferred with the honour at special ceremonies. Reporter Damien Tiernan was at the most recent ceremony in Waterford.
SLIGO/REPORT EILEEN MAGNIER
Sligo is one of many towns around the country which has welcomed new citizens and one of them is Marissa Lupot who just recently became a citizen - she's an occupational therapist originally from the Philippines and she is now living in Sligo with her husband John where they are not just part of the local community but part of a strong Philippino community as well.

Twitter: @RTENationwide
Email: nationwide@rte.ie
Programme Enquiries to: nationwide@rte.ie

RTÉ One, Monday, Wednesday & Friday, 7.00pm
Visit the website