Nationwide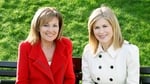 Presented by Mary Kennedy and Anne Cassin, Nationwide brings Irish viewers an eclectic round-up of news, views and events from around the country.
Programmes
MONDAY 17TH NOVEMBER
DANIEL O'DONNELL FAN/REPORT HELEN MCINERNEY
Daniel O'Donnell is one of Ireland most successful entertainers, his affable manner and friendly nature inspires devotion and loyalty among his legions of admirers. Recently Helen McInerney visited Lismore in Co. Waterford to meet one woman who has travelled the world to see Daniel and who describes herself as one of his biggest fans.
DAITHÍ Ó DRONAÍ/REPORT ÁINE LALLY
Daithí Ó Dronaí from County Clare is no ordinary musician. The 24 year old is described as being a fiddle-playing, house music-making, button-pushing, hair-flicking bundle of energy. Daithí is from a well known musical family in Ballyvaughan and has, for some time now, been kept very busy making appearances the length and breadth of Ireland playing his unusual mix of music. Áine Lally has the story.
Contact: Daithí Ó Dronaí's manager Gugai
Email: gugai@roisindubh.ie
Website: www.daithi.ie
Email: daithimusic@gmail.com
Music App (Whole World Band)
Website: http://www.WholeWorldBand.com
BRAY MOSAICS/REPORT NIALL MARTIN
We meet two artists who have been working together for nearly 30 years. Recently they have returned to the piece of art that kick started their careers back in 1987 to give it the mother of all makeovers. Niall Martin went out to Bray in County Wicklow to see them at work.
Contact: Jay Roche & John Carter
Telephone: (086) 8235628
Website: www.triskill.com
Email: triskill2@gmail.com
WEDNESDAY 19TH NOVEMBER
SOCIAL DANCING/REPORT CIARAN MULLOOLY
It's one of the fastest growing social past times in the country and every week now an estimated ten thousand people around Ireland take part in Social Dancing classes in community halls and hotels. Most of those stepping onto the floor for the first time have very different reasons for learning to dance. Midlands Correspondent Ciaran Mullooly meets a man who is leading the way in teaching the nation how to dance again.
Contact: Niall Doorhy (087) 3536502
Facebook: https://www.facebook.com/niall.doorhydancer
Email: nialldoorhy@gmail.com

MOTHER TERESA/REPORT MARY KENNEDY
The Convent of Charity on Dublin's south circular road is run by the order established by Mother Teresa, we are here to look back on the life of the founder. Mother Teresa was perhaps the best known Nun in the World, she was the Champion of the poorest of the poor and many people here in Ireland will remember her visit to this country way back in 1993. During that visit she was made a Free citizen of Dublin.
FRIDAY 21ST NOVEMBER
IRELAND CAPITAL OF CULTURE/REPORT ANNE CASSIN
As Limerick comes to the end of its year as Ireland's City of Culture we visit the Newspaper which this year celebrates a milestone in its history. Plus a treat for music lovers as we look at some of the singers and bands that have been connected with Limerick down the years.

Website: http://limerickcityofculture.ie
LIMERICK LEADER/REPORT CATHY HALLORAN
For 125 years the Limerick Leader newspaper has been bringing the people of Limerick city and way beyond, their local news. Its aim from the start in 1889, was to be "all that could be desired of a local journal". Now it marks that anniversary with a special book and an online archive of its wonderful collection of photographs and images for a whole new generation to explore and share.
Contact: Limerick Leader, 54 O'Connell Street, Limerick.
Telephone: 061 214531 (9am - 5pm)
Website: www.limerickleader.ie
LIMERICK BANDS/REPORT MARIAN MALONE
An exhibition of Music, Memories and Memorabilia as part of Limerick's year as National City of Culture has evoked recollections of the great bands of the 60s, 70s and 80s to emerge from the city. Marian Malone takes a nostalgic trip down Limerick's musical memory lane.

Twitter: @RTENationwide
Email: nationwide@rte.ie
Programme Enquiries to: nationwide@rte.ie

RTÉ One, Monday, Wednesday & Friday, 7.00pm
Visit the website