Nationwide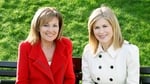 Presented by Mary Kennedy and Anne Cassin, Nationwide brings Irish viewers an eclectic round-up of news, views and events from around the country.
Programmes
MONDAY 15TH SEPTEMBER
25TH ANNIVERSARY OF FAIR CITY
Nationwide visits the set of the RTE Soap Fair City which is celebrating its 25th birthday this year.
BEHIND THE SCENES/REPORT HELEN MCINERNEY
Helen McInerney recently went behind the scenes of Irelands longest running soap to talk to the actors and producers about some of their most dramatic storylines.
AT HOME WITH EAMONN MORRISSEY/REPORT ANNE CASSIN
Every soap needs a popular rogue and on Fair City that part is played by actor Eamonn Morrissey otherwise known as Cass Cassidy. Anne Cassin went along to Eamonn's home in Dublin to find out a bit more about one of Ireland's best loved and most accomplished actors.
WEDNESDAY 17TH SEPTEMBER
CURRAGH RACING PROGRAMME
Nationwide visits the Curragh racecourse for Champions Weekend, which promotes Irish racing to a very high level and celebrates everything that is good about horse racing in this country. The weekend organised by Horse Racing Ireland started in Leopardstown and culminated at the Curragh and was alive with excitement, fashion, music and the parade of champions with household favourites.
Website: www.curragh.ie
STABLE TOUR/REPORT MARY KENNEDY
As part of Champions Weekend, Horse Racing Ireland, introduced a Curragh Thoroughbred trail where race goers and fans were given a unique opportunity to get a look behind the scenes into the operations of some of the world's most famous trainers. Mary Kennedy put on her boots and made her way first to the Curraghbeg gallops where John Oxx was about his business and then onto Dessie Hughe's yard.
TATTERSALLS/REPORT MARY FANNING
The standard of excellence in the Thoroughbred Industry in Ireland is unsurpassed and three day eventing is another flag flying high for our Irish horses, constantly in the medals at Olympic games and European events. Earlier this summer, Tattersalls drew the best of them from all over the world. Reporter Mary Fanning was there.
Website: www.tattersalls.ie
FRIDAY 19TH SEPTEMBER
CULTURE NIGHT
As buildings of cultural interest open their doors for Culture night 2014, we focus on some Irish cultural attractions and we visit a County Cork Musical society whose shows have been entertaining the people of Fermoy for 90 years.
ASSAY OFFICE/REPORT ANNE CASSIN
When a piece of jewellery or an item made from a precious metal is hallmarked you know it is genuine. Hallmarking in Ireland, and much other besides, is carried out at the Assay Office. Anne Cassin recently paid a visit to the Assay Office in Dublin but the story begins with silversmith Seamus Gill.
Contact: Assay Office, Dublin Castle, Dublin 2.
Telephone: (01) 4751286
Website: www.assay.ie
Email: hallmark@assay.ie
Contact: Séamus Gill, Silversmithing & Jewellery, Studio 21, The Design Tower, Pearse Street, Dublin 2.
Telephone: (01) 6775701
Website: www.seamusgill.com
Email: seamus@seamusgill.com
MAGS HARNETT/REPORT ANN MARIE O'CALLAGHAN
We meet a Dubliner who attended Trinity College to study literature - but later followed her heart and became an artist. After years living abroad she is now working back in Dublin and also rekindling her college connections. From tonight her work is exhibited at the Long Room Hub in Trinity, which is very fitting as it was inspired by the Book of Kells.

Website: www.magsharnett.com
FERMOY DRAMA/REPORT HELEN MCINERNEY
The Irish love their Music and Drama so it only makes sense that Musical Theatre is hugely popular in this country. There are over 130 Musical Societies throughout the whole of Ireland and at this time of the year many are in rehearsal for their Annual Production. Recently Helen McInerney visited the Fermoy Musical Society where members are celebrating its 90th birthday.

Contact: Claire O'Connor, PRO., Fermoy Musical Society
Telephone: (086) 8666997

Twitter: @RTENationwide
Email: nationwide@rte.ie
Programme Enquiries to: nationwide@rte.ie

RTÉ One, Monday, Wednesday & Friday, 7.00pm
Visit the website