Nationwide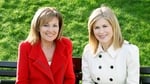 Presented by Mary Kennedy and Anne Cassin, Nationwide brings Irish viewers an eclectic round-up of news, views and events from around the country.
Programmes
MONDAY 28TH JULY
WORLD WAR 1 PROGRAMME 1
In the lead up to the 100th anniversary of the beginning of World War 1, Nationwide focuses on the Great War with stories of the Irish who fought in it and in tonight's programme we discover the origins of the Irish divisions and where these divisions were based.
MUNSTER FUSILIERS/REPORT JENNIE O'SULLIVAN
The Regiment of the Royal Munster Fusiliers was located in Tralee and their ranks were filled with career & volunteer soldiers drawn mainly from the counties of Kerry, Cork, Clare and Limerick. Three thousand of them would never see home again and those who did return, did so, not to a heroes' welcome, but to an Ireland that didn't want to know.

Website: www.rmfa92.org
ULSTER DIVISION/REPORT TOMMIE GORMAN
Ulster Kitchener's call to support King and Country led to the creation of the 36th Ulster Division. It was formed mainly by members of the Ulster Volunteer Force, an armed militia that was opposed to the idea of Irish Home Rule. But the outbreak of World War One meant that attention switched from Ulster's tension within an island of Ireland context to the battlefields of France. Tommie Gorman has this report.

Website: www.irishsoldier.org
CONNACHT RANGERS/REPORT EILEEN MAGNIER
"It's a long way to Tipperary" is a song synonymous with World War 1 but it was one particular regiment which made "Tipperary" famous as a marching song - the Connaught Rangers - a regiment which began as a landlords army in the west of Ireland but which went on to fight ferociously on battlefields across the world, earning the nickname "The Devil's Own". The Connaught Rangers suffered huge losses in the Great War - leaving families distraught but given the times that were in it - unable to speak about their loss. A hundred years on though, those men's descendants take pride in their service and some even continue in the military tradition, albeit in a different uniform.

Contact: Connaught Rangers Association, King House, Boyle, Co. Roscommon.
Website: www.connaughtrangersassoc.com
DUBLIN FUSILIERS/REPORT HELEN DONOHUE
Thousands of men from Leinster and across Ireland joined up with the Royal Dublin Fusiliers to fight in World War One. But, the vast majority came from the Capital. Some were professional soldiers, others joined with friends, and some wanted adventure. More than 4 and a half thousand were killed as a result of World War One. Helen Donohue has been looking at the archives and hearing the stories of some of those men.
Website: http://greatwar.ie
Website: www.royaldublinfusiliers.com
Website: https://libcat.dublincity.ie
Website: http://www.glasnevintrust.ie
Website: http://www.heritageireland.ie/en/Dublin/WarMemorialGardens/
WEDNESDAY 30TH JULY
WORLD WAR 1 PROGRAMME 2
Photo's from the front which remained hidden away in an Irish cellar for almost 100 years, before being discovered and developed to reveal the images of the Irish who took part in the Great War.
FATHER BROWN'S FORGOTTEN WAR/REPORT ROISIN DUFFY
Fr Frank Browne SJ is famous for the photographs he took of the Titanic before it set off on its ill fated voyage across the Atlantic. What is not known is that he served as a chaplain to Irish troops during WW1. This Nationwide programme tells the story of Fr Browne's War, beginning with how the story came to light in the first place. Fr. Brown's photographic negatives were discovered in an old trunk buried in a basement many years after his death. We look at his letters home to his superior in Dublin and the photographs he took on the Western Front.

Website: www.fatherbrowne.com
Website: www.titanicphotographs.com
Website: www.davisonphoto.com
Website: http://www.jesuitarchives.ie/
Website: http://messenger.ie/
FRIDAY 1ST AUGUST
WORLD WAR 1 PROGRAMME 3
In our final Nationwide programme this week commemorating the centenary of the First World War, we get some expert advice on war memorabilia and sing the songs of the Great War. Nationwide visits the war memorial gardens at Islandbridge for the wreath laying ceremony hosted by the Royal British Legion commemorating the 50,000 Irish soldiers who died in the first World War between 1914 and 1918. We also head to the World War 1 Roadshow at Trinity College where members of the public were invited to bring in their War memorabilia.

Website: www.rte.ie/worldwar1
Website: www.centuryireland.ie
BRIAN & MARY KENNY/REPORT ANN MARIE O'CALLAGHAN
Nationwide meets couple Brian and Mary Kenny who dug a trench in their garden. Not only have they been digging this trench but they've also been busy gathering human stories of courageous local men in Wexford which has been recounted in their book 'News from the Front: Gorey and the Great War'.
WAR VETERANS/REPORT ANN MARIE O'CALLAGHAN
Over 200,000 Irish soldiers took part in the Great War and despite losing one in four, the virtual disappearance of this World War from Irish history books up until relatively recently meant a lack of awareness about the extent of Irish involvement in the fighting. In the RTE archives firsthand accounts are thin on the ground but we bring you stories of some Irish soldiers with their recollections of life at the front filmed in 1989.
MUSIC/REPORT MARY KENNEDY
Edwardian music hall may not have an automatic association today with the atrocities of WW1 but it was places like the Gaiety Theatre where songs of with the war were sung; the likes of Pack up your Troubles, Keep the Home Fires Burning and It's a Long Way to Tipperary. It seems that people were simply in need of songs like these during extremely difficult times.
HORNE SISTERS/REPORT ANNE CASSIN
In 1914 when war was declared Trinity College in Dublin qualified their doctors and engineers a few months early as they were badly needed for the war effort. One such medical student was Andrew J. Horne who ended up in Gallipoli, now referred to as one of the most disastrous campaigns in military history. Lucky for Andrew Horne, he came home alive and continued to have a successful career as a master in Holles Street. He was a keen photographer and left behind a treasured photo album which is now an important historical document. Anne Cassin recently went to visit his twin daughters.

Twitter: @RTENationwide
Email: nationwide@rte.ie
Programme Enquiries to: nationwide@rte.ie

RTÉ One, Monday, Wednesday & Friday, 7.00pm
Visit the website