Nationwide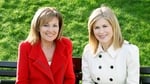 Presented by Mary Kennedy and Anne Cassin, Nationwide brings Irish viewers an eclectic round-up of news, views and events from around the country.
Programmes
MONDAY 10TH MARCH 2014
SCHOOL TEACHER/REPORT TERESA MANNION
First to the story of a remarkable woman who played a key role in getting the marriage ban lifted for school teachers in 1950's Ireland. Maureen Cronin became a test case for the INTO Teachers' Union when she defied the ban and carried on teaching in Limerick for a full year without pay. Today, at 97 years of age, she's here to tell her story. Teresa Mannion spent a day in the life of Maureen Cronin, who is a big voice in her local community in Ennis, County Clare.

Contact: Tony Cronin (065) 6828863
Email: margaret09@gmx.com
BUSINESS IN SCHOOL/REPORT VALERIE WATERS
The organisation Business in the Community Ireland is involved in a programme which has got 15 businesses so far accross the country to volunteer for the "Time To Read" project in primary schools. Valerie Waters recently visited St. Pat's in Ringsend where employees from the ESB are helping pupils to read. It has many positive effects for both parties involved.

Contact: Business in the Community Ireland, 32 Lower O'Connell St., Dublin 1.
Telephone: (01) 8743821 & (086) 7808762
Website: www.bitc.ie
PRIM-ED PUBLISHING/REPORT HELEN McINERNEY
There was a time in teaching when the Blackboard and the stick of chalk were the only resources available to the classroom teacher but over the past 20 years Education has changed to accommodate the developments in Technology. Today computers, interactive software and smartboards are commonplace in classrooms. Twenty years ago two brothers, one based in New Ross and the other in Australia, combined forces to produce resources that would keep pace with the changing face of Education. The company this year celebrates it's twentieth birthday, it employs 50 people and collaborates with publishing companies all over the world. Helen McInerney has the story.

Contact: Jessica Murphy, Marketing Manager, Prim-Ed Publishing, New Ross, Co. Wexford
Telephone: (051) 440088
Website: www.prim-ed.com
Email: marketing@prim-ed.com
WEDNESDAY 12TH MARCH
SKIPPER EXPO GALWAY
This programme focuses on marine matters from the Skipper Expo in Galway.
DONEGAL BOAT/REPORT EILEEN MAGNIER
This story harks back to tough times for Irish fishermen - the 1940s was a difficult decade in the industry so in 1949 BIM and the Irish Sea Fisheries Association came up with a number of initiatives to improve the fisherman's lot - one of those was to build new boats which became known as "the fifty-footers", and it's said, this fleet transformed Irish fishing. Very few of the fifty footers are believed to be still working but reporter Eileen Magnier found one of them, the Ros Ard and its owner, Edward Gallagher, fishing out of Burtonport in County Donegal.

Contact: RTE Cork (021) 4805837
RNLI/REPORT DAMIEN TIERNAN
Fishermen and boat users all around our island nation have great respect and love for one particular organisation - the Royal National Lifeboat Institution, or RNLI.
Over the decades, lifeboat crews have saved countless lives, but some crew members have also been taken by the sea in terrible tragedies. Damien Tiernan reports on the 100th anniversary of one such disaster in which 9 lifeboat men were drowned.

Email: niamh_stephenson@rnli.org.uk
FRIDAY 14TH MARCH
NATHAN CARTER/REPORT MARY KENNEDY
There's no doubt that country music is enjoying huge popularity in Ireland these days and one young man is certainly making a name for himself on that scene. His name is Nathan Carter, he's packing out venues north and south of the border and delighting his fans, young and old. Nathan grew up in Liverpool and Nationwide went there to meet him and his family and to hear about his passion for country music and his plans for the future.

Contact: John Farry 07739 607158 - [from ROI 0044 7739 607 158]
Office: 02868 659779 - [from ROI 04 868 659 779]
Website: http://www.nathancartermusic.com/
Email: john@nathancartermusic.com
Information: Nathan plays the INEC on the 9th the 10th and the 11th of May.
IRISH MUSICAL/REPORT HELEN McINERNEY
It's been described as the Committments meets A Chorus line, written and composed by Canadian Producer Kate Amesbury, Irish.......the Musical stars 4 young Irish Singers. Filmed at the Wexford Opera House for Broadcast in America, the new musical tells the story of 4 young Irish performers who leave Ireland hoping to make it big in New York. Helen McInerney has the story.

Contact: Elizabeth Rose-Browne, Media Relations Manager, Wexford Festival Opera.
Telephone: (053) 9163523
MONDAY 17TH MARCH

SPECIAL PATRICKS DAY PROGRAMME FROM LIVERPOOL
Nationwide's St. Patrick's Day Programme this year comes from Liverpool where we explore the Irish links to this city which go back generations. It's proximity to Ireland and it's prominence as a major port meant that Liverpool was a gateway for those looking to escape poverty and starvation especially during the Famine when 1.5 million Irish passed through the port of Liverpool. Many Irish who emigrated at this time went on to hold prominent positions in this city and their ancestors are household names, people like Cilla Black, Paul O'Grady and Tom O'Connor.
Mary Kennedy, who presents the programme, visits the Museum of Liverpool and talks to Belfast born historian Greg Quirey about the Irish Trail at the Museum. Mary also visits the family homes of the Beatles and we'll hear about their Irish connections.
Also featured on the programme, footballing legend Ronnie Whelan who talks about his career and his decision to settle and bring up his family in Liverpool.
Helen McInerney visits the Wolf Tone Ladies football Club and speaks to those who have emigrated to Liverpool since the downturn. Finally Mary Kennedy attends a Ceilí at St. Michael's Irish Club in the city and enjoys some Irish/Liverpudlian hospitality.
Twitter: @RTENationwide
Email: nationwide@rte.ie
Programme Enquiries to: nationwide@rte.ie

RTÉ One, Monday, Wednesday & Friday, 7.00pm
Visit the website