Nationwide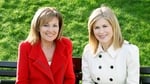 Presented by Mary Kennedy and Anne Cassin, Nationwide brings Irish viewers an eclectic round-up of news, views and events from around the country.
Programmes
MONDAY 28TH SEPTEMBER
TIDY TOWNS AWARDS AT THE HELIX
This evening's Nationwide programme features the presentation of awards in the Tidy Towns competition 2015. Mary Kennedy and Anne Cassin are at the Helix Hall at DCU to meet the winners from different parts of the country. The programme will focus on the main awards of Best Village, Best Small Town, Best Large Town, Best Large Urban Centre and the overall award winner.
Contact: Department of Environment, Community & Local Government, TidyTowns Unit, Government offices, Ballina, Co. Mayo.
Telephone: (096) 24309
Website: www.tidytowns.ie
Email: TidyTowns@environ.ie
WEDNESDAY 30TH SEPTEMBER
CANCER AWARENESS PROGRAMME
We meet a woman in County Wicklow who has recovered from Cancer and we hear about the Blue September campaign whose aim is to raise cancer awareness in men. Plus we visit Our Lady's Hospice in Dublin which offers support to those suffering with the disease.
Contact: Blue September
Telephone: 00353 1 830 3482
Website: www.blueseptember.ie
Email: contact@blueseptember.ie
HOSPICE/REPORT MARY KENNEDY
This year celebrates the bicentenary of the Religious Sisters of Charity, the order that founded Our Lady's Hospice in the eighteen seventies. It was the first hospice in this country and while still in its original location at Harold's Cross in Dublin, it has expanded hugely over the years. The palliative care unit provides a wide range of services to people with cancer and their families and this evening, on the eve of Breast Cancer Awareness Month, we pay a visit to this haven of care, love and support.
Contact: Our Lady's Hospice, Harold's Cross, Dublin
Telephone: +353 (1) 406 8700
Website: www.olh.ie
Email: info@olh.ie
SURVIVE & THRIVE/REPORT VALERIE WATERS
We go to County Wicklow to meet a woman who fortunately has come through cancer treatment and is now well again. Reporter Valerie Waters visited the Walshe household and met Roz and Patrick who are donating an art collection to the Marie Keating Foundation as a fundraising effort.
Contact: Marie Keating Foundation, Unit 9 Millbank Business Park, Lucan, Co. Dublin
Telephone: (01) 628 3726
Website: www.mariekeating.ie
Email: info@mariekeating.ie
Website: www.patrick-walshe.com
FRIDAY 2ND OCTOBER
PHILIP SCOTT SINGER/REPORT MARY FANNING
Stories of people who change their lives around are always fascinating and none more so than Philip Scott a Kildare tenor, who in mid life decided to have his voice professionally trained in his quest to be the best he could be culminating in a concert in two days time at the National Concert Hall entitled the 'the life and songs of John McCormack'. It wasn't a straightforward journey as Mary Fanning found out when she joined him up in the Slieve Bloom mountains in County Laois.
Contact: Philip Scott
Phone: (087) 368 5443
Website: www.thekildaretenor.com
Email: philipscottsings@gmail.com
Contact: Pianist, Donal Hennessy
Email: donalhennessy@eircom.net
MICK DELAHUNTY/REPORT HELEN MCINERNEY
Mick Delahunty was one of Ireland's most popular Bandleaders and during the forties and fifties he became known as Ireland's Glen Miller. The Mick Delaunty Orchestra was one of the first to tour England and America and they played to packed houses all over Ireland. Recently the people of Clonmel marked the Centenary of Mick Del's birth with a big band celebration to honour his memory and his musical contribution. Helen McInerney has the story.

Twitter: @RTENationwide
Email: nationwide@rte.ie
Programme Enquiries to: nationwide@rte.ie

RTÉ One, Monday, Wednesday & Friday, 7.00pm
Visit the website