Nationwide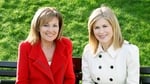 Presented by Mary Kennedy and Anne Cassin, Nationwide brings Irish viewers an eclectic round-up of news, views and events from around the country.
Programmes
MONDAY 26TH SEPTEMBER
TIDY TOWNS AWARDS AT THE HELIX
A special programme from the Helix Dublin on the presentation of the prizes to the award winners in the 2016 Tidy Towns Competition. Mary Kennedy and Anne Cassin are at the Helix Hall at DCU to meet the winners from different parts of the country. The programme will focus on the main awards of Best Village, Best Small Town, Best Large Town, Best Large Urban Centre and the overall award winner.
Contact: Department of Environment, Community & Local Government, TidyTowns Unit, Government offices, Ballina, Co. Mayo.
Telephone: (096) 24309
Website: www.tidytowns.ie
Email: TidyTowns@environ.ie
WEDNESDAY 28TH SEPTEMBER
IRISH FILMS
A special programme focusing on the work of two Irish documentary film makers whose work has recently been shown in Cinemas around the country.
ATLANTIC/REPORT MATT KELLY
Atlantic is a new feature length film which won Best Irish Documentary at the Dublin International Film Festival. It follows coastal communities in Ireland, Newfoundland and Norway as they struggle to maintain their way of life and their relationship with this great ocean. As Brexit looms, it's taken on a new relevance, and has been shown to the EU parliament, and will air on Canadian and Norwegian national television, as well as on RTÉ later this season. Atlantic was produced and mostly filmed by Risteard Ó Domhnaill and Marian Malone has been to meet him.
Website: www.theatlanticstream.com

THE RIVER RUNNER/REPORT NIALL MARTIN
The River Lee in County Cork is much celebrated in song but it's resource as a salmon fishery has declined hugely over the years. We've been following one man's campaign, through a documentary film, to find a way to bring the River Lee's salmon back up stream. Declan O'Mahoney has spent the last 5 years of his life working on the production of his film.
Website: www.mp2films.com
FRIDAY 30TH SEPTEMBER
CANCER PROGRAMME/STORIES OF IRISH PEOPLE WHOSE LIVES HAVE BEEN TOUCHED BY CANCER
DIP IN THE NIP/REPORT MATT SULLIVAN
There are many thousands of events held in different parts of the country to raise money for various Cancer Charities and this story is just one example of these. Cork man John Collins is the driving force behind a group of people who decided to bare all and "dip in the nip", to raise much needed funds. We went along to meet the skinny dippers.
Facebook: www.facebook.com/dipinthenip
Facebook: www.facebook.com/DipInTheNipCork
GALWAY MOTHER/REPORT AILBHE CONNEELY
We're off to a rural area of East County Galway to meet a mother of four whose life changed overnight after she collapsed during a Christmas outing with her children and their friends almost two years ago. Olive Shaughnessy woke to be told that she had bone cancer. Our reporter, Ailbhe Conneely met Olive and her family to see how they are doing and to meet the community which rallied around to support them during this difficult time.
CHILDHOOD CANCER/REPORT DAMIEN TIERNAN
Diseases can affect people of all ages but one of the most poignant and difficult things for a parent to ever hear is that his or her son or daughter has cancer. Some children manage to battle through, for others, the outcomes are not so good. For parents, support is vital, and the Light It Up For Gold campaign is one way of sharing the highs and lows of everyday life, as Damien Tiernan now reports.
Facebook: www.facebook.com/Lightitupgold

Twitter: @RTENationwide
Email: nationwide@rte.ie
Programme Enquiries to: nationwide@rte.ie

RTÉ One, Monday, Wednesday & Friday, 7.00pm
Visit the website