Nationwide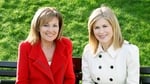 Presented by Mary Kennedy and Anne Cassin, Nationwide brings Irish viewers an eclectic round-up of news, views and events from around the country.
Programmes
MONDAY 28TH NOVEMBER
CRAFTS PROGRAMME
Looking ahead to the National Crafts and Design Fair in Cork which starts on Wednesday, we meet some crafts people from around the country.
Website: www.nationalcraftsfair.ie
Contact: Julie and Owen Mc Loughlin, Jando Design
Telephone: (086) 0650904
Website: www.jandodesign.com
Email: info@jandodesign.com
KOKO DESIGNS/REPORT EILEEN MAGNIER
One very colourful stand you might look out for at the National Crafts & Design Fair is KoKo Design. Karen O'Kane creates beautiful silk lampshades, scarves and lots of other pieces from her studio in Ramelton in County Donegal, but as Eileen Magnier found out, Karen is also involved in the Design and Crafts Council of Ireland education programme, passing on her skills to local school children.
Contact: Koko designs, Glen Lower Ramelton Co Donegal.
Telephone: +353 74 915 2418
Website: www.kokodesigns.ie
Email: sales@kokodesigns.ie

SUNCATCHERS/REPORT EILEEN MAGNIER
A lovely idea for a Christmas gift for a child or adult alike is a sun-catcher. Eileen Magnier found some beautiful ones created by master craftsman Giolla Liddy at his workshop near Leitrim Village.
Contact: Artwood Ireland, Drumshanbo, County Leitrim, Ireland
Telephone: +353 (0) 86 304 6658
Website: www.artwood.ie
SKELLIG POTTERY/REPORT MARIA MULLARKEY
For a craft person getting to open their own studio and shop is a dream come true bringing them face to face with customers. In Ballinskelligs, Co. Kerry reporter Maria Mullarkey met Julia Clarke whose passion, vision, hard work and determination enabled her to open her very own ceramics studio there.
Contact: Julia Clarke, Skelling Pottery
Telephone: (087) 9593162
Website: www.skelligpottery.com
Email: julia@skellingpottery.com
WEDNESDAY 30TH NOVEMBER
NO PROGRAMME - LATE LATE TOY SHOW
FRIDAY 2ND DECEMBER
NO PROGRAMME - LATE LATE TOY SHOW
Twitter: @RTENationwide
Email: nationwide@rte.ie
Programme Enquiries to: nationwide@rte.ie

RTÉ One, Monday, Wednesday & Friday, 7.00pm
Visit the website