Nationwide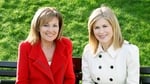 Presented by Mary Kennedy and Anne Cassin, Nationwide brings Irish viewers an eclectic round-up of news, views and events from around the country.
Programmes
MONDAY 24TH NOVEMBER
Nationwide is running a Christmas competition all this week giving away one prize each night of a Christmas shopping break for two in the Big Apple, New York with one thousand dollars to spend. But first we focus on small enterprises in different parts of the country.
FUNKED UP BIKES/REPORT NIALL MARTIN
We feature a Dublin based bike business that we came across at the Dublin City University/Ryan Academy accelerator this year. An accelerator is an intense business programme intended to give a boost to start up companies. Reporter Niall Martin has been following the progress of Funked Up as they strive to make it big.
Website: www.funkedup.com
Email: info@funkedupfixies.com

These are a selection of Irish business accelerators and incubators:

Ryan Academy/DCU - There are three programmes available: The Propellor Accelerator, a specialised female Propellor and U Start for student companies: Website: www.ryanacademy.ie
Wayra Academy from Telefonica:
Website: http://wayra.co/ie
UCD's VentureLaunch Accelerator Programme:
Website: www.ucd.ie/innovation/researchers/venturelaunch/
UCD Innovation Accademy:
Website: www.innovators.ie
Enterprise Ireland's New Frontiers Programme:
Website: www.enterprise-ireland.com/en/Start-a-Business-in-Ireland/Supports-for-High-Potential-Start-Ups/New-Frontiers-Entrepreneur-Development-Programme.html
National Digital Research Centre's VentureLab and LaunchPad programmes:
Website: www.ndrc.ie/news/launchpad-connecting-university-startups-with-the-marketplace/
University College Cork's Ignite incubator:
Website: www.ucc.ie/en/ignite/
Dogpatch Labs incubator:
Website: www.dogpatchlabs.com
Trinity College Dublin's Launchbox:
Website: www.launchbox.ie
HIGH BANK ORCHARD/REPORT HELEN MCINERNEY
We visit Highbank Farm in Kilkenny where a number of award winning organic products are produced. This family farm once part of the Farmley Estate in Kilkenny began growing apples in the 1960's and today the family continue to develop their award winning apple based products. Helen McInerney recently visited the Highbank Farm to see them at work.
Contact: Highbank Orchards, Farmley, Cuffesgrange, Co Kilkenny.
Telephone: (056) 772 9918
Website: www.highbankorchards.com
HAZEL MOUNTAIN CHOCOLATES/REPORT ÁINE LALLY
There are a number of creative chocolate producers based here in this country including 'Hazel Mountain Chocolates', who describe themselves as being Ireland's first boutique 'Bean to Bar stone-ground chocolate factory'. This relatively new local company are based at the foothills of the Burren Mountains on the Connolly family farm. Reporter Áine lally went along to Co. Clare to find out exactly how it's possible to produce lots of chocolate from beans which have been imported from small farms around the world.
Contact: Hazel Mountain Chocolates, Oughtmama, Bellharbour, Co. Clare
Telephone: (087) 9903000
Website: www.hazelmountainchocolates.com
Email: info@hazelmountainchocolates.com
WEDNESDAY 26TH NOVEMBER
On tonight's Nationwide programme from Waterford we get into the Christmas spirit and we take to the skies for the Hot Air Ballooning Championships. Plus we have the second of our prizes to giveaway of a shopping break to New York with one thousand dollars to spend in our Christmas competition.
WINTERVAL FESTIVAL/REPORT ANNE CASSIN
Nationwide visits Ireland's oldest city to savour the festive atmosphere at the annual Winterval Christmas Festival. We take a look at some of the many events and activities for all the family including a horse drawn sleigh, Winterval Express Train, South Pole Enchanted Garden, a Vintage Ferris Wheel and a visit to Santa in the beautiful medieval museum. Anne Cassin takes a magical tour through the streets of Waterford to sample some of the wonderful attractions on offer in Ireland's biggest Christmas festival.
Contact: Winterval Waterford
Telephone: (051) 856516
Website: www.winterval.ie
Email: info@winterval.ie

BALLOONS FESTIVAL/REPORT BRIAN WALSH
Waterford recently played host to the 44th Irish Hot Air Ballooning Championships. This spectacular event, which is the longest running National ballooning event in the world, attracted a large number of balloonists from all over the world including America and France. We take to the air to see some of the beautiful countryside.
FRIDAY 28TH NOVEMBER
The stories of two schools which this year celebrate significant birthdays. In County Kildare the school which has been educating boys for 200 years, while in County Tipperary, this rural college has been looking back on 150 years of its history. Also we'll be giving you one more chance to win a fabulous Christmas shopping break for two in the Big Apple, New York with one thousand dollars to spend.

CLONGOWES WOOD COLLEGE/REPORT MARY FANNING
Looking back a wealth of history spanning 200 years, Clongowes Wood College in Clane, Co. Kildare is celebrating and reminiscing with a full calendar of events for its bicentenary. Since 1814, it has remained an all boys, 7 day Jesuit boarding school and through the years has produced leaders in the worlds of business, politics, the legal world and social justice. Mary Fanning took a walk down memory lane.
Contact: Clongowes Wood College Clane, Co. Kildare, Ireland
Telephone: +353 (0) 45 868 202
Website: www.clongowes.com
Email: reception@clongowes.net

ROCKWELL COLLEGE/REPORT BRIAN WALSH
The 150th anniversary of Rockwell College took place this year with a celebration in the grounds of the college for many of the past and present students. We were at the ceremony to explore the history of this great institution and talk to some of its pupils about their experiences there.
Contact: Rockwell College, Cashel, Co. Tipperary.
Telephone: +353 (0)62 61444
Website: www.rockwellcollege.ie
Email: info@rockwellcollege.ie

Twitter: @RTENationwide
Email: nationwide@rte.ie
Programme Enquiries to: nationwide@rte.ie

RTÉ One, Monday, Wednesday & Friday, 7.00pm
Visit the website