Nationwide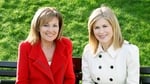 Presented by Mary Kennedy and Anne Cassin, Nationwide brings Irish viewers an eclectic round-up of news, views and events from around the country.
Programmes
MONDAY 9TH DECEMBER
CHERNOBYL/MATT KELLY
Chernobyl Children International made history in 2009 when Irish volunteers built a terrace of seven houses which became Independent Living units for 12 teenagers from Vesnova's Children's Mental Asylum in Belarus. This pioneering development brought about a change in the law, enabling young people with special needs to live a life of freedom and independence. However, last June, the terrace was destroyed when it was hit by a freak lightning storm. Marian Malone recently met with some of those involved in trying to rebuild these precious homes and restore these young men's dreams.
Website: www.chernobyl-international.com
Text: 'CHERNOBYL' to 50300 to DONATE €2 today
Telephone: (021) 4312999
CAPUCHIN DAY CENTRE DUBLIN/REPORT MARY FANNING
The countdown to Christmas is well underway and for many it's a time of family and happiness but for others it can be a time of hunger, isolation and loneliness. That's where tireless workers like Brother Kevin, the Capuchin Friar, who feeds the needy on a daily basis, shines a light on so many lives he helps. The Day Centre will distribute nearly 5,000 food parcels from its base in Dublin over the next few weeks. Our reporter Mary Fanning paid a visit earlier this year.
Contact: For Credit Card donations - Brother Kevin Crowley or Theresa, The Capuchin Day Centre, 29 Bow Street, Dublin 7 (01) 8720770
Website: http://homeless.ie/Capuchin_Day_Centre/Welcome.html
Email: capuchindaycentre@eircom.net
WEDNESDAY 11TH DECEMBER
CHURCHES
We focus on some of the Church buildings dotted around the country.
DUBLIN/REPORT JOHN KILRAINE
Protestantism was once the dominant religion in Dublin city but since the nineteenth century its numbers have declined sharply. Many churches closed or were amalgamated and some parishes remained in danger of dying out. But immigration has now brought a new lease of life to the remaining congregations. Our reporter John Kilraine has the story of the revival of some of protestant churches in the capital.
ST. MEL'S CATHEDRAL/REPORT CIARAN MULLOOLEY
It's four years since St. Mel's Cathedral in Longford was devastated by a fire reducing the inside of one of the most significant religious buildings in the country to rubble. This Christmas St. Mel's is well on its way back to full restoration. A team of builders and architects have completed over 70 per cent of the rebuilding work and the people of Longford are preparing to spend what will be their last Christmas outside this once great Cathedral before they return in December 2014. Reporter Ciaran Mullooly gives an update on the road back to restoration at St Mel's.
CARLOW CHURCH/REPORT HELEN MCINERNEY
Adelaide Memorial Church in Myshall, Co. Carlow is built of Granite and Bathstone and has been described as an architectural gem. This year the Community celebrated the Church's centenary with a Flower Festival and Fair. Helen McInerney tells the story of this wonderful building.
Contact: Rev Lester Scott 0872504322
Email: lester.dd.scott@gmail.com
FRIDAY 13TH DECEMBER
CRAFT FAIR RDS/REPORT MARY KENNEDY
Nationwide went along to the National Craft and Design fair in Dublin to see some of great work that is being done by craft workers throughout the country. In the run up to Christmas we can support these craft workers by buying their wares, we can do so by going to their production centres which are often their homes or to by going on line as many have their own websites.
Website: http://www.nationalcraftsfair.ie/
Website: www.giveirishcraft.com
Contact: Guaranteed Irish (Tom Rea) (01) 6612607
Website: http://www.guaranteedirish.ie/
Featured exhibits:
Contact: Christmas Ceramics (Kathleen Gethings, Glanmire, Cork) (021) 4866036
Contact: Wood Craftsman (Paul Slattery Dublin) (086) 1035649
Contact: Moon River Chocolate (Louise O'Brien, Limerick) (087) 2596476
Website: www.moonriverchocolate.com
Contact: Garden Log Sculptures (Dan O'Brien, County Clare) (085) 2358607
Website: www.gardensculptures.ie
Contact: Original Handmade crafts (Tissa Gibbons, Dublin) (085) 10111064
Website: www.tissagibbons.com
GLASS ARTIST/REPORT MARIA MULLARKEY
Ireland has a strong heritage of craft and our skills in creating are renowned worldwide. There are many studios and workshops all over the country, all producing their own individual unique pieces for sale both here and abroad. Michelle O'Donnell is a lady whose passion, vision, hard work and determination enabled her to open her very own glass studio in Rhode, Co. Offaly. Maria Mullarkey has the story.
Contact: Michelle O'Donnell (046) 9739290
Website: www.glasshammer.ie

Twitter: @RTENationwide
Email: nationwide@rte.ie
Programme Enquiries to: nationwide@rte.ie

RTÉ One, Monday, Wednesday & Friday, 7.00pm
Visit the website