Nationwide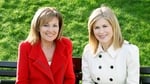 Presented by Mary Kennedy and Anne Cassin, Nationwide brings Irish viewers an eclectic round-up of news, views and events from around the country.
Programmes
MONDAY 3RD MARCH 2014
FELT MAKER/REPORTER MARIA MULLARKEY
Ireland has a strong heritage of craft and our skills in creating are renowned worldwide. For decades Ireland has become a very popular location for artists and craftspeople of all genres from all over the world to set up their studios and workshops here. Maria Mullarkey recently met a lady from Latvia who moved here 10 years ago and has since set up her very own successful felt making business.
Contact: Natasha Nosenko, 19 Coote Street, Portlaoise, Co. Laois, Ireland - (086) 8747427
Website: www.heartfeltfashion.ie
Email: heartfeltfashion@gmail.com
Facebook: https://www.facebook.com/HeartFeltFashion
SHANE HOLLAND DESIGNER/REPORT NIALL MARTIN
Storms may have raged across Ireland for much of the last three months but it was an ill wind that blew furniture designer Shane Holland some good. Niall Martin has been out to see what the Co. Meath based designer was able to salvage from the fallen trees near his workshop.

Contact: Shane Holland Design Workshops Limited, Unit 11c, Duleek Business Park, County Meath, Ireland
Telephone: 353 (0)41 9882220
Website: http://www.shanehollanddesign.com/
Website: www.jobbridge.ie
Website: www.springboardcourses.ie
MALT HOUSE DESIGN CENTRE/REPORT ANNE CASSIN
The Dublin Malthouse Design Centre on the North Circular Road was established over three years ago and offers studio and workshop space to a cluster of design-led businesses. These are mainly young designers working in a range of fields including textiles, architecture, interior design, furniture, lighting and product design. Recently Anne Cassin visited the Malthouse and met some of it's creative and enterprising tenants.

Contact: The Malt House Design Centre, Distillery Court, 537 north Circular Road, Dublin 1, Ireland
Telephone: 01 8558070
Website: http://malthousedesigncentre.ie/
Email: hello@themalthousedesigncentre.com
WEDNESDAY 5TH MARCH 2014
SPECIAL PROGRAMME ON THE RUSSIAN COMMUNITY IN IRELAND
RUSSIAN FESTIVAL DUBLIN/REPROTER MARY KENNEDY
Nationwide has reported on the stories of many different immigrants who have come to Ireland in recent years. This evening we focus on one of the smallest of these immigrant communities, the Russian community. Nationwide visits the Ballsbridge hotel in Dublin where the Russian community living in Ireland have gathered for a festival of all things Russian. This festival is organised by the Russian community with the support of Dublin city council and the Russian Embassy.

CONTACT: RUSSIAN FESTIVAL
Organiser:
Vera Smyth
Chair of the Russian Festival Committee.
Tel. + 353 1 673 40 50
Email: vera.smyth@dublincity.ie
RUSSIAN ORTHODOX CHURCH DUBLIN/REPORT EMMA MC NAMARA
Census figures show that there are about 4,000 Russians living in Ireland. Reporter Emma McNamara visited a Russian family at their home in Tallaght and she then went with them to the Church they attend in the Harolds Cross.
CONTACT: RUSSIAN SCHOOL AND CHURCH
http://www.russianschoolofmusic.ie
Russian School of Music
St Peter-St Paul Russian Orthodox Church Harold's Cross Road Dublin 6W
Phone: 083 119 3378 (office hours 10:00-17:00) russianschoolofmusic@gmail.com
RUSSIAN FILM MAKER/PHILIP BROMWELL
Nationwide meets a man who, since moving to Ireland 16 years ago, has explored parts of our country most of us never get to see. Victor Kutischev, from Maynooth has produced some amazing videos of freshwater and marine life here. His extraordinary footage often comes from the most ordinary locations as reporter Philip Bromwell recently discovered.
CONTACT: Any contacts through RTE Cork - 021-4805837
FRIDAY 7TH MARCH 2014
CHEERLEADERS/REPORT ÁINE LALLY
At the end of April the 'Irish Cheerleading Squad' will represent their country at the World Championships which will be held in the United States of America, where the sport originated. All 16 athletes on 'Team Ireland', which includes one male cheerleader, have fought hard for their recognition and hope that this year they will impress as they compete against some of the world's top Cheerleading teams. Áine Lally has this report.
CONTACT:
http://irishcheersport.wix.com/icsa
http://www.galwaycitycougars.com/
Hilton Holian - Team Ireland Coach 091 771765
FRANKIE GAVIN/REPORT ANNE CASSIN
Frankie Gavin is a well known Irish musician who plays the fiddle. He was born in 1956 into a musical family living in Co. Galway. In 1974 he co-founded the group De Dannan. His musical career has spanned four decades having played and recorded with artists such as The Rolling Stones & Elvis Costello. Anne Cassin recently met up with Frankie to talk about his life and times.
WATERFORD CHOIR/REP. DAMIEN TIERNAN
A group of Waterford men are this weekend singing in one of the most famous buildings in the world. Close on 60 members of the Waterford Male Voice Choir, are in Rome, where they will be performing in St. Peters Basilica. Damien Tiernan has been finding out what's the secret to their success.
Twitter: @RTENationwide
Email: nationwide@rte.ie
Programme Enquiries to: nationwide@rte.ie

RTÉ One, Monday, Wednesday & Friday, 7.00pm
Visit the website