Nationwide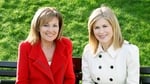 Presented by Mary Kennedy and Anne Cassin, Nationwide brings Irish viewers an eclectic round-up of news, views and events from around the country.
Programmes
MONDAY 1ST FEBRUARY
This evening's programme is full of nostalgia with stories that have a vintage feel.
BARGE/REPORT COLM FLYNN
Normally young people in their late teens or twenties really look forward to owning their first car but for one young woman in County Clare the idea of having a car doesn't excite her as much as the idea of owning something else. Aoife Burke is one of the countries few young barge enthusiasts and now she has one of her own. Reporter Colm Flynn went to meet her.
VINTAGE PRAMS/REPORT HELEN MCINERNEY
Vintage Prams are making something of a comeback influenced by the Royal Christening in England where the new Princess was pushed to the church in a pram once used by the Queen. Many of these Vintage Prams are sitting in Garages and Attics all over Ireland but some of them are now getting a new lease of life thanks to the Pram Doctor in County Wexford. Reporter Helen McInerney went along to take a look.
Contact: The Pram Doctor, Ballybrittas, Bree, Enniscorthy, Co. Wexford
Telephone: (086) 1934019
Website: www.thepramdoctor.ie
VINYL RECORDS/REPORT KILLIAN GORDON
Sometimes old technology actually becomes trendy again and that's what has happened to Vinyl records. In spite of Spotify, downloads and CDs, Vinyl has not only survived but is thriving again thanks to its many fans who refused to let it die. We meet a group of vinyl enthusiasts who have been collecting records for years.

Facebook: www.facebook.com/turnitonsligo

WEDNESDAY 3RD FEBRUARY
ARCHWAY/REPORT EILEEN MAGNIER
Our next story is about an invention to deal with potholes. Liam McNamee came up with the idea for a truck he calls the "Roadmaster" and local authorities here in Ireland and in the UK have been buying and hiring it at a great rate. The business is booming and remarkably it's all run from the little village of Jamestown in County Leitrim.
Contact: Irish Office: Archway Products Ltd, Jamestown, Carrick on Shannon, Co. Leitrim, Ireland
Telephone: +353 (071) 9624753
Contact: UK Office: Archway Products (U.K.) Ltd, 53 Fountain St, Manchester, M2 2AN, UK
Telephone: UK Tel: 0845 8623388
Website: www.archwayproducts.ie
Email: sales@archwayproducts.com
FARMFLO/REPORT HELEN MARK
The daily life of the farmer is far from being 'out in the fields all day' as there is a mountain of paperwork in modern farming and it's something that many farmers have difficulty keeping up to date with. Recognising the problem, two Donegal brothers have developed an award winning piece of technology that has the potential to transform farm management practices. Helen Mark went to the Lagan Valley, on the edge of Lough Swilly, to meet the Devenny brothers, the creators of 'Farmflo'.
Contact: Farmflo
Telephone: (+353) 074 91 16057
Website: www.farmflo.com
Email: hello@farmflo.com
KEOGH'S POTATOES & CRISPS/REPORT MARY FANNING
Family traditions in farming are very important to keep the industry going and the Keoghs in North County Dublin have been producing potatoes for 200 years. They've adapted to market trends and the present generation have expanded the business into the worldwide crisp market continuing their practice of sharing success with neighbouring farmers and embracing producers all over Ireland. Reporter Mary Fanning paid them a visit when the harvest was in full swing.
Contact: Keogh's, Westpalstown, Oldtown, Co. Dublin
Telephone: 353 1 8433175
Website: www.keoghs.ie
E-mail: admin@keoghs.ie

FRIDAY 5TH FEBRUARY
ART O'NEILL CHALLENGE PROGRAMME
On this evening's programme we head out on the Art O'Neill Challenge, a 53km journey from Dublin Castle to Glenmalure, County Wicklow in the dead of night to mark the daring escape from Dublin Castle by Red Hugh O'Donnell and Art O'Neill in 1592. We meet some of the 200 competitors as they run their way through the snowy and icy mountains and we meet a man fighting his way back to fitness by participating in one of the toughest marathons on earth.
Website: www.artoneillchallenge.ie
POLAR MARATHON RUNNER/REPORT MARY FANNING
People run for all sorts of reasons, some to get and keep fit, others for the well documented mental health benefits. For one Waterford man running was his route back to health and fitness following an accident and his Goal, to compete in one of the toughest Marathons on Earth. Reporter Helen McInerney has the story.
Website: www.albatros-adventure.com

Twitter: @RTENationwide
Email: nationwide@rte.ie
Programme Enquiries to: nationwide@rte.ie

RTÉ One, Monday, Wednesday & Friday, 7.00pm
Visit the website