Nationwide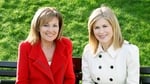 Presented by Mary Kennedy and Anne Cassin, Nationwide brings Irish viewers an eclectic round-up of news, views and events from around the country.
Programmes
MONDAY 15TH DECEMBER
This evening all of our stories are from County Cork. We visit Fota House a few miles from Cork city, one of the country's finest stately homes which is now operated by the Irish Heritage trust. We take a look at the Traditional Christmas Experience at Fota House in the run up the Christmas. Plus we talk to actress Eilish O'Carroll who plays the part of Winnie McGoogan in Mrs. Browns Boys and we visit a school in West Cork to see how the children there have been embracing the Christmas spirit.
Contact: Fota House, Arboretum & Gardens, Fota Island, Carrigtwohill, Co. Cork.
Telephone: + 353 (0) 21 481 5543
Website: www.fotahouse.com
Email: info@fotahouse.com

EILISH O'CARROLL/REPORT MARY KENNEDY
Mrs Browns Boys has been a phenomenal success at home and abroad and we have certainly taken the characters to our hearts. Mrs Browns lovable but dim witted neighbour Winnie McGoogan is a good example. The part of Winnie is played by Eilish O'Carroll, sister of the shows creator Brendan O'Carroll. Eilish has made a home for herself in West Cork and recently Mary Kennedy paid her a visit.
Website: http://eilishocarroll.com/
Email: eilish@eilishocarroll.com

SKIBBEREEN SCHOOL/REPORT MARIA MULLARKEY
The season of goodwill is upon us and all over the country lots of people are raising money for various charities. In the small, rural, farming and fishing community of Lisheen in West Cork, the children of Lisheen National School recently undertook a project which will raise much needed funds for one of their local charities Cancer Connect. Maria Mullarkey visited the school to meet the children involved and to find out more about their festive fundraising.
Website: www.lisheenns.ie
Telephone: (028) 38481
Email: info@lisheenns.ie
School Mission Statement Current Activities School Policies About Us Curriculum Achievements School Flags Calendar Parents/BOM Parents BOM Contact
Contact: Niamh McCarthy (028) 51820 or (086) 9074563
Email: niamh.mccarthy@gmail.com
WEDNESDAY 17TH DECEMBER
CHRISTMAS IN WEXFORD
As the countdown to Christmas continues we've travelled to the South East where the first ever Wexford Winterland Festival is in full swing. The streets are full of music, sparkling lights and people and Santa and his Elves are in residence in the Irish National Heritage Park. We also hear the story of the Christmas tree at the Emerald Forest which graces the quayside. Anne Cassin has been out and about sampling some of what Wexford town has to offer this Christmas.
Contact: Wexford Winterland Box Office, 1 North Main Street, Wexford
Telephone: (053) 9122051
Website: www.wexfordwinterland.com
Email: info@lantern.ie

WEXFORD CAROLS/REPORT NIALL MARTIN
Nationwide featured the Wexford carols on Nationwide a few years ago. The carols have been sung at Kilmore church every Christmas for over 260 years. Now word has spread and none other than Sir Tom Jones and country star Roseanne Cash have recorded the carols. We were given special access to the recording session at Grouse Lodge studios in Co. Westmeath. Niall Martin has this report.
The Wexford Carols CD is available in record shops including HMV, online and see www.heresyrecords.com

WEXFORD BOY/REPORT DAMIEN TIERNAN
This is a very poignant and touching story from the heart of Wexford. A few years ago a mother and well known local business woman Mags Smart lost one of her sons through illness. The main Christmas tree here in Redmond Square has been named after him as Damien Tiernan now reports.
FRIDAY 19TH DECEMBER
We are in Dún Laoghaire for a rather special Christmas musical treat as we meet the members of a very unique choir. We visit Sligo for a Christmas Tree festival, plus we take a trip to Belgium with the Island of Ireland Peace choir who took part in a beautiful ceremony there.

ISLAND OF IRELAND PEACE CHOIR/REPORT DAMIEN TIERNAN
One hundred years ago at Dun Laoghaire port, which at the time was known as Kingstown, it was busy with troops boarding ships heading for the battle fields of France, the First World war was raging and many of those leaving would never see home again. In all the madness of the War something very special happened on Christmas day. Last Saturday a group from Ireland, North and South went to Belgium to commemorate this event 100 years on. Reporter Damien Tiernan travelled with them.
CHRISTMAS TREE FESTIVAL/REPORT EILEEN MAGNIER
Christmas wouldn't be the same without the traditional Christmas tree. Every family decorates it in their own particular way and just how different Christmas trees can be was highlighted at a wonderful festival in County Sligo last weekend. Over fifty Christmas trees were on display at Lissadell Church in a very special extravaganza celebrating Christmas and the special place of the Christmas tree. Eileen Magnier went along to enjoy the experience.
Facebook: https://www.facebook.com/events/451907561614645/
ALZEIMHERS CHOIR/REPORT HELEN MCINERNEY
Scientists tell us that Music and Singing make us happier, lowers stress levels and stimulates the brain. Two new choirs have been set up in Dun Laoghaire in Dublin to give an opportunity to older people to come together in a relaxed environment and reconnect through music and both choirs welcome people with Dementia. Helen McInerney has the story.
Twitter: @RTENationwide
Email: nationwide@rte.ie
Programme Enquiries to: nationwide@rte.ie

RTÉ One, Monday, Wednesday & Friday, 7.00pm
Visit the website