Nationwide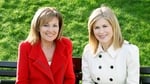 Presented by Mary Kennedy and Anne Cassin, Nationwide brings Irish viewers an eclectic round-up of news, views and events from around the country.
Programmes
MONDAY 1ST SEPTEMBER
FRANCE PROGRAMME - INTER CELTIC FESTIVAL
Nationwide travels to Lorient in the Brittany region of France for the annual Inter Celtic Festival which is now in its 44th year. This major event attracts people from around Europe and this year Ireland was the Nation of Honour at the festival. We meet the Irish contingent to hear about the Irish involvement and we meet President Michael D. Higgins on board the LE Niamh which was in France for the festival. Amongst the Irish contingent we meet Rubin O'Conaill who is involved in bringing Irish acts to the festival and we meet Patrick Mahe a writer on Irish affairs. Plus we have music with Irish musician Liam O'Flynn.
WEDNESDAY 3RD SEPTEMBER
WORLD WAR 2 - 75TH ANNIVERSARY
DONEGAL BOMBER PLANE CRASH/MARY HARTE
During WW2 an elite group of airmen known as the RAF Atlantic Ferry Command delivered thousands of American made bombers to Prestwick in Scotland. It was a perilous journey and many never made it, some though, landed on our shores and because of Ireland's neutrality during WW2, crews faced arrest under international law. New information contained in a top secret Irish Army file reveals that in one seaside village the opposite was the case. Mary Harte has been piecing together the story of what happened on a beach near Dunfanaghy in County Donegal all those years ago.

ASTON MARTINS/REPORT EMMA McNAMARA
We have a story now of a group of tourists who came here on holiday in some very beautiful and valuable cars. Over 40 members of the Aston Martin Owners' Club of Great Britain spent two weeks in their Astons in Ireland driving much of Ireland's east, north and west coastlines, taking in parts of the Wild Atlantic Way and the Causeway Coastal Route. Our reporter Emma McNamara has the story.
Contact: Aston Martin Owners Club, Great Britain 00 44 1865 891838
Website: http://www.amoc.org
MICHAEL O'CONNOR 100 YEARS YOUNG/REPORTER JENNIE O'SULLIVAN
This week 75 years ago the second World War commenced and although Ireland was neutral, many found themselves unexpectedly caught up in the war - people like 100 year old Michael O'Connor from Killarney in Co. Kerry. As a radio officer, he found himself working on board army supply ships during the war years and seventy-two years after being torpedoed, his service medal recently arrived in the post. Jennie O'Sullivan has his story.
KERRY ARTS PROJECT/NIALL MARTIN
Nationwide visits the National Park in Kerry to find out about an unusual arts project happening there. A group of artists have come together to make woodwork out of Rhododendrons by the shores of a lake in the park. The whole process is being filmed and the exhibition will be on later this year in Kerry. Niall Martin has this report.
Website: www.gkennedy.info (For more information about Gareth Kennedy's art projects)
FRIDAY 5TH SEPTEMBER
NATIONWIDE SPECIAL ON HOW TO MAKE A WILL
In this programme we look at how to make a will and the problems that can arise when people don't make one. We take a look at some historical wills which are stored at the National archives and we see how making a will or bequest can have a huge impact on charities well into the future.

Website: www.bestwill.ie (For information about Best Will in the World Week)
Website: www.nationalarchives.ie & http://soldierswills.nationalarchives.ie (to access the National archives and to search soldiers' wills held by the National archive)
Website: www.sophia.ie (For information about Sophia Housing)
Website: www.makeawish.ieand (for information about Make a Wish)
Website: www.courts.ie/Courts.ie/library3.nsf/PageCurrentWebLookUpTopNav/Probate?opendocument&l=en (For details about the role of the Probate office)

Twitter: @RTENationwide
Email: nationwide@rte.ie
Programme Enquiries to: nationwide@rte.ie

RTÉ One, Monday, Wednesday & Friday, 7.00pm
Visit the website