Nationwide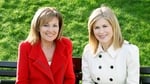 Presented by Mary Kennedy and Anne Cassin, Nationwide brings Irish viewers an eclectic round-up of news, views and events from around the country.
Programmes
MONDAY 20th of MAY
This evening's Nationwide features stories of people who have come to Ireland in recent years and how the Irish have made them welcome.
FASHION BY RENE/REPORTER VALERIE WATERS
When shopping for clothes, do you sometimes wish that garments were made to fit correctly. A fashion designer in Bettystown in Co. Meath adjusts the sizes in her shop to fit her customers whether big or small. Valerie Waters paid a visit to this very creative lady and saw her designs modelled by her customers.

Contact: fashion_byrene@yahoo.ie (fashion(underscore)byrene@yahoo.ie)

AMERICAN INDIAN IN IRELAND/REPORTER EVENT JUNKIES
In Dublin we meet Waylon Gary White Deer, an artist, writer and member of the Choctaw nation, a Native American tribe which has a connection to Ireland stretching back to Famine times. Our own Damien Dempsey was inspired by this connection and has a very special thank you for the Choctaw Nation.. We were there to capture them meeting for the very first time. And if you want to catch Waylon Gary White Deer's art on display, he is exhibiting from the 22nd to the 30th of May at the Glens Centre Manorhamilton, Co. Leitrim and will be signing copies of his book 'Touched by Thunder' this Saturday in Hodges-Figgis, Dawson Street, Dublin 2.

Contact: nukowa@yahoo.com
Telephone: (085) 769 2373
ROMANIAN ARTIST/REPORTER MARIA MULLARKEY
In 2007, a Romanian man and his family decided to move here to Youghal to start a new life... As well as working full time, he is also pursuing his artistic talents. Our reporter, Maria Mullarkey visited him at home to see his work.

Contact: http://peternasca.tripod.com

MILLSTREET/REPORTER AV3
Like many other towns and cities around the country Millstreet in County Cork has seen many people from around the world come to live in the community. Nowhere is this more evident than in the local schools where pupils from 19 different countries attend. Recently they decided that it might be a good idea to bring the parents of these children to the school, to allow them meet, the parents of Irish school children and the parents of other children who have come to live in the County Cork town.

Contact: John Magee, Millstreet Community School (029)70087
WEDNESDAY 22nd OF MAY

A special programme from the Connacht Spring show in Ballinrobe where the main event is the Connacht Gold all Ireland Heifer competition. Mary Kennedy and Mary Fanning go behind the scenes of the food emporium to meet the ladies who bake competitively.
ANCIENT OIL/REPORTER MARY FANNING
The fine tradition of ancient and new is very much reflected across the Boyne in the shadow of Newgrange in County Meath where a former Attorney General John Rogers and his son have revitalized an ancient seed on their farm to produce an oil that is causing quite a stir among chefs in Ireland and the UK.

Contact: Ian Downey, Manager: +353 (086) 8183 224
Tel: (041) 9824273
Email: info@newgrangegold.ie
Website: www.newgrangegold.ie
Twitter: @NewgrangeGold
MODEL MAKER/MARIA MULLARKEY
In Listowel, Co. Kerry Maria Mullarkey meets a man whose fascination and interest in agricultural machinery inspired him to set up his own model making business. Maria visited him at his workshop to see how this man's hobby is now becoming his full time profession.
Contact: PADRAIG NOLAN - (085)8460046

FRIDAY 24TH OF MAY
No Nationwide Programme

Twitter: @RTENationwide
Email: nationwide@rte.ie
Programme Enquiries to: nationwide@rte.ie

RTÉ One, Monday, Wednesday & Friday, 7.00pm
Visit the website