Nathan Goes to Nashville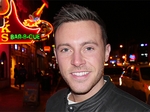 Starts Tuesday 4th July, 9.35pm on RTÉ One

Nathan Carter lives in Ireland, but grew up in Liverpool where his grandfather introduced him to country music at the tender age of three.
Many of Nathan's musical heroes have a deep connection with Nashville and in this documentary he follows in their footsteps and explores the city that is the beating heart of the world's country music scene. He jumps at the chance to perform in the famous Bluebird Café, where Garth Brooks and Taylor Swift were discovered; and he takes to the stage of The Ryman Auditorium, famous for its long association with the Grand Ole Opry and for hosting huge stars including Elvis Presley and Dolly Parton.
Many big music stars have made Nashville their home. Nathan hangs out with legendary singer Crystal Gayle, who moved to the city in 1974 and never left. He even accompanies her on the piano as she sings her Grammy-winning hit 'Don't It Make Your Brown Eyes Blue'.
During his trip, Nathan meets up with some old friends including The Chieftains' Paddy Moloney who loves the Nashville audiences; and he makes some new acquaintances, including 84-year-old designer Manuel Cuevas who has styled everyone from Frank Sinatra to Elton John, and was even responsible for Elvis Presley's famous gold lamé suit. But can Nathan carry off one of Manuel's rhinestone-encrusted jackets?
It's every singer's dream to record a song in Nashville - and Nathan gets the chance to record some new material in one of the city's top recording studios, with session musicians who have worked with the biggest names in the business. What will they make of his songs - and his voice?
Nathan is a huge fan of country music giant Johnny Cash, who wrote '40 Shades of Green' about his great love for Ireland, where he holidayed and performed many times. Nathan makes a very special trip to the nearby city of Hendersonville, where Johnny Cash and his wife June Carter spent their lives together. It's a dream come true for Nathan to meet their only son, John, who shows him around the cabin his father built to escape the spotlight, and where he spent some of his happiest times.
'Nathan Goes to Nashville' was made by Tyrone Productions, directed by Ronan McCloskey and produced by Patricia Moore.