The Nathan Carter Show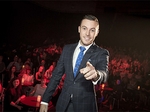 Nathan Carter stars in a brand new entertainment series on RTÉ One, with special guests, fantastic music and plenty of fun.
There's no mistaking who's the star of the show in this brand new four-part entertainment series - The Nathan Carter Show - presented by the man himself.
Recorded in the Knocknarea Arena, Sligo in front of live - and lively - audiences, Nathan Carter is at his very best. Across four hour-long episodes, he sings a selection of his biggest hits, brings his unique twist to some well-known classics, and performs duets with some of his musical heroes, including Finbar Furey, Mark Feehilly, Sharon Shannon, and Phil Coulter.
His fans know that Nathan loves to talk, so there's plenty of chat during the series as he and his guests share stories, talk about their shared love of music, and enjoy plenty of laughs. Nathan finds out what Phil Coulter thinks of drunk renditions of his songs, hears how Finbar Furey's mother had the last laugh after suggesting he record an old folk song called 'When You Were Sweet Sixteen', gets to the truth about those Westlife reunion rumours with Mark Feehilly, and confesses to Sharon Shannon that he's been a huge fan of hers since the age of five.
There's something for all musical tastes in this series, which is packed full of top-notch musical performances covering every genre from rock to country, bluegrass to pop. Una Healy leaves The Saturdays behind as she delivers an exclusive performance of her new solo single, Brian Kennedy gives a stunning rendition of the Van Morrison classic 'Crazy Love', and the UK's coolest young country act, Ward Thomas, drop in to perform a song from their No 1 album.
The devotion of Nathan's loyal followers is legendary, and in the series, he hits the road to surprise some unsuspecting fans, serenades one lucky bride at her wedding reception, and introduces us all to his alter-ego - Paddy the Busker from Skibbereen.
Music, chat and laughter - The Nathan Carter Show is an unmissable treat for viewers.
Episodes
EPISODE 1 of 4: Sunday October 30th
In the first show in his brand new series, Nathan and Finbar Furey perform a unique rendition of 'When You Were Sweet Sixteen.' Nathan also duets with Westlife's Mark Feehily, while Aoife Scott from the famous Black family wows the audience, and Cliona Hagan drops in to perform a Dolly Parton hit. There's a surprise for fans as Nathan introduces us to his alter-ego, Paddy the Busker from Skibbereen!
EPISODE 2 of 4 - Sunday November 6th
Nathan is joined by a surprise guest for a breath-taking performance of 'The Town I Loved So Well', Bronagh Gallagher shows off her soul music credentials, and singer Lisa McHugh swaps country music for rock and roll. Vocal harmony group The Overtones have a musical treat for the audience and Nathan takes on the job of wedding singer for one lucky bride.