Music Inc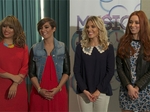 Tyrone Productions, with RT Young Peoples invited eight music mad, ambitious and hardworking Irish transition year students on the challenge of a lifetime to take part in a new seven part series which sees them get a weekly backstage pass to meet and work with some of the biggest names in the music industry.
Tasked each week by top Irish Tour Manager and Louis Walshs right hand man Liam McKenna, the challenges see our contestants get face to face, access all areas to some of the biggest names in Pop Music bands such as The Saturdays and boyband The Wanted, who set and judge each of the weekly challenges.
Challenges set by Liam include producing a music video for District 3 and creating merchandise for The Wanted amongst others, while Louis Walsh sets and judges a media challenge. The final two teenagers battle it out while managing JLS at an Irish Summer festival with JLS selecting the ultimate winner.
For a young person, this is a great opportunity says Liam McKenna.
Theyre going to see both sides of the business. This is going to open their eyes to what its really like.
Every week one of our competitors must leave the competition and hand back their access all areas pass. There is only one ultimate winner, securing a work placement with Liam McKenna on a top gig in Miami.
Liam McKenna is a former member of the girl/boyband SIX and Theres a whole Lotta Lovin is still the biggest selling single ever in Ireland. He now is one of the UK and Irelands busiest tour managers, having worked with an impressive catalogue of acts, including JLS, Girls Aloud and Westlife, and is currently working with Louis Wash as he searches for Irelands next big boyband.