Mrs Brown's Boys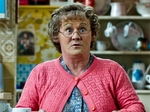 After a staggeringly successful second series, the multi-award winning comedy phenomenon Mrs Brown's Boys is back! Brendan O'Carroll and his family bring us six uproarious new episodes following the lives of the nation's favourite Mammy and her boys. Plus two spectacularly funny Christmas Specials.
The third series sees Agnes and her family feeling the effects of the recession. Rory and Dino can't afford a place to live, Mark and Betty might be forced to emigrate to Australia and Agnes' kitchen is falling to pieces. But never one to let life get her down, Agnes handles all these problems in her own inimitable and hilarious way. And anyway, as she often says - everything always turns out the way it's supposed to.
Mrs Brown's Boys is a BBC Scotland co-production with BOCPIX in association with RTÉ. The series is produced by Stephen McCrum (BBC) and the producer for BOCPIX is Martin Delany. Executive Producers are Ewan Angus (BBC Scotland), Mark Freeland (BBC) and Justin Healy (RTÉ). The series is directed by Ben Kellett.
Episodes
"Mammy's Spell" Series 3, Episode 1
It's party time in the Brown household as the family celebrate the baptism of Dermot and Maria's triplets. A hypnotist is booked to provide the entertainment and an unwitting Agnes and Winnie are put under his spell. Meanwhile, Agnes' kitchen is falling apart, but she soon discovers that's the least of her problems when son Mark delivers some heart-breaking news.
"Mammy's Inflation" Series 3, episode 2

Agnes is disappointed with Cathy when she decides to get a boob job to impress her boyfriend Professor Clowne. Agnes is also distinctly unimpressed with Buster when she meets the man he's hired to measure up her kitchen. Meanwhile, Professor Clowne has a life-changing proposal for Cathy, if he could only find the perfect moment to ask her his very important question.
"Mammy's Break" Series 3, episode 3
It's Agnes Brown's anniversary and she's in a great mood. However, she would be in an even better mood if she could just find someone to look after Grandad for a couple of weeks while she treats herself to a holiday. Private nursing homes are too expensive and Winnie can't take him in case Jacko is let out of hospital. Perhaps Doctor Flynn might be able to arrange some respite care?
Rory and Dino's new apartment isn't ready yet so Mrs Brown kindly invites them to move in with her for a couple of weeks. However, she's soon spitting feathers when Dino starts taking over the house. But that's nothing compared to how she might react if she ever found that the pair don't sleep in separate bedrooms.
When Dr Flynn reluctantly agrees to have Grandad tested for dementia, Mrs Brown devises a cunning plan to make sure Grandad fails the test and is sent for respite care. But when the health tester arrives, Grandad isn't the only person he's concerned about.
Meanwhile, Agnes is furious when Rory picks her rival Hilliary Nicholson as his model in the hairdressing competition. However, Rory has a nicer surprise for his mother as well: he's arranged a psychic (played by Joe Duffy) to contact her late husband Redser. Agnes is sceptical until Redser's spirit reveals some very ominous news.
"Mammy's Valentine" Series 3, Episode 4
As Valentine's Day approaches, love is in the air for all the Brown family - even Grandad. In fact, the only Brown without a date is Agnes. Under pressure from daughter Cathy to find a man, Agnes considers giving internet dating a bash. But son Dermot is not happy about the idea of his Mammy going on a date.
Betty, Cathy and Maria decide to forget about men for the night and go on a girls' night out - but not before having a good blether about their boys in Foleys. After overhearing their conversation, Dermot realises that he needs to make a grand gesture to remind Maria how romantic he can be. Buster has a great idea to impress Maria, but will it turn out to be a disaster like Buster's other great ideas?
Betty's son Bono has started asking about the birds and the bees, so Betty has bought the ABC of Sex to help her explain things. But when Agnes and Winnie get hold of the book, they have even more questions than Bono. Meanwhile, Grandad gets hold of some Viagra.
Will Dermot prove himself to be an old romantic? Will Grandad ever put the Viagra bottle down? And most importantly, will Agnes find a date for Valentine's Day?
Series 3, Episode 5 - Mammy?
It's a stressful day for Agnes as everything seems to be happening all at once. Rory and Dino have had a huge falling out, and Mark and Betty have got their emigration visas and are off to Australia. In fact, it seems like the only thing not happening is Buster starting work on Agnes' new kitchen... possibly because he's been too busy purloining a new smartphone for Dermot.
Cathy becomes suspicious after a secretive Agnes takes a phone call from a solicitor. After some investigating, Cathy discovers that the solicitor's firm specialises in adoptions and before long Agnes' children are all left wondering who is really a Brown after all.
There's a shock for Cathy as a blast from the past appears out of the blue. Meanwhile, another familiar face turns up at the Brown household as Father Quinn returns from rehab to ask Agnes to volunteer at his annual Garden Party. However, with Dermot's new smartphone distracting her, Agnes struggles to get her answer out.
Agnes is in for a huge surprise when Rory and Dino finally patch things up. However, it appears that Mark and Betty have some even more surprising news.
RTÉ One, Saturday, 9.10pm