Mrs. Brown's Boys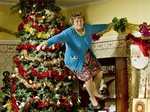 Smash hit comedy Mrs Brown's Boys explodes back onto RTÉ this Christmas with a wonderfully heartwarming and uproarious Christmas special episode, written by and starring Brendan O'Carroll as misbehaving matriarch Agnes Brown.
It's Christmas and all across the country, mothers are looking forward to their loved ones returning home. With son Trevor coming back from the missions abroad for the first time in four years, Agnes Brown is determined to make this Christmas a truly special celebration, with her whole family present at last.
But, as with the Brown household nothing is straightforward. Son, Dermot, recently married to Maria, is under pressure to spend Christmas with his in-laws, the posh Nicholsons. Maria's mum Hillary is doing her best to belittle Agnes's efforts to decorate the Brown family home. And neighbour Winnie needs help finding a job. Dermot's dodgy mate Buster has his own problems delivering the turkey... And to cap it all, there's no sign of any snow.
RTÉ One, Sunday 25 December 2011, 10.00pm