Movie Talk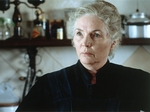 New series in which major figures from the Irish film world including Brendan Gleeson, Fionnula Flanagan, Jim Sheridan, Anjelica Huston, John Boorman, Sáoirsé Ronan, Neil Jordan, Gabriel Byrne, Noel Pearson and John Moore talk about their careers in movies.
Programmes
Programme One
In the first programme Brendan Gleeson talks in detail about acting in theatre, his transition to Cinema with his role in The General and how light and shade and the lens impact on performance and help bring out details in character.
Programme Two
In programme two Fionnula Flanagan discusses her early life in Dublin, how she overcame fear of movie making by producing and directing and playing six parts in "Joyce's Women" and the qualities that "we Irish" have that make us impact in theatre and cinema.
Programme Three
In episode three Jim Sheridan talks about life growing up in poverty stricken Dublin contrasted with his globe trotting life as a film maker today and how he enthusiastically embraced his career as a movie maker. He also discusses his belief that Cinema is very much in its infancy.
Programme Four
In episode four Anjelica Huston talks about her early memories of her father John Huston and growing up in Galway. She talks in detail of the movies she made in Ireland and her collaboration with filmmakers such as Jim Sheridan and Terry George. She also talks of what a privilege it was to star in her Fathers last movie made in Ireland based on James Joyce's story "The Dead".
Programme Five
This week John Boorman discusses what brought him to Ireland after much success in Hollywood. He tells with pride of his involvement in the Irish Film industry and the part he played in discovering talent such as Gabriel Byrne, Liam Neeson and Neil Jordan.
Programme Six
In episode six Saoirse Ronan charts her career from RTÉ TV to one of the youngest ever actresses to be Oscar-nominated. She discusses being young and famous, the trials of the endless publicity trail, the directors she has worked with and those she aspires to work with.
Programme Seven
In episode seven Neil Jordan discusses his struggles to become a film maker and how he passionately believes it is the responsibility of each and every director to be deeply original in the work each brings to the screen.
Programme Eight
Gabriel Byrne talks about his work in theatre, his first TV role in Bracken, the quality of writing in Irish Television, his first screen role in Excalibur, and his desire NOT to be an "A-list" star.
Episode Nine
Noel Pearson talks of the "business" side of making movies in Ireland. He discusses the early success with My Left Foot and how it was sheer passion that ultimately got it to the screen. He talks about his life as a theatre producer and his transition into the movies.
Episode Ten
John Moore almost overnight became a big success with movies such as Behind Enemy Lines and Flight of the Phoenix. He discusses his cherished desire to "one day" return to his native Ireland to make movies.
RTÉ One, Tuesday, 11.20pm