Monday Night Soccer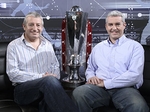 The FAI eircom league of Ireland enjoys its most comprehensive television coverage to date as RTÉ Television introduces an hour-long dedicated Irish soccer programme.
RTÉ Television cameras are at every top-flight FAI eircom League of Ireland match throughout the season so fans get the opportunity to watch every crucial goal, tackle, shot and save. Monday Night Soccer - MNS is broadcast each week on RTÉ Two during the season.
Presenter Con Murphy is joined by some of the biggest names in Irish soccer including former Cork City manager Damien Richardson, newly retired St Patrick's Athletic defender Colm Foley, former Bohemians manager Sean Connor, former Irish International and Millwall striker Richard Sadlier, former UCD midfielder Tony McDonnell, renowned former Shamrock Rovers and Bohemians manager Roddy Collins, Cork City legend Dave Barry and former Cork City striker Pat Morley.
RTÉ Soccer Correspondent Tony O'Donoghue reports from around the country, meeting the men and women behind the scenes in soccer in Ireland. In addition to all the key action, some of Ireland's most talented soccer writers are in studio tackling all the big issues and giving their opinions across the 36 hour-long programmes throughout the series.
Throughout the series MNS also features classic moments from the league as it looks back through the archives, meets some famous League of Ireland fans and profiles the lives of players both on and off the pitch.