The Moment of Truth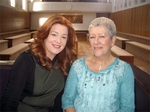 The Moment of Truth is a brand new four-part series in which Bláthnaid Ní Chofaigh talks to people who have made difficult and life-changing religious and ethical decisions.
We all have to make hard choices in our lives. Sometimes, we agonise over these decisions and seek help from family, friends or from a higher power. For some, religion offers the best moral compass. Others follow their gut feelings. Choices can be clear-cut or ethical quagmires. But either way, they can have life-changing consequences for the person making the decision and those around them.
Episodes
Episode One
Collette Stratford grew up in Galway in the 1960s. At 17, Collette realised she was pregnant. She desperately wanted to keep her baby, but her family persuaded her that an adoption would be better. Collette had just eleven precious days together with her baby boy before he was given over to an adoption agency. That moment has haunted Collette ever since. She was determined to find her son again. But would he want to be found....?
Episode Two
Liz McDermott was living the charmed life of a yummy-mummy in Dublin 4, when she found out that she was expecting a baby with no arms or legs and, very possibly, brain damage. Her world was shattered. She was told an abortion in the UK was probably her best option. However, Liz, who has a strong Catholic faith, and her agnostic husband, Brian, decided to keep the baby. Now, their son, John, is a happy and healthy 9-year old schoolboy. With the help of a specially adapted wheelchair and other aids, he is able to lead a remarkably normal life and Liz and her family see him - disabilities and all - as nothing but a blessing in their lives.
Episode Three
Damien Godkin had a tough childhood in Wexford, from which he emerged a violent, aggressive and suicidal young man, scarred by sexual abuse and addicted to alcohol and drugs. Just when he'd reached rock bottom, however, Damien experienced a moment of spiritual clarity, which offered him a path out of the mire. He took that path and now has his life back on track, with a job as a mental health advocate and a five year old son, who is the joy of his life.
Episode Four
Sean O'Callaghan joined the IRA in Tralee at 15 and spent the next few years bombing, robbing and shooting in the name of a United Ireland. He killed UDR volunteer Eva Martin and RUC officer Peter Flanagan but his conscience and guilt started to haunt him. Sean O'Callaghan concluded that the war which he was fighting was futile, but rather than simply leave the IRA, he decided to risk his life to work against the IRA from the inside as an informer. As a result, he now lives in hiding, cut off from his family and former friends. He claims to have saved lives, but he may equally have put lives at risk and his involvement in, and later-retracted confession to, the murder of fellow IRA informer Sean Corcoran casts a serious shadow over his credibility. He depicts his choices as moral ones, but should Bláthnaid believe someone who has spent his whole life telling lies?
Helplines
Barnardos confidential Post Adoption helpline: 01 - 454 6388, Tuesdays and Thursdays from 10am - 1pm. Alternatively, call Barnardos national office on 01 453 0355 during office hours or email adoption@barnardos.ie
Samaritans 24 hour helpline: 1850 60 90 90
Adoption Loss 01-660 0795 The Natural Parents Network of Ireland is a voluntary group offering support services for mothers and fathers who have lost children to adoption at any time in the past.
Parentline: 1890 972722 or 01 8733500
Positive Options www.positiveoptions.ie or free text "list" to 50444
1life Suicide Helpline: 1800 247 100 or text HELP to 51444
The Crime Victims freephone helpline : 116 006
The Samaritan's 24 hour helpline in R.O.I - 1850 60 90 90
The Samaritan's 24 hour helpline in N.I - 08457 90 90 90